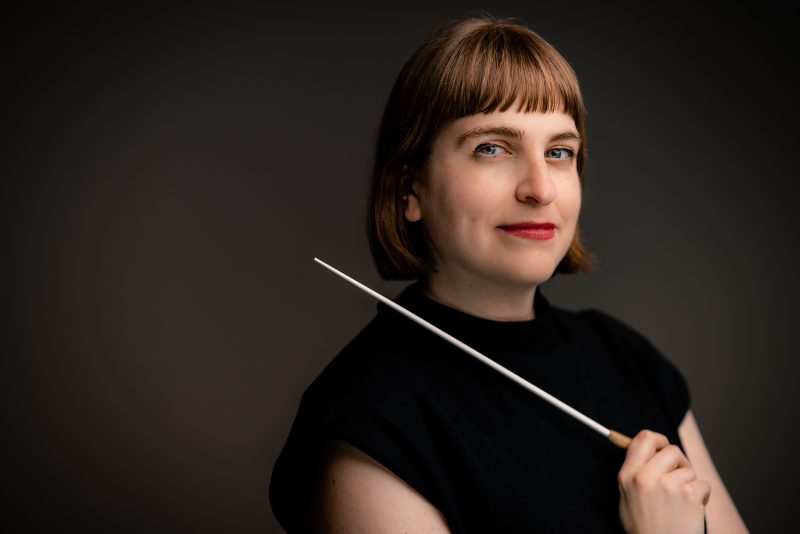 We are pleased to announce that Canadian conductor Juliane Gallant will take the podium as the Orchestra's next Resident Conductor, beginning in the 2023/2024 Season.  
Juliane was selected as the Resident Conductor of your Calgary Phil following a rigorous audition and interview process with applicants from across Canada. Her position as Resident Conductor is an endowed chair supported by Mary Rozsa de Coquet. 
"I am delighted to be joining the Calgary Phil," Juliane says. "Calgary is a great city with a rich and vibrant arts scene, and I am looking forward to getting to know its many artistic and cultural communities." 
Born in New Brunswick, Juliane studied at the National Opera Studio and the Guildhall School of Music and Drama in London, UK. A passionate collaborator, Juliane first trained as a collaborative pianist, répétiteur, and vocal coach, and began her conducting career in opera, leading productions throughout the UK. Since returning to Canada, she has appeared as a conductor with the Symphony New Brunswick, Kingston Symphony, and the Okanagan Symphony, among others. Juliane was named one of two conductors in the inaugural cohort of Tapestry Opera's Women in Musical Leadership program (WML). Juliane made her Calgary Phil debut as a WML conductor in the 2022/2023 Season at Will's Jams. 
"The Calgary Phil is committed to supporting the next generation of Canadian conductors, and Juliane brings a remarkable blend of musicianship, leadership, and artistic vision to our Orchestra," says Marc Stevens, President + CEO of the Calgary Phil. "We are thrilled to welcome her as our next Resident Conductor, and we look forward to her connecting with our communities across Calgary." 
As Resident Conductor, Juliane will play a leading role in the evolution of our education programs, like PhilKids, Education Concerts, and community concerts throughout the city. She will conduct several concerts in the 2023/2024 Season, including Brett Kissel with the Calgary Phil, Traditional Christmas, The Broadway/Hollywood Songbook, and Violins of Hope. Juliane will also lead the Orchestra for the majority of our popular Symphony Sundays For Kids concerts, including The Sneetches, by Dr. Seuss; Drag Story Time: Peter and the Wolf; and Dan Brown's Wild Symphony. She will serve as a standby conductor for all Music Director and guest conductor concerts. 
"Juliane's poised and expressive presence, combined with her ability to connect with audiences, will undoubtedly bring a new dimension to our performances," says Music Director Rune Bergmann. "I am looking forward to working alongside her to share innovative programming that celebrates the wonders of orchestral music and creates lasting memories for our audiences." 
Juliane will lead the Orchestra for the first time as Resident Conductor at Serena Ryder with the Calgary Phil in September.