THE CONCERT EXPERIENCE FOR KIDS!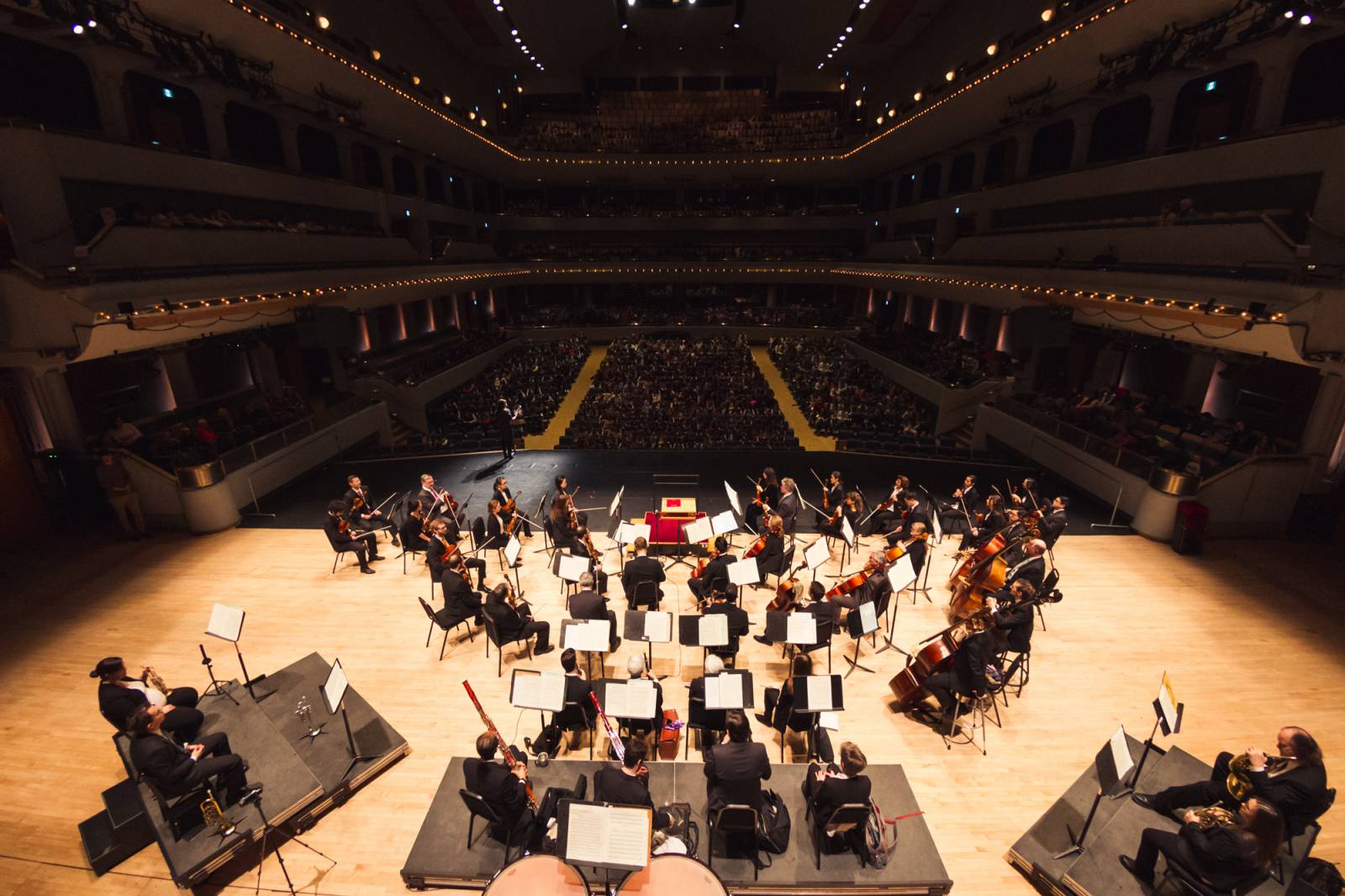 Bring your students and experience the wonder of hearing amazing musicians live in front of you, no ear buds required!
Each Season the Calgary Philharmonic Orchestra welcomes more than 10,000 students from across Calgary and Alberta into the concert hall as part of its Education Series Concerts. Resident Conductor Karl Hirzer leads these lighthearted one hour programs, designed to educate and inspire elementary age students. Concerts are shaped with themes presented in your classroom and an accompanying guide is provided to all registered schools. We welcome all educators from public, separate, private, charter, or home schools.
EDUCATION SERIES CONCERTS 2019/2020 SEASON
Tickets are only $15 each and for every 8 tickets purchased you will receive one FREE chaperone ticket.
Haydn and the Symphony
7, 13 + 14 November 2019 / 10AM
Programme:
Associate Conductor Karl Hirzer demonstrates Symphony 101 with excerpts from Haydn's Morning, Surprise, and Farewell Symphonies.
The Hockey Sweater + Appalachian Spring
Featuring Dancers from the School of Alberta Ballet
30 January + 5 + 6 February 2020 / 10AM
Programme:
Join us for the beautiful kid-friendly version of Appalachian Spring choreographed especially for the CPO by Edmund Stripe with dancers from Alberta Ballet School.
Napi and the Rock with Making Treaty 7
29 April 2020 / 10AM + 11:30AM
30 April 2020 / 10:30AM, 12PM + 2:30PM
Programme:
In partnership with Making Treaty 7 Cultural Society and with an original commissioned piece, enjoy  the story of Napi the Trickster as told with  orchestral accompaniment
ADDITIONAL CHAPERONE TICKETS
PRE/POST CONCERT MUSICIAN VISIT
Free with every 8 tickets purchased
For more information, please contact:
Alysha Bulmer
Manager, Education & Outreach
403.571.0275
abulmer@calgaryphil.com
Registration Policies
Payment must be received in full in order to confirm booking.

Refunds are not given except in the event of a cancellation by the CPO.

The CPO reserves the right to assign seating.

Education concerts are designed for elementary school children (Division I & II). Please do not bring children under the age of 5.

All programs and artists are subject to change without notice. Refunds will not be given due to repertoire, program and/or artist changes.

By registering for an Education Series Concert you agree to the CPO's Registration Policies.