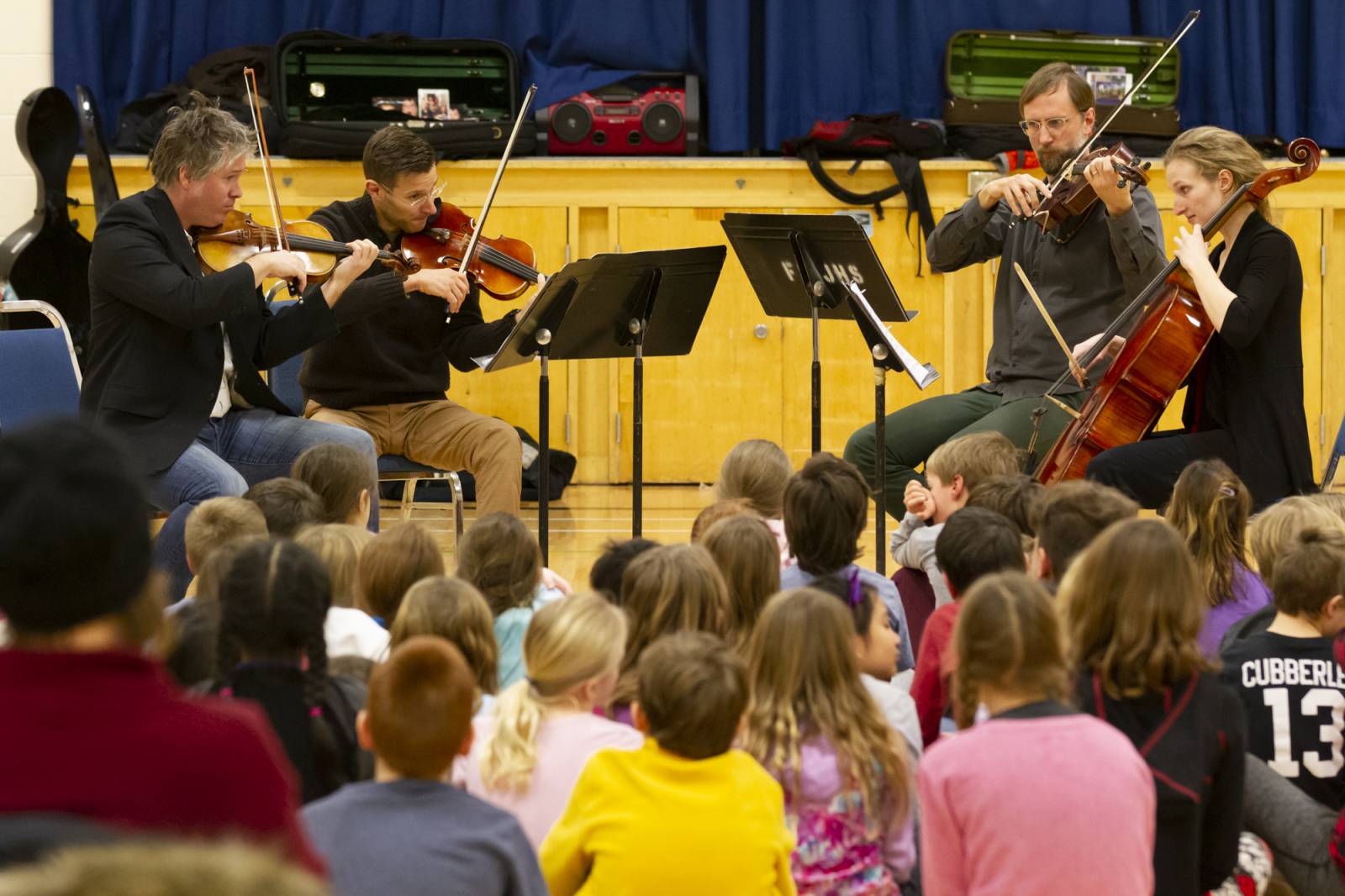 MUSIC EDUCATION
Bring fun and engaging music programs into your classroom!
We offer several educational musical experiences designed for Grades K-12, and can feature solo instruments, duos, trios, or quartets. Our musicians are available for virtual school visits to share information about their instruments, play a short performance, and answer questions. You can schedule them to come before or after an Education Concert, or at another time during the school year.
School Visits start at $175 per musician per hour.
Here are just a few of the exciting school programs we offer:
The Curmudgeon and the Lark
FEATURING SARA HAHN, FLUTE AND MICHAEL HOPE, BASSOON
Geared for Grades K-6, The Curmudgeon and The Lark features two of Alberta's finest woodwind professionals (Calgary Phil's Principal Flutist Sara Hahn and Assistant Principal bassoonist Michael Hope) in a program that focuses on storytelling. The centrepiece is The Curmudgeon and The Lark, a specially commissioned duet by celebrated Alberta composer Arthur Bachmann that tells a story of friendship and transformation between a grouchy old man and an injured bird — all with captivating narration and special sound effects produced on the flute and bassoon.
Other works on the program include an interactive version of Mozart's variations on Twinkle Twinkle Little Star and works by Bach and Beethoven — plus sing-alongs, instrument demonstrations, and lots of fun!
Build a Horn!
FEATURING HEATHER WOOTTON, FRENCH HORN
Taking their cue from a historical overview, Duo Coro presents repertoire from the Baroque to upbeat contemporary music. Short demos explain how the horn works and include a popular segment where a number of students/audience members are invited to 'build and play a horn' using just a mouthpiece, a piece of tubing, and a funnel. The music selections may be customized to include orchestral excerpts featuring the two horns to coincide with composers featured at a family or education concert. A variety of horns may be used for this purpose, including hunting, descant, and regular double horns. Special effects, such as stopping, muting, or advance techniques, can also be added depending on the age of the group.
Men in Black Bassoon Duo
FEATURING ANTOINE ST-ONGE AND MICHAEL HOPE, BASSOONS
Geared for Grades K-6 and featuring Antoine St-Onge and Michael Hope — the bassoon section of the Calgary Philharmonic — this program showcases the wildest and craziest instrument of our Orchestra. All in a program of insightful, delightful, and sophisticated music ranging from opera, to Dave Brubeck and The Simpsons!
String Quartets Rock
FEATURING THE BELLE ARTE STRING QUARTET
Let your students find out just how fun strings quartets can be with music ranging from Bach and Beethoven, to familiar tunes by the Beatles, the Verve, and Coldplay. The program includes introductions to the violin, viola, and cello, as well as music and musicians with a fun, humorous, and insightful approach. If appropriate, the concerts will involve students and include a Q+A session. Topics covered include musician teamwork, rhythm, sound production, time signatures, and beat patterns. All presentations can be catered for Grades K-12 and beyond.
The Zabaglione String Quartet
This string quartet program is evidence that musical excellence and a sense of humour get along nicely. The quartet's members are all part of the Calgary Philharmonic and share a passion for chamber music. The quartet has been in existence since 1998, having presented many programs in Calgary and in rural Alberta. Zabaglione's programs aim to present great music well played, along with humorous moments well presented. Along the way we talk about how stringed instruments work and how we play them, and share our love for the music we present. The program is custom tailored to the age group of our audience, and we allow time for questions and answers. For Grades 4 and up there's a quick violin lesson for a lucky member of our audience, followed by their debut performance. It's fun, lively, entertaining, and informative.
For more information please contact:
Alysha Armanious
Manager, Education & Outreach
403.571.0275
[email protected]
Your generosity helps in many ways.