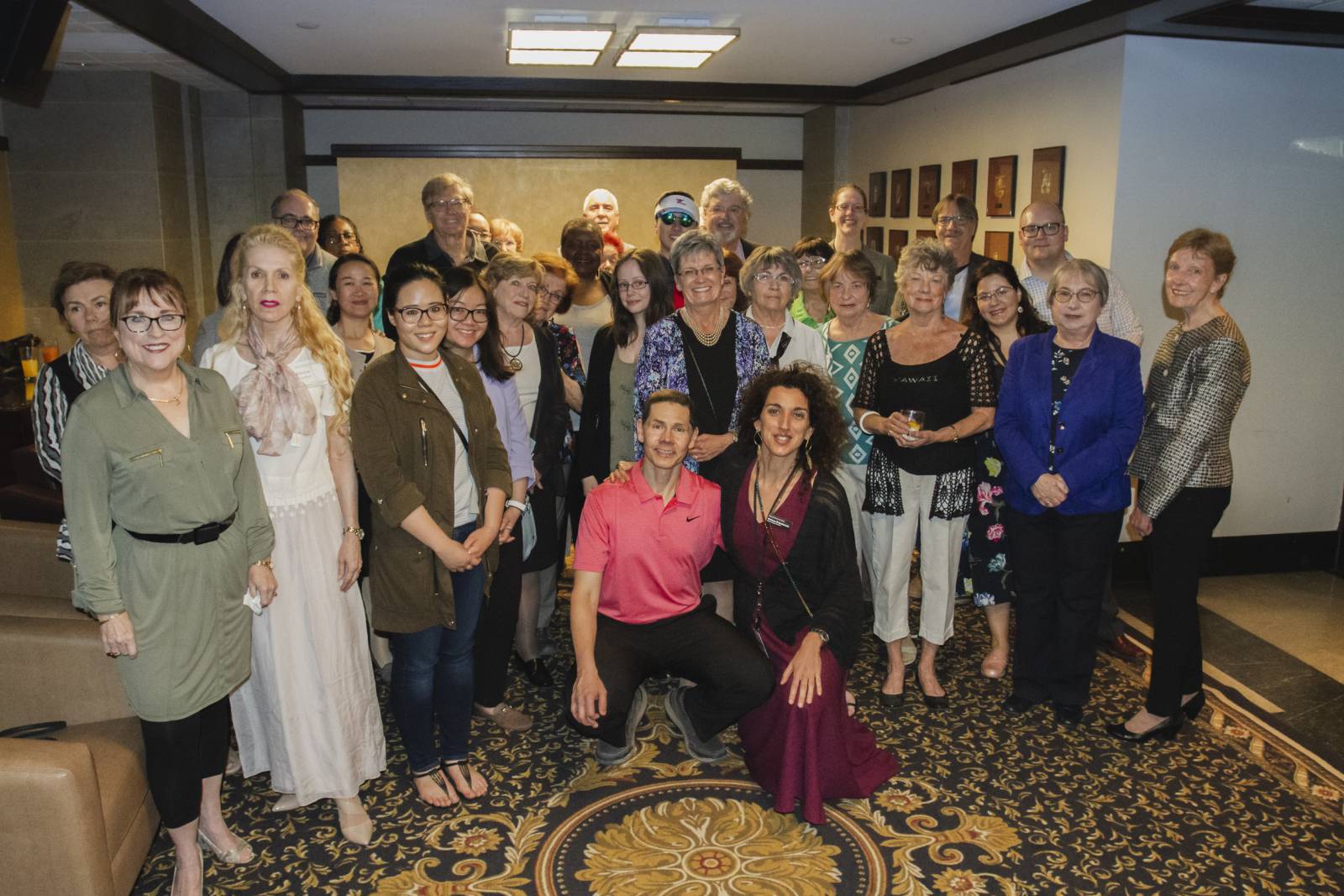 Join Our Team!
Become a Volunteer
The Calgary Philharmonic has been the beneficiary of thousands of hours of volunteer time, energy and enthusiasm dedicated to ensuring that Calgarians enjoy orchestral music. This is your opportunity to join the Calgary Philharmonic volunteer team, make new friends, and support your community.
Volunteers contribute in these areas:
Concerts
Help us make every Calgary Philharmonic performance memorable for our patrons. Greet patrons, sell raffle tickets, hand out brochures, and distribute tickets. You'll also get a complimentary drink, and a chance to enjoy the concert!
Street Team
Represent the Calgary Philharmonic at events and fundraisers throughout the year. Such as:
Our biggest fundraiser of the Season – the Cork and Canvas
Casino Fundraisers
Summer Festivals including Marda Gras, Lilac Festival, Calgary Comic & Entertainment Expo, and more!
Poster Squad
Join our poster squad and get free tickets. Explore Calgary with the Calgary Phiharmonic, meet new people and help us poster different areas in the city.
Administration Office
Running a large non-profit organization like the Calgary Philharmonic is a huge task, and volunteering to help at the office is a tremendous help to our administrative team. There are a variety of tasks including:
Mailings
Data entry
Invitation assembly
Creative research
These volunteers contribute their time each Season — we celebrate them and their dedication.
Mariah Atkinson
Partow Bayzaee
Irlana Bondar
Frances Bradley
Peggy Chan
Candice Cheah
Teresa Chiu
Sandi + Ian Churchill
Carole + Steve Clement
Lynne Dale
Carol Dann
Elizabeth Dizon
Julie Docken
Graham Edwards
Shirley Foster
Brenda + Dave Frame
Barbara Frasch
Prasad Ganesan
Jill Girgulis
Milena Gonzalez
David Grant
Lolita Guboc
Larry Hamm
Gloria Hare
Tracy Harrington
Hamish Harrison
Robin Harwig
Don Herman
Josh Hosein
Pamela Humphreys
Aime Hutton
Elly Jarvis
Shane Kidd
Maciej Kijak
Veronika Kiryanova
Lillian + Dennis Kozak
Wendy Kunsman
Eric Lau
Jeannie Laughlin
Jenai Lieu Elmire Limoges
Gail MacCrimmon
Shawna MacGillivary
Moira MacPherson
Joy Mamer
Kristy Martens
Sheila Martin
Julia Meeder
Kristy Meents
Carol Mewha
Elizabeth Middleton
Donna Morrison
Maydelin Nunez Noguez
Lynne Oishi
Faye Olubobokun
Tim Onyett
Jolanta Pawlilowska
Marlene Payne
Lucy Pei
Elsa Penate
Stephanie Quilliams
Lauren Ridge
Bridget Robinson
Amy Sawchenko
Barbara Schultz
Doug Smith
Ryan Stasynec
Dave Stephens
Barbara Stuber
Judy Taylor
Gloria Tse
Valerie Turner
Noah Urquhart
Mijk van Wijk
Debbie + Larry Wagner
Gina Waks
Dawne Wharton
Gayna Wong
Michelle Yee