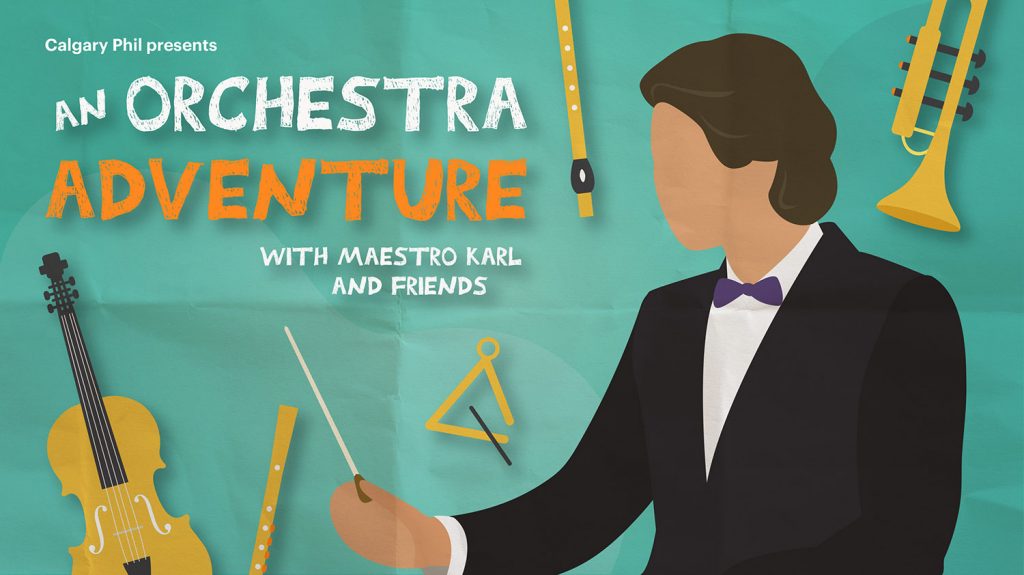 A four-part online series
An Orchestra Adventure (with Maestro Karl and friends)
Join the Calgary Philharmonic and Associate Conductor Karl Hirzer for a fun and educational tour of the Orchestra! This four-part online series takes kids on a musical journey through the four sections that make up a symphony orchestra: woodwinds, strings, brass, and percussion.
Along the way, they'll encounter different instruments and some of the musicians who play them, as well as take a few side trips to discover interesting facts about music and famous composers.
This series of four 15-minute episodes is perfect for parents and educators who want to share the symphony orchestra experience with children and spark a life-long love of classical music.
Webisode 3
Brilliant Brass
In this webisode, we take a tour through the instruments in the brass family, including trumpet, horn, trombone, and tuba. This is not only the shiniest section of the orchestra, but it can also be the loudest. We'll learn some fun facts about the life of Beethoven, a composer who overcame his hearing loss and changed the course of music history.
School Visits!
Bring music to your classroom! Throughout the school year, we're providing convenient and accessible experiences featuring Calgary Phil musicians! To learn more, see our School Visits page.