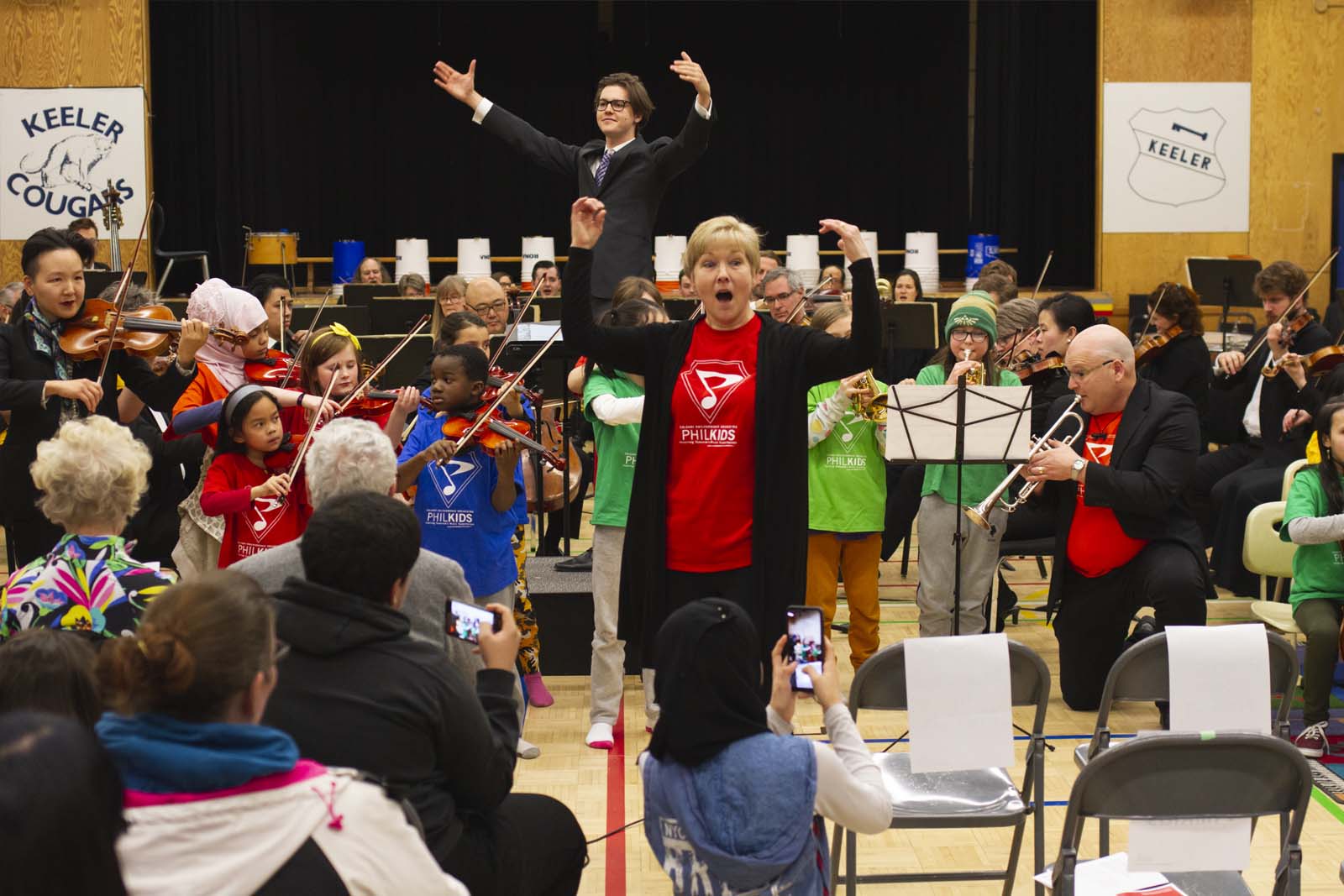 A visionary program to empower kids through music.
Thanks to the vision and support of longtime Calgary Philharmonic supporter Judith Kilbourne, we launched a meaningful after-school music program called PhilKids in 2015.
Our musicians visit carefully selected elementary schools to teach music lessons, Bucket Band ensemble, and music fundamentals classes to children who otherwise would not have access to such artistic programs. PhilKids is designed to fuel and support the empowerment of children through the exploration of music. It offers elementary students, ages six to 11, the opportunity to learn directly from Orchestra musicians. Teachers quickly develop a rapport of trust and respect with their students through close work twice a week over the school months.
"Having the opportunity to study music has shown to have intellectual and developmental benefits to your children that no other activity provides."
— Paul Dornian, Former President + CEO, Calgary Philharmonic
"It's always wonderful to walk into a room where you see children are engaged and curious. I can see the long-term effects of what the teachers, staff, and musicians have created. They have created a space for these students where their imagination and curiosity for the world is supported and encouraged."
— Cellist Yo-Yo Ma, on PhilKids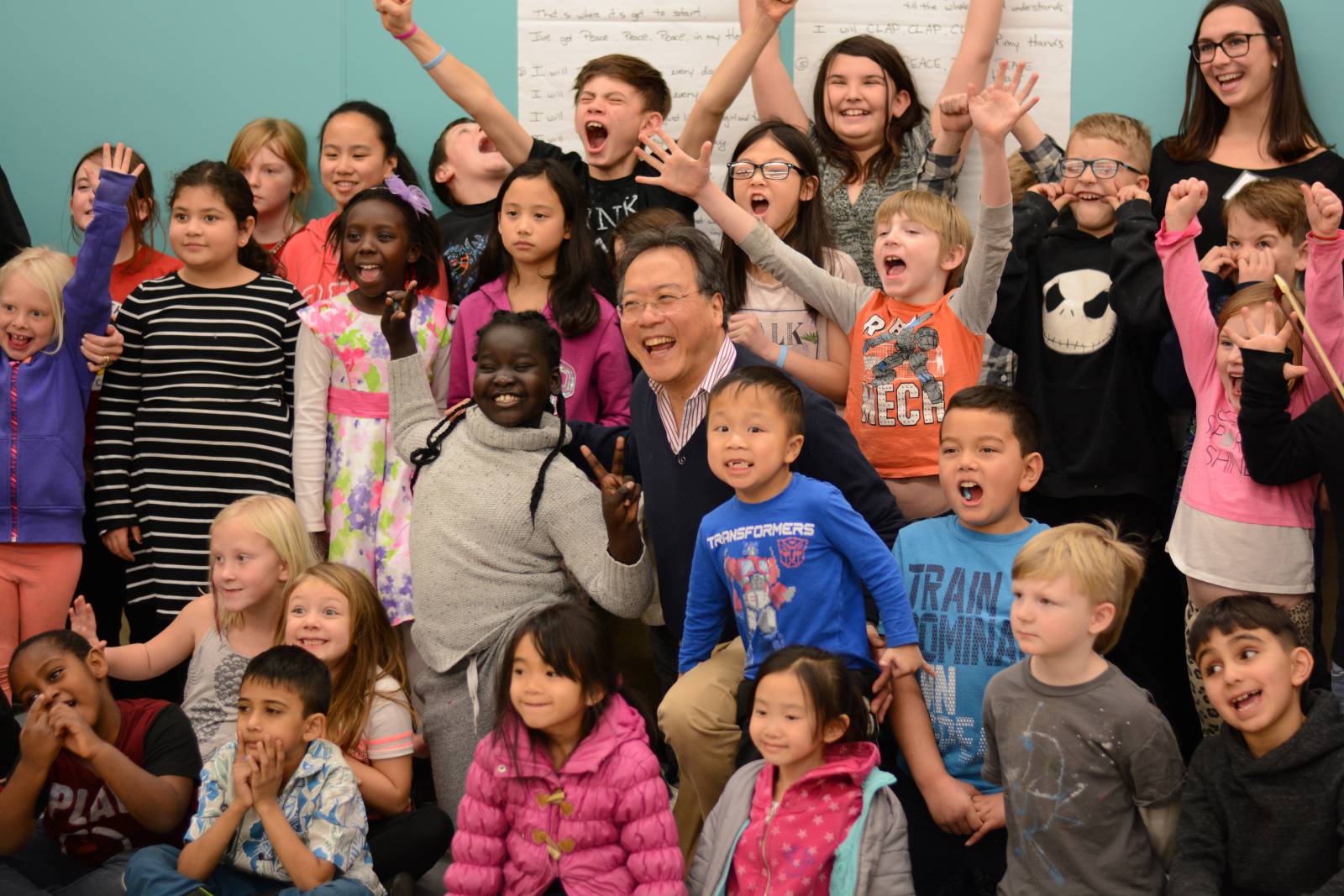 What's Involved
Bucket Band
Students learn rhythms and how to play in unison by performing on hardware store buckets. This teaches students teamwork, focus, and discipline.
Instrument Instruction
During the 2020-2021 season, PhilKids students continue their musical studies virtually using body percussion and audiation, all while focusing on their social development.
Musicianship
Students learn everything from the names of the instruments to the notes on a staff through traditional and game-based learning with the Calgary Philharmonic musician Heather Wootton.
Watch our new PhilKids video on TELUS Optik TV! Simply log in, then search PHILKIDS in the top right hand corner. (Available for TELUS users.)
PhilKids Teacher Roster
Heather Wootton – Lead Teaching Artist, Music Fun
Maxwell Stein, Music Fun
Richard Scholz, trumpet
Eileen Kosasih, violin
August Murphy, flute
Sean Buckley, Music Fun , Buckets
Jessica Murdoch, Music Fun, Buckets
Kelsey Noble, flute
Andrew Scholz, violin
Kathleen de Caen, cello
Here's How You Can Help
Provide instruments for one year $7,000
Sponsor a child in PhilKids for one year $1,000
Music books for PhilKids $750
Uniforms for PhilKids (T-shirts) $600
Guest musicians $400
Buckets for the PhilKids bucket band $250
After-school nutrition for 50 kids each week $100
Program expenses All donations appreciated
Any amount is accepted and appreciated. Donations over $20 will receive a charitable tax receipt.
Contact
To learn more about PhilKids, and how you can join us to help have a positive impact on the bright futures of these children, email [email protected].
For donation inquiries, please contact:
Barbara Soles
Senior Development Officer
403.571.0849
Contact
To learn more about PhilKids, and how you can join us to help have a positive impact on the bright futures of these children, email [email protected].
For donation inquiries, please contact:
Barbara Soles
Senior Development Officer
403.571.0849