Calgary Philharmonic Chorus
The Calgary Philharmonic Chorus is a group of more than 100 voluntary singers and four section principals who perform diverse repertoire including oratorio, opera, light classics, contemporary music, and pops. The acclaimed ensemble is featured in four to eight concerts with the Orchestra each season.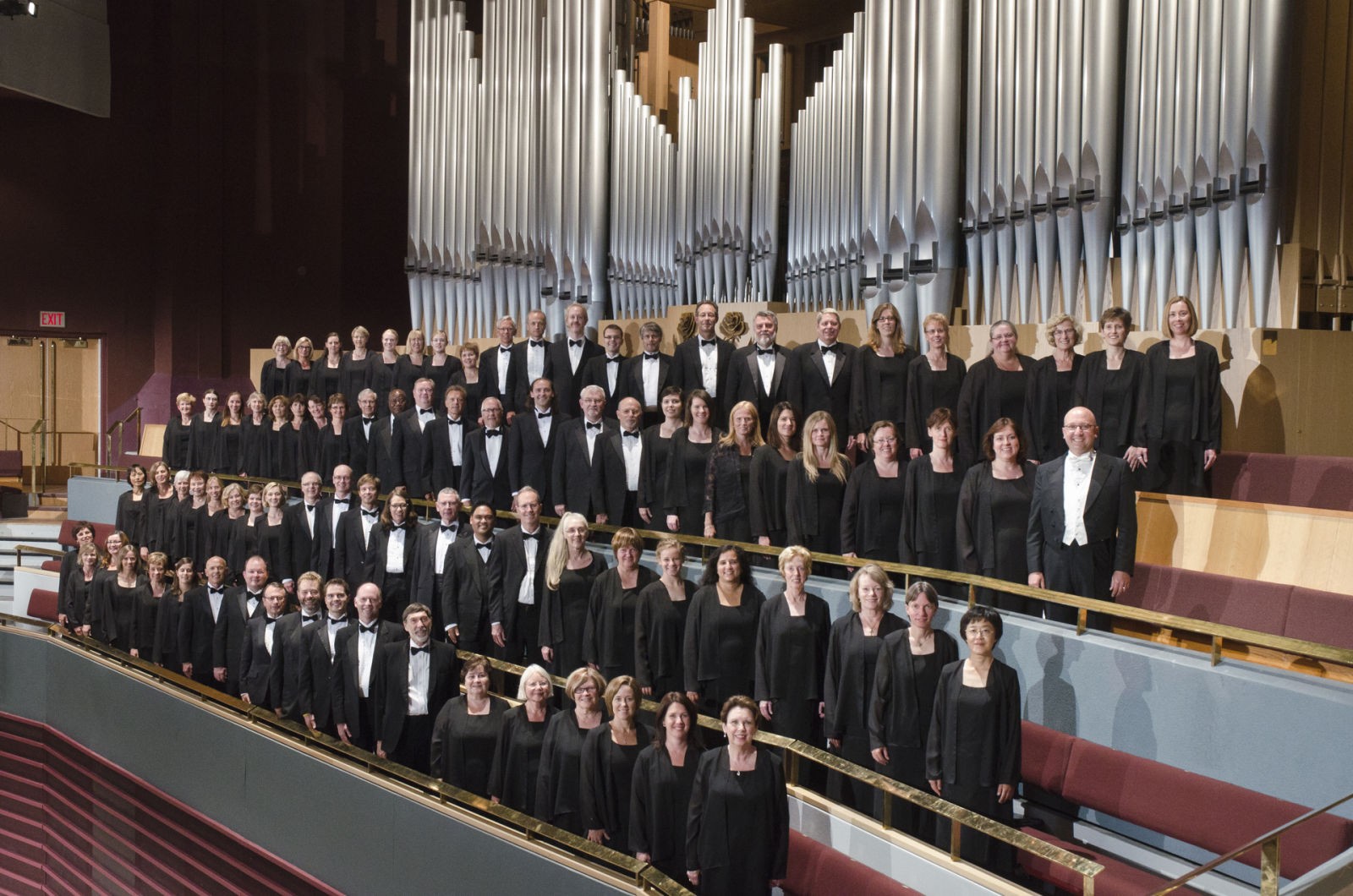 History
Established in 1963, the Chorus performs a wide variety of repertoire, including commissioned new works, with the Calgary Philharmonic Orchestra to deliver excellence in the performance of choral music and to promote the enjoyment and development of choral singing in the Calgary community.
Our adult volunteer chorus members come from all walks of life and include musicians, teachers, physicians, lawyers and other professionals, students, and stay-at-home parents who audition for their positions. Together, they dedicate over 19,000 hours annually to rehearsals and performances! Recently the Chorus has made recordings for a CD, a virtual performance, and two live-streamed performances with the Orchestra.
The Chorus has collaborated in performances with several other local choirs, has created and performed at various community outreach events, participated in Calgary Phil's Symphony Sunday for Kids concerts, and performed for Queen Elizabeth II in a special 1990 presentation conducted by the late Mario Bernardi, Calgary Phil Music Director Emeritus. The chorus has traveled to perform in Chicago (2015), to the Choral Canada Podium Conference in St. John's, Newfoundland (2018), to Festival 500 in St. John's, Newfoundland (2007), to Edmonton to open the Winspear Centre (1997), and to Winnipeg to sing Mahler Eighth Symphony (1997).
How many people make up the chorus?
There are approximately 110 chorus members.
What is the general music background of the chorus members?
Backgrounds: B. Music, B. Musicology, Music Doctorates, Voice Majors, B. Ed. Music Teachers, Professional Singers as Section Principals, Voice teachers, Music students and many amateur musicians.
Collaborations:
Collaborations have included concerts with Luminous Voices professional ensemble (May 2018), Spiritus Chamber Choir (2015), Edmonton's Richard Eaton Singers, and Calgary Civic Symphony.
Choruses who have been invited to sing with the Calgary Philharmonic Chorus include: Calgary Girls Choir, Cantare Children's Chorus, Calgary Boys Choir, and Calgary Canadian Korean Choir.
There is an Endowed Chair for the Chorus Master funded by the Calgary Philharmonic Orchestra Foundation, and occupied by Dr. Timothy Shantz from 2009 to 2020.
The Chorus has performed or premiered Canadian works by composers Jeffrey Ryan (Afghanistan: Requiem for a Generation), Stephen Chatman (Songs of Joy), Arthur Bachman (Flute Concerto), Randolph Peters (Intensely Alive), Abigail Richardson-Schulte (Song of the Poets), and Laura Hawley (in progress).
At this time the Chorus Master search has not been finalized.
Sopranos
Hannah Pagenkopf*
Karin Baumgardner
Lindsay Bellemore
Ellen Borak
Michelle Bozynski
Tricia Bray
Patricia Bustillos
Carolyn Byers
Christina Candra
Katherine Clarke
Sheila Cook
Laura Davis
Ina Dobrinski
Sihana Dorfsman
Gail Feltham
Lisa Fernandes
Ymene Fouli
Sue Galcher
Sim Galloway
Alison Gibson
Carolyn Hatt
Dale Hensley
Jessica How
Linda Janzen
Amy Klintberg
Julie Miller
Gillian Posey
Colleen Potter
Lisa Sears-Walsh
Joan Simmins
Becky Standing
Chantelle Stevenson
Chandra Stromberg
Melissa Symanczyk
Norma Webb
Dianne Williams
Altos
Julia Millen*
Margaret Anderson
Barbara Boland
Indrani Chatterjee
Tanya Chow
Breanne Coady
Bernie Constantin
Carol Cooper
Shirley Cumming
Janice Dahlberg
Gillian Forster
Kay Harrison
Patricia Heitman
Amanda Holt
Helen Isaac
Allison Johnson
Heather Klassen
Kaitlin Krell
Catherine Lasuita
Lorrie Lipski
Barbara Mathies
Sue Mcnaughton
Susan Mendonca
Patty Mino
Mara Osis
Karen Palmer
Anastasiya Petruk
Josee Robitaille
Anne Rodger
Donna Ruparell
Monica Samper
Monica Schultz
Marian Žekulin
Tenors
Jason Ragan*
Timothy Ahrenholz
Dean Allatt
Tim Bell
Keevin Berg
Tristram Chivers
Pat Favaro
Andrew Fraser
Barb Hogan
Jungsoo Kim
Allan Morgan
David Owen
Peter Rilstone
Richard Seale
Ross Smith
Joseph Stedman
Dennis Voth
Basses
Nicholas Allen*
Archibald Adams
Odeniyi Ayo-Ajayi
Ian Charter
Timothy Cooke
Lloyd Crosby
Kevin Di Filippo
Arthur Dick
Alan Dornian
John Ghitan
Ian Gibson
Luke Hibbert
Allan Huber
Dylan Jones
Tyler Jones
Eric Klaassen
Ian Lunt
Keith Odegard
Jackson Partridge
Dan Philips
Teddy Pope
Alasdair Robinson
Dana Salter
David Schey
Tom Van Hardeveld
Richard Wanner
Maxwell Webber
Jim Weisert
Keith Wyenberg