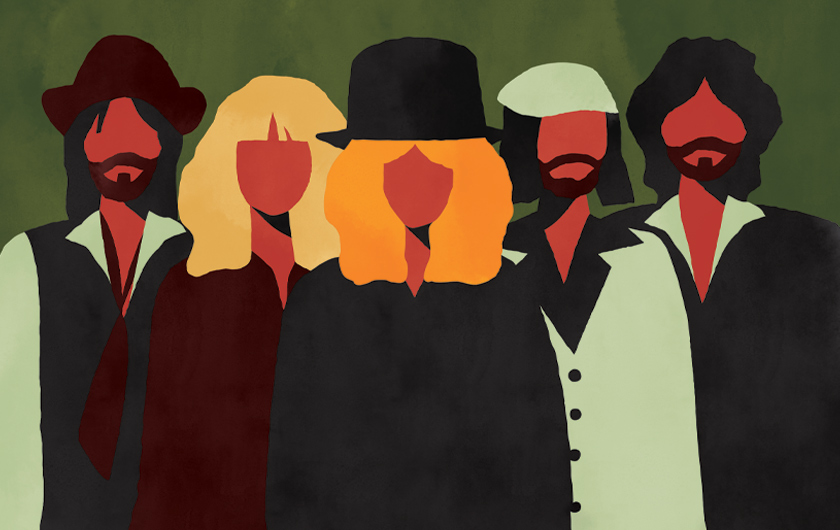 On 8 + 9 September, Jeans 'n Classics brings the timeless music of Fleetwood Mac to the stage with the Calgary Phil. Enjoy hits like Over My Head, The Chain, Don't Stop, and Little Lies, and more performed by Jeans 'n Classics and the Orchestra, led by guest Conductor Geneviève Leclair.

1. Musicians often work other jobs before their big break, and the Fleetwood Mac members were no exception. Mick Fleetwood was supposed to be a window cleaner before helping found the band. John McVie was already training to be a tax inspector when his opportunity came, and Christine McVie was working as a window dresser while studying sculpture to become an art teacher. Lindsey Buckingham and Stevie Nicks joined the band as a package deal, since they had been making music together (and dating) since high school.
2. Though Fleetwood Mac's music made them famous, the band's relationships are something of legend. Christine McVie married John McVie but divorced in 1976. By the time Stevie Nicks and Lindsey Buckingham joined the band, their relationship was slipping. Dreams was written by Nicks about the end of their relationship, and Go Your Own Way addressed Buckingham's own side of the split.
3. Even though Christine McVie didn't join Fleetwood Mac until 1970, she was a session musician for the Kiln House album, contributing backing vocals and keyboards during recording sessions. Not only that, McVie used her art school background to create the album's distinctive sleeve illustration. McVie also submitted artwork for the band's follow-up album Bare Trees. The art was never used, but is currently sits in a collection at the Victoria and Albert Museum in London.
4. Before Stevie Nicks and Lindsey Buckingham joined the band, Fleetwood Mac cut their American tour short in 1974. Their manager used the band's name and sent a group of musicians on the road in the band's place in order to fulfill touring commitments, calling the The New Fleetwood Mac. Audiences and the Rolling Stone noticed the deception, and the real Fleetwood Mac pursued a lawsuit over the name, and ultimately decided to manage themselves.
5. Given Fleetwood Mac's success and Stevie Nicks' undeniable talent, it was only a matter of time before she went solo. But, according to Nicks, she didn't even think about going solo until 1981, and when she did decide to record a solo album, she didn't want to leave Fleetwood Mac. In 1981, Nicks released her first solo record, Bella Donna, a chance to release songs she had written while in Fleetwood Mac, like Edge of Seventeen and Leather and Lace.
Your Calgary Philharmonic Orchestra opens with Never Break the Chain: The Music of Fleetwood Mac this 8 + 9 September 2023. Don't miss out on this electrifying concert with Jeans 'n Classics and Canadian conductor Geneviève Leclair.