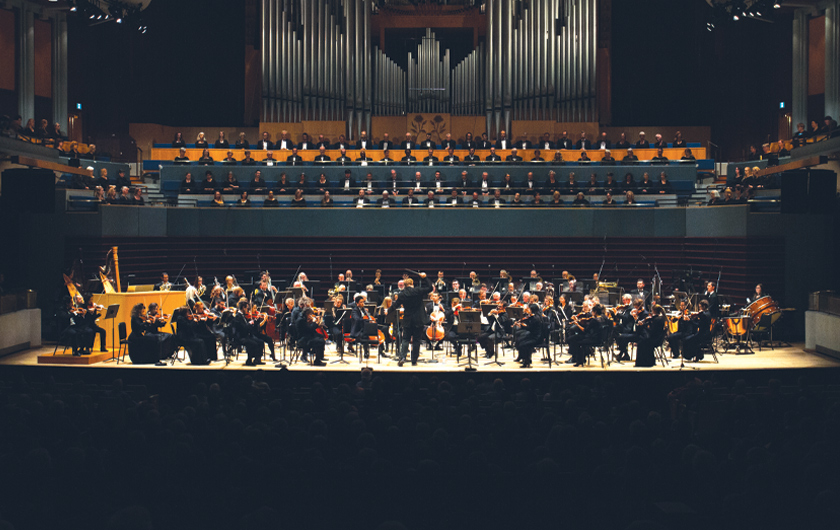 On Saturday 16 September, be transported by your Calgary Phil on a journey through orchestral sound with Music Director Rune Bergmann as your guide to Modest Mussorgsky's splendid instrumental showcase, Pictures at an Exhibition, as well as Ludwig van Beethoven's Leonore Overture No. 3 — a tale of darkness to light. Plus, the premiere of a new work by composer John Estacio celebrates the Calgary Philharmonic Chorus's 60th anniversary. Get your tickets here.
To help you learn the stories and inspiration behind the music, here are some notes on each piece you can read before the concert!
Leonore Overture No. 3, Op. 72B
Ludwig van Beethoven (1770 to 1827)
Ludwig van Beethoven wrote a single opera, Fidelio, in the earliest days of the 19th century. It's a political thriller about a wife who dresses up as a prison guard in order to save her husband, who is on death row in a political prison. Fidelio premiered in Vienna in 1805, when the city was under French occupation. Reaction to the early performances was said to be muted, as the audience was mostly French soldiers, who reportedly weren't very interested in a thriller about a German. Beethoven struggled to write the overture, which he revised four times, primarily because its huge theatricality was thought to overshadow the more nuanced opening scenes. The best of his rewrites is thought to be Leonore Overture No. 3, which opens with a scene in a dungeon where Fidelio has been consigned to spend his life. It climaxes with Fidelio realizing it's his wife who is responsible for springing him from prison.
Pictures at an Exhibition
Modest Mussorgsky (1839 to 1881)
Pictures at an Exhibition was St. Petersburg-born Modest Mussorgsky's attempt to translate visual art into music. It was inspired by Mussorgsky's visit to an exhibition celebrating the work and life of his friend, progressive painter Victor Hartmann, who died suddenly at the age of 31 of an aneurysm. When a mutual friend arranged a retrospective as a tribute to Hartmann, Mussorgsky lent the two Hartmann paintings he owned. He reportedly was so moved by the exhibition, he wrote Pictures at an Exhibition in its entirety in 20 days. The piece itself is a piano suite in 10 movements, with each movement representing a different painting by Hartmann. They are linked together by a promenade bridge, which is meant to be the musical equivalent of walking from one painting to the next. While he was alive, Hartmann is reported to have loved Mussorgsky's compositions, and when Mussorgsky removed one of them from the libretto of his opera Boris Godunov, Hartmann is said to have begged him to put it back in, which he did, in 1872. Boris Godunov premiered in St. Petersburg in 1874 and all nine performances sold out, but the opera was initially poorly-received, most particularly by members of Russian royalty, who were thought to be underwhelmed by Mussorgsky's representation of themselves. Those days were a golden age for art in Russia and in particular, St. Petersburg. At the same time Hartmann was creating paintings and Mussorgsky composed Pictures at an Exhibition, Fyodor Dostoyevsky was a St. Petersburg novelist who published Crime and Punishment in 1866 and The Idiot in 1869. Together with The Five — a group of composers including Mussorgsky, Alexander Borodin, Nikolai Rimsky-Korsakov, César Cui, and its leader Mily Balakirev — St. Petersburg was one of the cultural capitals of the world in the late 19th century.
Program notes by Stephen Hunt © 2023
High Flight
John Estacio (b. 1966)
The choice of John Gillespie Magee's poem High Flight — poetry celebrating the indomitable human spirit and the exhilaration of soaring to new heights — is a suitable selection to acknowledge the Calgary Philharmonic Chorus' 60th anniversary. The first line of the poem, "I have slipped the surly bonds of Earth," is, for me, how I feel whenever I enter a concert hall to hear a concert — the experience of hearing a live performance lightens my spirit and transports me away, far from the worries of the world, and the Chorus has provided this experience to its audiences for the last 60 years. The poem's vivid and dynamic language allowed me opportunities to create an exhilarating sense of ascension, suspension, and momentum in the music. The second stanza suggested a more reflective and serene mood for the music — a contrast to the rush of the opening section. To me, the poem is not necessarily only about flight, but also about the indomitable human spirit and its unending quest to pursue new heights, excellence, and joy. May the Chorus continue to soar to excellence with another 60 years of thrilling concerts, elevating the spirit of all who listen.
Program note by John Estacio © 2023