On Saturday 23 September, join the Canadian-born and Berlin-based rising star cellist Bryan Cheng has he takes the stage with your Calgary Phil for an enchanting evening featuring music from the legendary Czech composers Antonín Dvořák and Bedřich Smetana —led by Maltese-conductor Charles Olivieri-Munroe. You'll savour the beauty of the bohemian lands of this region, as it's music flows throughout the Jack Singer Concert Hall like the Moldau river, as the orchestra mesmerizes your hearts and minds.
Plus, you'll hear the Bryan Cheng bring the brilliant virtuosity of and singing tone to Camille Saint-Saëns' enchanting Cello Concerto No. 1. Get your tickets to this night of classical music here.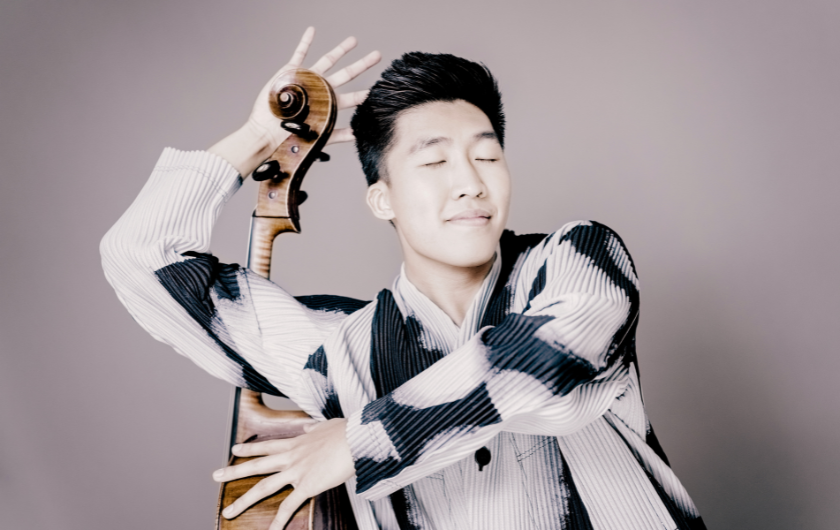 String Quartet No. 1 in E Minor,
JB 1:105 (From My Life)
(arr. Szell for Orchestra)


Bedřich Smetana (1824 to 1884)

 
Bedřich Smetana was a Czech composer who wrote during the latter decades of the 19th century, with his artistic sensibility firmly rooted in the liberal, even radical sensibilities that dominated Prague and Bohemia in the mid-to-late 19th century. At its 1878 premiere in Prague, one of the violinists performing Smetana's String Quartet No. 1 was Antonín Dvořák. The piece itself is a four-movement chamber composition experts say was both a political meditation about Smetana's own contradictions, as an ethnic Czech living — and composing — during the height of the Austro- Hungarian empire. Smetana was a musical prodigy but at the same time, someone who grew up having to fight to gain acceptance among the elite. He was an outsider whose patrons were likely imperialistic insiders. He also contracted syphilis at age 50, which led to complete deafness a few years later. Sadly, his work was very much inspired by trying to work through a number of sad events in his own personal life: his daughter's death inspired one piece, Piano Trio in G Minor, while his wife's death was said to be the inspiration behind the second movement of String Quartet No. 1. 
Cello Concerto No. 1 in A Minor, Op. 33

Camille Saint-Saëns (1835 to 1921)
In an art form that likes them to start young, Camille Saint-Saëns was an earlier riser than almost anyone. Born in Paris in 1821, Saint-Saëns' first song was composed at the age of three, and he publicly performed a Ludwig van Beethoven violin sonata at four. Saint-Saëns made his official public debut at the age of 10, performing Wolfgang Amadeus Mozart and Beethoven. Of Saint- Saëns, one critic — Harold Schonberg of the New York Times wrote: "It is not generally realized that he was the most remarkable child prodigy in history, and that includes Mozart." Cello Concerto No. 1 premiered in early January 1873, performed by a cellist and instrument maker named  Auguste Tolbecque. While he wrote Cello Concerto No. 1 during a period of musical experimentation — the 1870s — Saint-Saëns was a composer who treasured classical lines and melody, which earned the ire of some contemporary critics of the day, who did not approve of his old-school ways. As Saint-Saëns himself once wrote, "An artist who does not feel a deep sense of personal satisfaction with elegant lines, harmonious colors or a perfect progression of chords has no comprehension of true art."
A Hero's Song, Op. 111, B. 199

Antonín Dvořák (1841 to 1904)
Antonín Dvořák wrote A Hero's Song in the summer of 1897. It has been noted for containing more autobiographical leanings than other Dvořák compositions, so what was happening in his life in 1897? Two big things: one, his daughter Otilie married his student, Joseph Tuk. And two, his friend and mentor, Johannes Brahms, died in April of 1897. In 1896, Brahms tried to convince Dvořák, who had just returned to Europe from several years of living in the United States, in New York and Iowa, to come to live in Vienna — and offered to finance all of it, as he had no other family to spend his money on. Dvořák was deeply touched by Brahms' offer, but said he could never live anywhere but his beloved Bohemia, where he was born and grew up. The hero in the title is not however a soldier. It's more a reference to an artist, or a traveling 'bard'. It's been described as a 'symphonic poem' written within the framework of a four-movement symphony. It was Dvořák's last orchestral work and the final of his five symphonic poems. It's said to not tell a story but to tell two distinctly different moods: despair and triumph.
Program notes by Stephen Hunt © 2023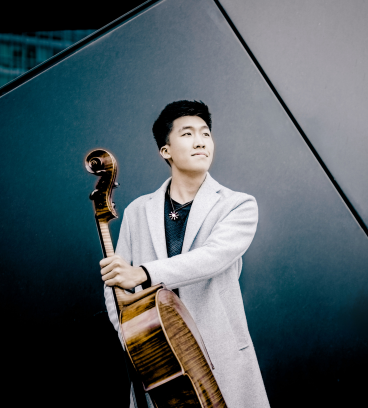 Bryan Cheng
Cello
Following recent prize-winning successes at some of the world's most prestigious international competitions, including Queen Elisabeth, Concours de Genève, and Paulo, Canadian-born, Berlin-based cellist Bryan Cheng has established himself as one of the most compelling emerging artists on the classical music scene. He made his sold-out Carnegie Hall recital debut at age 14, his Elbphilharmonie debut at age 20 with the Deutsche Kammerphilharmonie Bremen, and in 2022, was the first cellist to be awarded the coveted Prix Yves Paternot in recognition of the Verbier Festival Academy's most promising and accomplished musician. As a member of the Cheng² Duo, CelloFellos, and as a chamber musician, Bryan performs extensively globally. He has worked with partners such as Angela Hewitt, Christian Tetzlaff, Lars Vogt, and Antje Weithaas. Over the years, Bryan has accumulated a concert repertoire spanning five centuries, and is equally committed to both traditional classics and the music of his time. He has commissioned and given eleven world premieres, including two pieces by Canadian composer Alexina Louie at his second Carnegie Hall recital, the North American premiere of a cello concerto by British-Russian composer Gabriel Prokofiev (grandson of Sergei) at Koerner Hall with the Esprit Orchestra, and a multimedia project featuring five new Canadian works by composers from all regions of the country at the National Gallery of Canada. Bryan plays the "Dubois" Antonio Stradivarius cello (Cremona, 1699).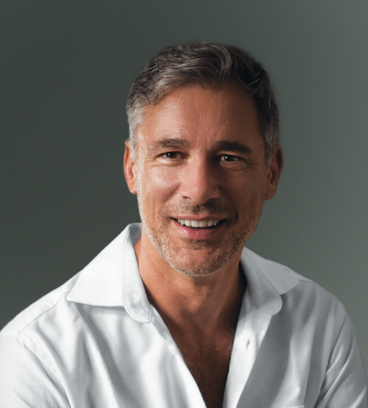 Charles Olivieri-Munroe
Conductor

Born in Malta, Charles Olivieri-Munroe grew up in Canada and is one of today's most distinguished and much-travelled conductors. Charles has conducted many of the world's major orchestras like the Israel Philharmonic, l'Orchestre symphonique de Montréal, Toronto Symphony, Sydney Symphony, Munich Symphony, Danish Radio Symphony, Czech Philharmonic, Warsaw Philharmonic, National Hungarian Philharmonic, and many others. He has worked with world-class soloists including Angela Gheorghiu, Krystian Zimerman, Joshua Bell, Maxim Vengerov, Sol Gabetta, Joseph Suk, Mischa Maisky, Shlomo Mintz, Ivan Moravec, Gabriela Beňačková, Joseph Calleja, and Ramon Vargas, amongst others. With a regular presence in the Asia Pacific region, he frequently leads concerts in Japan, Korea, China, Vietnam, and Thailand. Charles is a recognised specialist in the works of composers Antonín Dvořák, Bedřich Smetana, Leoš Janáček, Bohuslav Martinů, and the wider Slavic repertoire, and he is equally well known both for his mastery of the standard repertoire and adventurous programming. Charles is currently Artistic Advisor and regular guest conductor with the Royal Bangkok Symphony Orchestra, Principal Guest Conductor with the Thüringen Philharmonie in Germany, and Honorary Chief Conductor of the North Czech Philharmonic with whom he was formerly Chief Conductor between 1997 and 2014. He is also Resident Conductor at the Texas Round Top Festival Institute, the longest continuously running music festival of its kind in the United States.