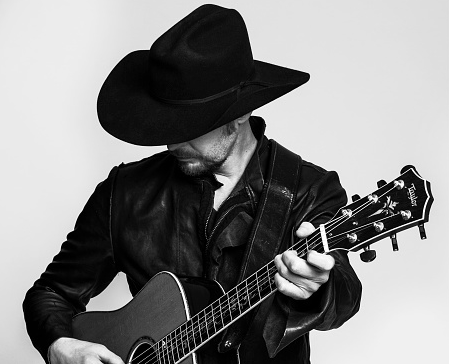 Country music superstar Paul Brandt loves Christmas, not least because he met the love of his life — his wife Liz — on Christmas Eve of 1995. "I picked her up at church," laughs the born-and-raised Calgarian. At the time, Brandt was living in Nashville, promoting his burgeoning music career. Earlier that year, on a brief trip home to Calgary, he attended church with his parents and caught his first glimpse of his wife-to-be, who sang a solo during the service. "I was smitten," he says. Fast forward to 24 December of the same year. The pastor asked both Brandt and the mystery woman to sing for the Christmas Eve service. "I don't think I've ever been so nervous, performing with her watching me," Brandt says of his rendition of Silent Night that evening. This admission comes from someone whose accolades are a proverbial mile long, from his winning the Calgary Stampede Talent Search in 1992, to his 2017 induction into the Canadian Country Music Hall of Fame. In fact, Brandt is the most awarded male country music artist in Canada's history.
Besides the association with his wife, Brandt says the holidays bring back fond memories of large family gatherings and abundant feasts, including traditional North American turkey dinners with all the trimmings, as well as the Russian/Ukrainian version of perogies, kielbasa, and cabbage rolls, courtesy of his father's side of the family.
And when it comes to Christmas music, Brandt is a huge fan, pointing to the fact he has released not one, but two Christmas albums and a single. "I love traditional songs like White Christmas and I'll be Home for Christmas, but it's also important for me to go back to the roots of Christmas with carols like Silent Night and Mary, Did You Know?" Brandt says. Of his own holiday compositions, he says Hands is among his favourites. "It talks about details in the life of Jesus and the power of Him."
Brandt's early years would not seem conducive to a future in music. When he was six, his parents started attending a church where no instruments were permitted, and congregants were told not to listen to recorded music. "I was sheltered from many elements of music except for a capella singing. I started writing poetry when I was seven. I'm thankful for that upbringing, because it helped me focus on lyrics," he says.
When Brandt was 13, however, his parents switched churches, joining one in which music was permissible. Brandt took music courses at junior high and high school, where he also joined the vocal jazz ensemble. He also got his first guitar when he was 13 and started learning country classics such as The Streets of Laredo and Ian Tyson's Four Strong Winds. He recalls being impressed with the musicians who came by to mentor students, an example he took to heart: he now takes "any opportunity" himself to speak with young musicians.
Now that Brandt is an established country music superstar with name recognition far beyond his hometown, he also wants to use his platform "to do bigger things
than promote my music and my brand." One of those is #NotInMyCity, a movement he heads up under the auspices of his charitable Buckspring Foundation. #NotInMyCity fights the sexual exploitation and trafficking of youth in Canada. The seeds for the movement were planted some 14 years ago when Brandt and his wife travelled to Cambodia and learned about child trafficking. They even met one five-year-old girl who was sold out several times each night. "It was traumatic. We knew it would be a part of our lives forever," he recalls.
That giving spirit will extend to his holiday performances with the CPO — $10 from every ticket sold will go to support #NotInMyCity. These benefit concerts are made possible due to the generous support of the Taylor Family Foundation, which has partnered with the CPO to bring the gift of great music to Calgary. Brandt will perform a mix of Christmas classics and his own hit songs with the CPO on 10 December in the intimate Bella Concert Hall at the MRU, and at concerts on 11 December and 12 December at the Jack Singer Concert Hall.
Brandt says he is looking forward to sharing his love of the season with audiences, and to sharing the stage with the Orchestra for the very first time. "I feel more like a spectator than a performer," he adds. "I have the best seat in the city — I can't wait!"
Written for Prelude Live by Kathleen Renne
Hear Brandt perform live with the CPO in person on 10, 11 or 12 December or on our free Live-Stream on 12 December at calgaryphil.com/livestream.
Did you enjoy this article? The CPO Newsletter includes links to all the latest blog posts, concerts, and more. Subscribe below.