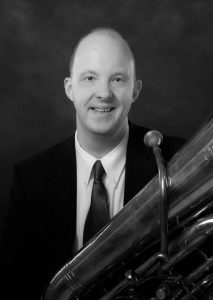 The tuba is the youngest instrument in the orchestra, and it also happens to be one of the loudest. But this week, according to Tom McCaslin, Principal Tuba of the Calgary Philharmonic Orchestra (CPO), his instrument will pale in comparison to the Carthy Organ.
"I'm fascinated with the idea of grandiose compositions and experiencing those. Not like, 'I want it to be as loud as possible and enjoy that experience' — I think that people sometimes think that brass players are drawn to that — but I'm really fascinated by how composers were able to write for sounds they never heard before, and conceive of things that people hadn't experienced yet."
The composer McCaslin has in mind is Camille Saint-Saëns, whose Third Symphony — aptly dubbed the "organ symphony" — will be performed by the CPO on October 12th and 13th. Along with two compositions by Maurice Ravel, this weekend's concerts, Keyboards: Marc-André Hamelin + Neil Cockburn, will mark the start of the Orchestra's Showcase Series.
"The Saint-Saëns Third Symphony has been a bucket list piece for me that I haven't gotten to perform yet as an orchestral tubist," McCaslin says. "[The first time I heard it was] in the very famous Sydney Opera House and it was just one of those performances that was riveting, and just exhilarating, and it stuck with me for almost 20 years."
McCaslin has a bit of a theory as to why this particular symphony is so memorable.
"Most music falls into one of two categories, as a performer," he explains. "Sometimes, we get to play pieces with absolutely great parts, that's a real joy to perform, but at this point, wouldn't be necessarily the first piece that I would put on and listen to in my car…And conversely, there are pieces that I'd really like to listen to, and really enjoy, but as a tuba player, getting to play it, it isn't that much of a joyous experience."
But when it comes to the organ symphony, McCaslin considers it to be an exception.
"This one fits both [categories] — it's going to be a joy to play, and also one of those ones that I can just sit and enjoy the whole package, the entire ensemble and the great addition of the organ to the orchestra," he says. "It really makes the Jack Singer a special place…because you really can't duplicate, even with the best stereo equipment, what it's like to sit and experience a piece like this live. It's a great thing that the CPO offers."
McCaslin, who grew up in Regina and is currently in his third Season with the CPO, spent many years as an educator, administrator, and performer across the globe before he was able to break into the full-time orchestral business.
"Tuba auditions are hard to come by — part of it's just the math," says McCaslin. "I took a lot of auditions and came really close, in my early 20s, and then, all auditions basically dried up. People stopped retiring, and there weren't anymore orchestra openings, and so, I got a job teaching."
Most recently, he worked in the Instrument Department at East Carolina University and taught tuba and euphonium.
"I love teaching, I love working with students, I love that developmental process for both the teacher and the student, and it's really a special thing — but my heart really was always going to be a performer."
So when the opportunity in Calgary arose, McCaslin made sure to capitalize on it.
"Being able to come back to a place that's really relatively close to where I grew up and I where I'm from and have a full-time job playing the tuba, is really like winning the lottery — it's pretty awesome!"
Written by guest contributor Jill Girgulis
Jill Girgulis is a student at the University of Calgary and a regular contributor for thegauntlet.ca as well as buzzfeed.com. When she's not busy studying for her Doctor of Veterinary Medicine degree, she can most often be found in one of the first three rows of the Jack Singer Concert Hall.