The Calgary Philharmonic Orchestra welcomes eight new musicians for the 2018/2019 Season. Over the next few weeks, we'll introduce them to you with our "Meet the Musician" blog series. Follow along to get to know the CPO!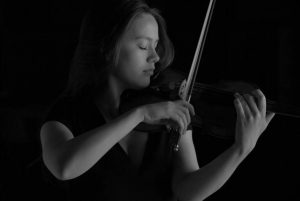 For Alicia Venables, one of three new members of the first violins section of the Calgary Philharmonic Orchestra (CPO), the decision to pursue the violin wasn't always set in stone. "My parents put me in this piano program when I was four … and in violin when I was nine," Venables says. "So I did both violin and piano actually equally…and then, after high school, I had to decide which path I wanted to take." The idea of playing in an ensemble was enough to point Venables towards her current instrument. "Back when I started, I had wanted something that I could carry around with me, something much more personal than a piano," she says. "It just seemed that violin had more opportunities, and I really wanted to play in an orchestra, actually — that has always been my goal."
To work towards that goal, Venables studied violin in post-secondary, beginning in Calgary at the Mount Royal University for a performance diploma, completing a bachelor's degree at the San Francisco Conservatory, and earning her master's at Carnegie Mellon University in Pittsburgh just this past spring. "I've always wanted to be part of something much bigger than myself, and there's just something very beautiful and satisfying being part of this large group of people working together to create something otherworldly."
Venables auditioned for the CPO in May, and soon learned that she had been named runner-up in the audition. However, just a month or so later, she received news that, since the audition winner had decided to delay their arrival until the 2019/2020 Season, Venables was invited to play with the CPO for a one year term. "I was on the Airbus from LA to Santa Barbara and I got the email from Michael Thomson, the CPO's Personnel Manager, offering me a contract," she explains. "It was a surprise, and I was on a bus, so I couldn't do anything, couldn't really jump up and down and scream!"
This Season will be Venables' first year in a professional orchestra, but it won't be her first experience with the CPO. "I don't know if the orchestra remembers me, but I played the first movement of the Sibelius Violin Concerto with them when I was 16 at the Morningside Music Bridge program," she says. "I remember thinking what an amazing sound the orchestra had, and I feel lucky to now be a part of the violin section."
Venables recognizes her good fortune and plans to make the most of her yearlong opportunity with the CPO. "To become a professional orchestra musician and make a living and support yourself with that job, it's super difficult … even though it's just a year, I'm excited to get the experience, make connections," she says. "I'll try and teach and do other things in Calgary as well, try and play some chamber music … I'm just feeling very grateful to come back to Calgary."
Written by guest contributor Jill Girgulis
Jill Girgulis is a student at the University of Calgary and a regular contributor for thegauntlet.ca as well as buzzfeed.com. When she's not busy studying for her Doctor of Veterinary Medicine degree, she can most often be found in one of the first three rows of the Jack Singer Concert Hall.