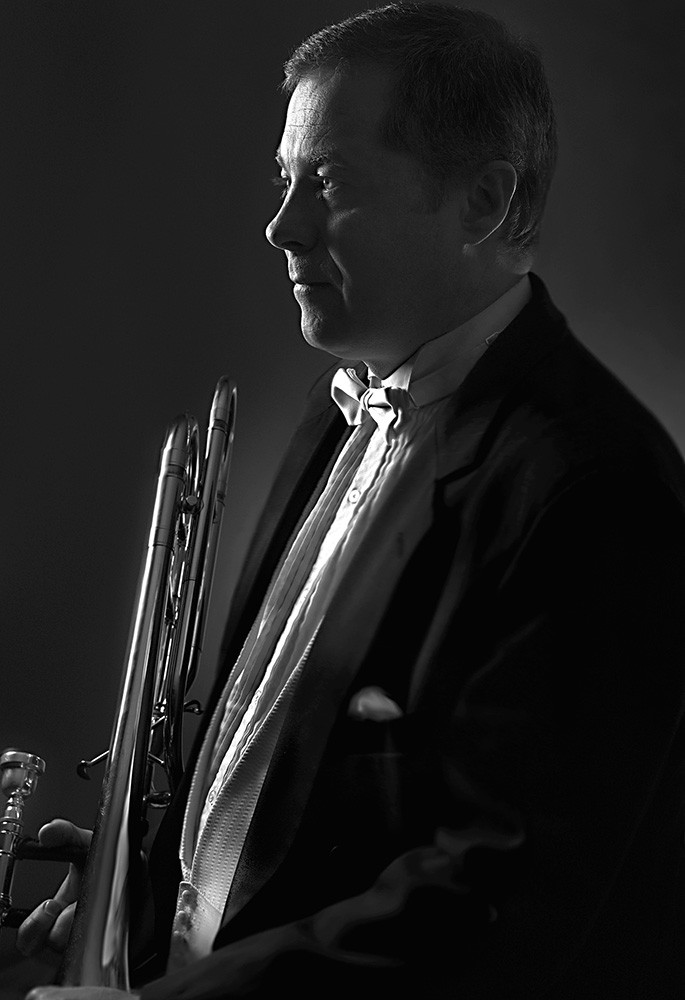 Classical music concerts usually have a common structure: a shorter piece, a concerto, and a symphony. Most orchestras will likely select one of the many violin or piano concertos that exist in the classical repertoire — but the Calgary Philharmonic Orchestra (CPO) isn't afraid to break the mold.
This week, on 28 and 29 September, the CPO presents the first concert of its Masterworks Series with Worlds Collide: Haydn, Ho + Kuzmenko. The CPO's Principal Trombone, James Scott, plays a very special part in this — he will be debuting a brand new commission, The Sandman's Domain: Concerto for Trombone and Orchestra, composed by Vincent Ho, 'New Music' Advisor for the CPO.
"I think this is definitely the first time there's been a trombone concerto on our main series. Principal Trombone is partly a supportive role, sometimes it's a leading role, and most of the time it's not necessarily the melodic instrument within every single piece you play," Scott explains. "There's certainly moments, but those are few and far between, so it's nice to actually have a chance to be the soloist."
Scott set aside the entire summer leading up to this Season to prepare for this performance.
"There's something very comfortable about sitting at the back of the stage in the trombone section, and suddenly you're out front for this concerto and feel a little bit self-conscious…" he says.  "In a symphony, you might have big moments, with long stretches in between, whereas this piece might only be about 20 minutes long, but pretty much most of those 20 minutes are centred around me, so just from an endurance standpoint, it's quite  different."
He's played with the CPO since 1981, but this particular performance holds extra significance for Scott.
"Over the years, I've played a handful of concertos, but I've never had a chance to prepare a new piece and to be involved in some level with the formation of it," he says. "I've been working on commissioning a trombone concerto for probably a decade, trying to make it happen."
Scott's persistence eventually paid off, if this week's World Premiere is any indication.
"They made the decision over a year ago that they were going to go ahead with this, and we talked with Vincent Ho at that point," Scott says. "Vince just seemed like a good fit — he also played trombone himself many years ago, so at least he had a general idea of the instrument and a love for it, too."
This new concerto, which received inspiration from Neil Gaiman's "The Sandman" comic book series, has deliberately limited program notes, as Ho intends for the audience to produce their own interpretations as they listen to the music. Scott himself won't have even heard the piece in its entirety until his first rehearsal with his colleagues on Thursday.
"I'm looking forward to it. Just knowing from the times I have played a concerto, it's really nice…I mean, it's scary and all that, but what's great is just knowing that the people onstage with you are 100% behind you while you're doing it, you get this nice feeling that it's all your friends just wishing you the best."
Scott emphasizes the value of the Orchestra taking opportunities like this to feature its own musicians.
"The audience does identify with the people that are onstage, and it's important to do something like this every once in a while so that the audience continues to have that experience."
Written by guest contributor Jill Girgulis
Jill Girgulis is a student at the University of Calgary and a regular contributor for thegauntlet.ca as well as buzzfeed.com. When she's not busy studying for her Doctor of Veterinary Medicine degree, she can most often be found in one of the first three rows of the Jack Singer Concert Hall.