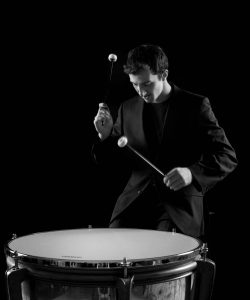 Alex Cohen, Principal Timpani of the Calgary Philharmonic Orchestra (CPO), has been listening to music his entire life — literally. Cohen says he and his sister Diana Cohen, Concertmaster of the CPO, were lucky to be exposed to music "ridiculously early."
"Our mom was a classical bassoon player, and she was playing concerts when she was pregnant with both of us, so we were exposed to it before we were even born."
While not everyone may have been introduced to music that early, it's never too late to start, thanks to the CPO's family-friendly concert series, Symphony Sunday for Kids. The first kids' concert of the 2018-19 Season, Peter and the Wolf, is taking place on Sunday, October 21.
"Prokofiev's Peter and the Wolf is a narrated work…so there'll be a section where the narrator says something about what's happening in the story, and then the music will depict that," Cohen explains. "I think this is wonderful for a kids' show, because it really — with very high quality music, very expressive music — allows kids to experience different characters, different emotions, and different sensations through music."
Sunday's concert will also include a performance of Saint-Saëns' Carnival of the Animals. As well, kids will have the chance to try out their musical abilities at the Instrument Discovery Zoo at 2 p.m., prior to the performance beginning at 3 p.m.
"I love doing the Instrument Discovery Zoos. It's just so fun to see the excitement on a kid's face when they play something that they've never heard before or they just haven't ever had a chance to do," says Cohen.
The goal of the Symphony Sunday for Kids series is to make children and families feel welcome in the Jack Singer Concert Hall.
"One thing that's worth noting is that we're deliberately making these concerts fun and relaxed," says Cohen, "so it's a situation where parents are comfortable bringing their kids, to let them experience something without any pretence about what it is to be in a symphonic concert."
The CPO offers four concerts like this each season, which Cohen feels are critical to helping expand the orchestra's reach.
"Especially with children, it's all about exposure. If a kid is exposed to everything there is to be exposed to, then they get a chance to choose what interests them. They won't know that classical music exists unless they're exposed to it a significant amount and they have a basic understanding about what it's about — and then maybe it gets some traction in them," says Cohen.
He also encourages developing an ongoing relationship with music.
"I think when people are exposed to this music throughout their whole childhood, they always connect with it, and then it's meaningful for them through their adult life," he says. "It's a matter of really having that relationship over the long term, rather than just here and there, and really continuing to bring new experiences to kids as they reach different age groups."
More than anything, Cohen and the rest of the orchestra just want to share their music.
"We just want people to come and have a good time, enjoy something beautiful and expressive….They just have to come with open ears and an open mind, and see what it means to them — and it may be that they have an experience that really resonates with them."
Written by guest contributor Jill Girgulis
Jill Girgulis is a student at the University of Calgary and a regular contributor for thegauntlet.ca as well as buzzfeed.com. When she's not busy studying for her Doctor of Veterinary Medicine degree, she can most often be found in one of the first three rows of the Jack Singer Concert Hall.