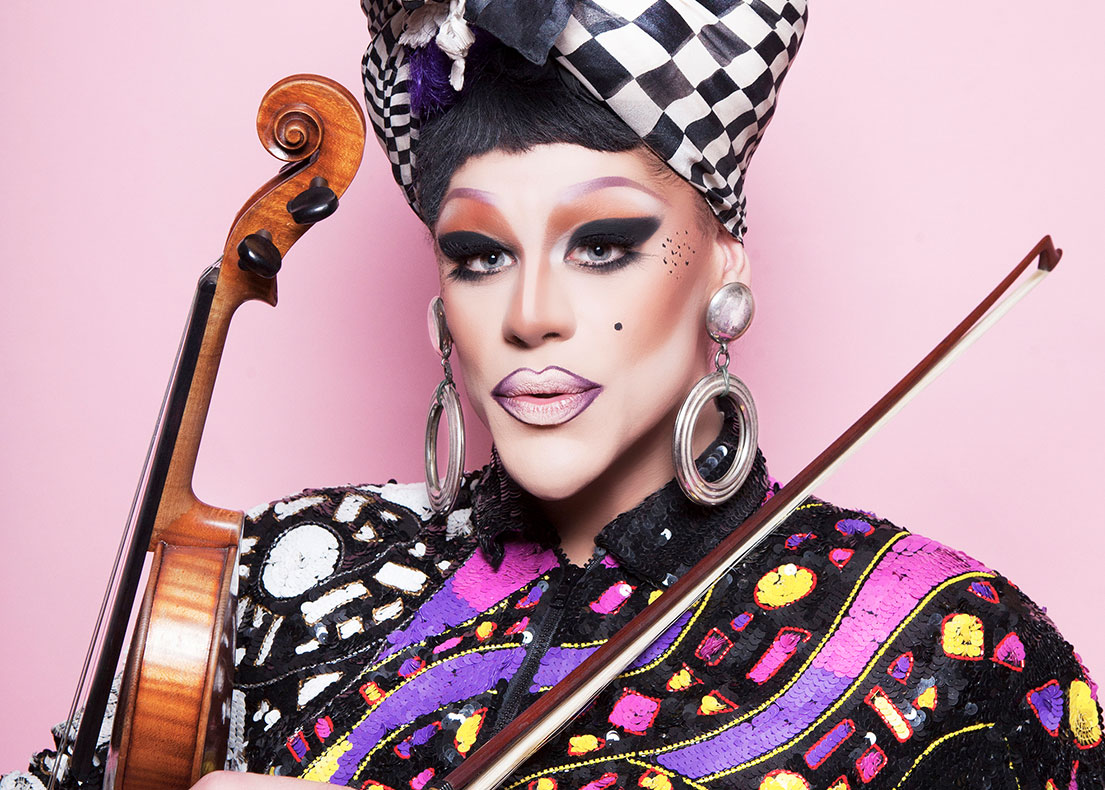 You first mentioned your dream for Thorgy and the Thorchestra when you appeared on RuPaul's Drag Race. How did that dream become reality?
I was so ecstatic when Rupaul asked me to play violin live during the reunion episode of Rupaul's Drag Race Season 8. Being a drag queen reality-TV "star" invites a sprinkle of criticism when you announce, "Hey, I'm also a classically trained musician!" (Sure you are!) But I was pleased to show that I really can play, despite how high my heels are. I announced the idea for a full orchestral show called Thorgy and the Thorchestra and the response was overwhelming. I received 100s of emails during the following weeks so I knew there was an interest right away. Putting together my own orchestra quickly became a massive undertaking, but thankfully I got a call from conductor Daniel Bartholomew-Poyser of Symphony Nova Scotia inviting me to host the first Thorchestra by stepping in to an already established orchestra. It was a massive success, and I've been invited to host with many other orchestras since selling out two nights in a row in Nova Scotia.
You play violin, viola and cello, and studied music in university. What led to your passion for classical music, and who are your main influences?
There is such magic in being a part of a large orchestra. I found it calming to force myself to blend into a section. I studied violin and viola since I was very young, and taught myself cello when I was much older. But, I've had the pleasure of playing full symphonies sitting in each section. It is a totally different experience as a player when you know all the parts. My creative brain, however, couldn't sit still. It was only a matter of time until I needed to start shouting from the roof tops with a microphone in my hand, making people laugh. Influences, huh? I could play Brahms all day and all night. Tchaikovsky, too! Most of my earlier 20-minute drag performances were scored to Tchaikovsky. As for my drag, it's very colourful — to say what inspires some of my looks would take a whole podcast!
How did you go from being one of a handful of Brooklyn drag queens to one of the most world's most recognizable?
That's a loaded question that could take all day! I am a pre-YouTube, pre-Facebook, pre-Instagram Queen… which means I've been doing this a while and had no one to teach me the do's and don'ts of drag artistry, makeup, and etiquette. When I first wanted to create a character, I typed "drag queen entertainer" into Google and a picture of Lady Bunny popped up. And let's face it, who wants to look like her?! Ha! I lived in Brooklyn because it was what I could afford… nothing! I could count on one hand how many Brooklyn drag queens there were working the scene. Now, I can't keep track because there are so many. I performed for years in dark, seedy nightclubs at 2 am, sometimes 7 days a week, all while teaching violin and freelancing during the day! Once I heard there was a show on TV, hosted by the world famous Rupaul, I auditioned until I got on and the rest in history.
Do you think combining the worlds of drag and orchestra opens doors to new audiences for both?
Having a fabulous queen on the mic spices things up! I like to ask the audience "Who has season tickets and who is here because I was on TV in drag?" There is always a mix, so I ask everyone to take a second and shake hands, because it's literally two different worlds colliding in one audience. I've received so many emails from queer youth spilling their hearts out to me. They are so thankful that I created something different and opened doors for new ideas and artistic minds to create something new. Why not? Let's see what we can all get away with in this lifetime. I'll be in the front row cheering!
People who have seen you on tour and on TV are familiar with your quick wit and clownish antics. What can audiences expect from this performance with the Calgary Philharmonic Orchestra?
I hear that a lot — "Thorgy, you are smart and witty. You have a European humour about you." Maybe that's why they kicked me off RuPaul's Drag Race… twice! Who knows? Ha! At any rate, it's a pleasure to bring Thorgy and the Thorchestra to Calgary. Audiences can expect a mix of beautiful orchestra repertoire and fabulous legs in tights! Of course, I will be playing violin and sharing stories from my life — but why not include the audience in the fun too?! Get ready!
Written by Maureen McNamee