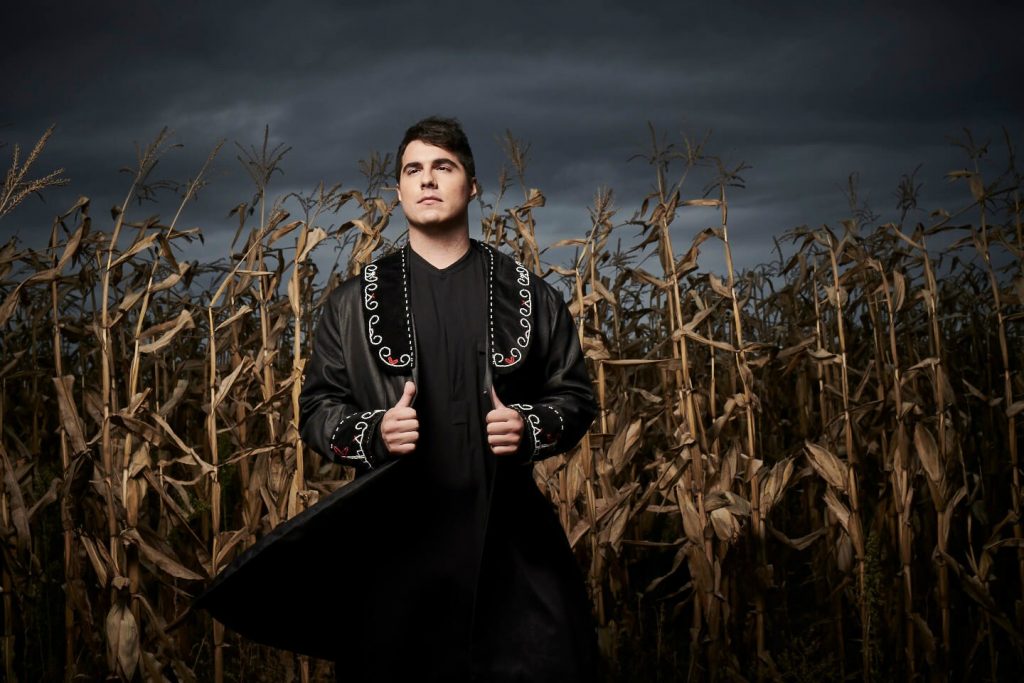 When Jeremy Dutcher announced he would be performing with orchestras across Canada this season, he said: "This orchestra tour means so much to me. It sews together two musical halves of myself." For audiences, the tour is another stitch in the Indigenous artist's efforts to bridge cultures, generations, and genres.
A two-spirited Maliseet musician from the Tobique First Nation in New Brunswick, Dutcher is a classically trained tenor, composer, musicologist, performer, and activist. He won the 2018 Polaris Prize and a 2019 Juno Award for his groundbreaking debut album, Wolastoqiyik Lintuwakonawa (Maliseet Songs), which combines the traditional vocal singing of his Wolastoqiyik/Maliseet ancestors with classical and contemporary music, creating a whole new soundscape.
Dutcher has emerged as a leader during an exciting time for Indigenous music across Turtle Island, with amazing new artists emerging in every genre. I recently had the opportunity to interview him about being a game-changing artist in what he calls Canada's "Indigenous renaissance." "I come from the Wolastoqiyik people in what is today called New Brunswick, and they've been really excited about this work that I've been doing because I've been working with old songs and bringing some of the ancestor voices forward, but also because I'm singing in the language," he says. "For our Nation there are less than 100 fluent speakers of our language left, so to keep that alive, our community is really excited about that."
The impact extends beyond his community as Dutcher shares the language with other First Nations people and all Canadians through his album and his performances. "They may not know what I'm singing, but they know what I'm singing about," he adds. "They understand the emotion behind what I'm offering."
Dutcher's tour brings him to the CPO (8 November) and other orchestras across Canada, where he plans to engage with local Indigenous communities and invite them to attend. "I hope that a lot of our Indigenous people from every First Nation across Turtle Island can come out to the shows and witness something — that is, classical music is for everyone, and we can bring ourselves into those spaces and share who we are as Indigenous people," he says. "For a long time we put those fences up because we didn't feel welcome to listen to that kind of music, or that we were ostracized or put down for liking that kind of music. But what I've come to know on this journey is that Indigenous music and classical music come from a very similar place, a very spiritual place, and it's all about beauty and that cuts across cultures."
Dutcher says orchestras have an important role to play in making classical music more accessible to younger Indigenous people. For example, he says, they could offer lower ticket prices and outreach programmes to let them know they are welcome. "Let's be clear, it's very similar out there in Calgary as it is everywhere in the country — there is an economic disparity between Indigenous and non-Indigenous people and these kind of concert halls, the tickets aren't cheap," he says. "…Outreach activities are important as well, like getting the instruments in the hands of our youth."
When Dutcher performed a concert in his own community last year, he says it was the first time some of the youth had seen a grand piano and were able to touch it and play it. "As soon as they did they were so interested, you couldn't detach them from that instrument. You know, they just need the tools and then they will do the rest…. So this is a real opportunity, to have conversations with orchestras across Turtle Island to ask how are we inviting Indigenous people into classic music spaces?" 
This season the CPO is working with Making Treaty 7 to develop Napi and the Rock, a new educational concert for school students. For more information visit calgaryphil.com/education.
Written by Sable Sweetgrass