The Calgary Philharmonic Orchestra is welcoming new musicians this 2019/2020 Season. We'll be introducing them to you with our "Meet the Musician" blog series. Follow along to get to know your CPO!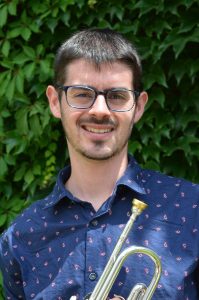 For trumpet player Matthew Ross, his first foray into music wasn't through the brass instrument. "I started on violin for about a year, when I was about five, but it just wasn't for me," Ross says. "I guess at that age, you just want to play outside."
Ross also dabbled with piano, and even steel pan as a university elective, but once he chose trumpet, he stayed with it. "Trumpet's basically been the only instrument I've played for an extended period of time," he says. "I really like the nice lyrical solos, and the power, spectrum, and all the different colours you can get from the instrument."
Ross grew up in Bermuda, and his first time being involved in orchestra was in high school, but there weren't enough brass or woodwind players in his youth orchestra, so he didn't have the full orchestra experience until university. He completed his post-secondary education at the University of Toronto, the Glenn Gould School in Toronto, and Rice University in Houston. He began taking professional auditions while studying at Glenn Gould. "My first audition was for Associate Principal Trumpet in the Toronto Symphony Orchestra, in 2014," Ross says. "I actually enjoy the process — trying to get better and learning from what you did right and what you did wrong, all that fun stuff."
He took some other auditions in the years since, including with the Calgary Philharmonic last season, when he saw the opening for a one-year Assistant Principal Trumpet contract to cover Miranda Canonico's leave. This job posting felt particularly coincidental for Ross. "Miranda and I had similar teachers, so we've known each other for a while," he says. "We've also played in a brass band together in Toronto, so we were in the city around the same time."
The audition took place in June of 2019, and Ross dedicated several weeks to prepare. "The experience was very smooth… everything was so well-organized at the hall, I had enough time to warm up and feel really comfortable, and it was nice seeing familiar faces," he says. "It felt very calm — sometimes auditions are very stressful when you're going to a new city and you don't really know anybody or where the hall is. But in this case, I'd been to Calgary before, so it was pretty relaxed — as relaxed as an audition can be."
Ross ended up winning the job, becoming stand partners with Principal Trumpet Adam Zinatelli for the 2019/2020 season. "It's really exciting to get the chance to play and learn as much as I can from Adam and the rest of the orchestra, since this is my first professional experience for a whole season," he says. "The nice thing is, because it's a one-year contract, I can just appreciate the moment."
As in any section of the orchestra, the Principal and Assistant Principal musicians have different responsibilities, and Ross prefers his second chair position. "I like this role a lot, and I think it better fits my personality and approach to music and trumpet," he explains. "It's definitely a supportive role — I just try to fit into the section, and listen to whatever Adam's doing and match him musically."
Ross is considering a move to Montreal or back to Bermuda once the season wraps up in June. But for now, he's capitalizing on his remaining time in Calgary. "I'm excited to be performing alongside all the players in the orchestra, and trying to do the best I can."
Written by guest contributor Jill Girgulis
Jill Girgulis is a student at the University of Calgary and a regular contributor for thegauntlet.ca as well as buzzfeed.com. When she's not busy studying for her Doctor of Veterinary Medicine degree, she can most often be found in one of the first three rows of the Jack Singer Concert Hall.