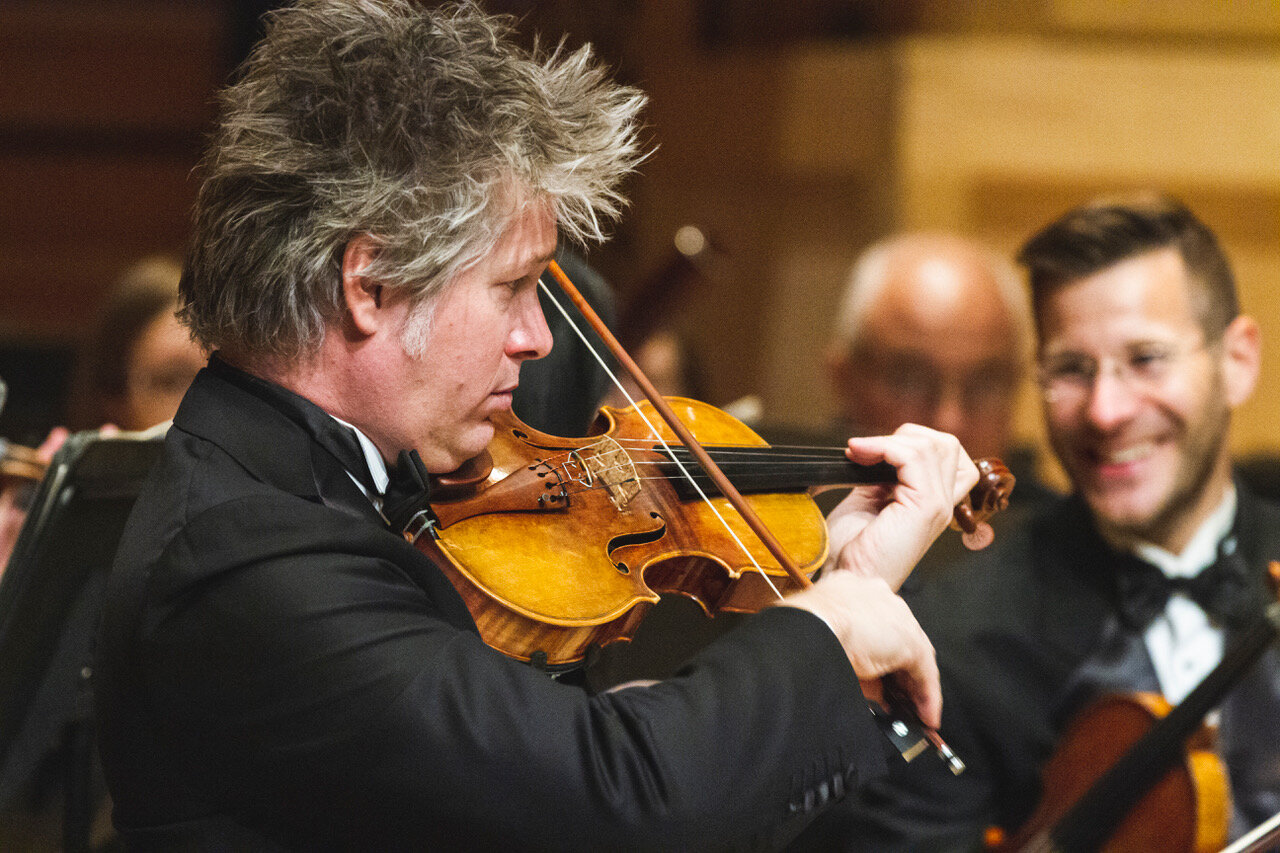 Originally published in August 2020 on the Arts Commons blog.
Shortly after COVID-19 shut down stages across the country, musicians from the Calgary Philharmonic Orchestra and Edmonton Symphony Orchestra recorded a virtual performance of the hauntingly beautiful Elgar's Nimrod from the Enigma Variations that went viral, reaching more than 155,000 combined viewers on YouTube and Facebook. Watching and listening as one conductor and 30 musicians, each playing solo from home, performed this moving work in unison struck an emotional chord with people experiencing isolation from coworkers, friends, and family, and feeling anxious about the future.
"The Elgar has always been a really powerful piece of music for me," says Calgary Phil Assistant Concertmaster Donovan Seidle, who spearheaded the project along with musicians Adriana Lebedovich and Genevieve Micheletti. "It's something that starts off softly and builds, like confidence or courage or resilience. So that's the feeling that I wanted to instill in the audience — and in the musicians — because it's a very uncertain time. I wanted to be able to help in some way and that's what we need to do as artists. It's part reflection, it's part inspiration, and it's a mix of what we hope to help our audience with."
What we don't see in the four-and-a-half-minute video is the effort that took place behind the scenes to pull it off. Seidle not only plays violin for the piece but is also the technological wizard who combined the individual parts into one seamless, natural performance — a process he estimates took 20 hours of meticulous editing on his souped-up and modified 2010 Mac Pro tower (which still runs circles around many modern computers!).
UNITING MUSICIANS ONLINE
At the time the video was created, concerts had just been cancelled and musicians were temporarily laid off (they were recalled a short time later). Seidle says being performers without a stage or a venue revealed a weakness in their ability to stay connected to their audience. Feeling compelled to overcome that hurdle, he put his recording and production skills to work so musicians could share their work online. He made click tracks so they could hear the tempo as they played, and enlisted conductor Janna Sailor, his partner, to record a video so they could follow her lead. When there weren't enough Calgary Phil musicians available to play all the parts — people were dealing with new challenges during the early days of the pandemic—some colleagues from Edmonton were invited to fill the gaps. Seidle collected videos from each musician and assembled them, adjusting every note "like a jigsaw puzzle" until it sounded as if they were all playing together from the same stage – assisted by some very neat tech like Vienna Instruments MIR Pro to place audio signals in a virtual concert hall for ambience/reverb and stereo image.
The first collaboration with the Edmonton Symphony was followed by a second featuring the Hockey Night in Canada theme song. Then the requests started pouring in. Seidle helped other ensembles create virtual performances, recorded online tutorials, and shared his knowledge with organizations like Orchestras Canada, the National Academy Orchestra, several youth orchestras and Fresh Inc. Festival in Chicago. "After the first two videos, people came calling because everybody wants to create online content right now," he says. "I'm busier than I've ever been. I think in the span of three months I've done more projects than I've done in two years. I expect to keep working on these sorts of projects for the rest of the calendar year, if not later."
One of the biggest projects was a Calgary Phil performance of the iconic first movement from Beethoven's Symphony No. 5, which originally aired on an episode of Tom Jackson's Almighty Voices series. The video is now available for viewing on the Run Calgary's Beat Beethoven website, where people can sign up for a virtual race in August in support of the Orchestra . "Beethoven 5 was big! The challenges are all the pauses and all the tempo changes," Seidle says. "When you have a steady tempo, it makes it just a little bit easier, but for real artistic expression and emotional flow, you want to be able to move the tempo."
CAREER AT A CROSSROADS
These projects give Seidle's inner "production nerd" a chance to indulge in a passion he came very close to choosing as a full-time career. Like many kids, he was into video games and movies, but he was particularly drawn to the music — he remembers being inspired by the 80s and early 90s computer demo-scene and learning .MOD and .S3M 4 and 8 track "tracking" software (an early version of a music sequencer combined with soft-synth instruments) with friends to create early chiptune and game soundtrack music. His interests took him through the Mount Royal College Conservatory's Academy program (with the associated orchestral, fiddling, technique, theory and composition classes) during his Jr and Sr. High school years at Sir William Aberhart High school; then on to U of C for his undergrad, where he doubled in performance and composition.
When he graduated, he faced two options: he was accepted into the film scoring program at the University of Southern California, and into the masters' program in performance at Northwestern University. The latter also offered a full fellowship. "It boiled down to economics," says Seidle, who went on to graduate from Northwestern. "I never lost the draw that music production has for me and I always keep my hand in it, but that was a crossroads for me. I chose performance… but it just as easily could have gone the other way."
He keeps those production skills sharp through his work as a composer, arranger, and producer. Over the past 20 years, Seidle has frequently collaborated with composer and music director Dave Pierce, including as Associate Music Director for the Opening and Closing Ceremonies of the Vancouver 2010 Olympics, which earned Pierce an Emmy.
Seidle doesn't expect virtual performances to disappear anytime soon. They're a great way for musicians to connect with people, especially right now when venues are closed, and to make music more accessible. On the downside, they're very time intensive and expensive — and at this point, there is no good revenue stream to recover those costs. But he adds that online videos will never replace the live experience, where musicians come together onstage and perform side by side, listening to each other instead of a click track, following the lead of a live conductor instead of a video, and feeling the audience respond to the music in real time.
Despite keeping busy with virtual projects — and the occasional excursion in his restored 1972 VW van — what Seidle wants most is to get back onstage. "I miss it so much," he says. "Especially our hall — the Jack Singer has world-class acoustics and it's always been home. I grew up in Calgary and I'm so familiar with that hall, I'm so familiar with the musicians in this city, so to not be onstage — and to not be on that stage — is hard. It feels like you can't go home."
By Maureen McNamee
September 2020