The Calgary Philharmonic Orchestra's may be in between Seasons, but that doesn't mean that the music stops! Follow along with our 'CPO in the Summer' blog posts for more updates on what some of the musicians are up to during their time off!
Gwen Klassen, Assistant Principal Flute and Piccolo of the Calgary Philharmonic Orchestra (CPO), can be identified in many ways—musician, teacher, life coach and the Founder and Director of the Pender Island Flute Retreat Inc. (PIFR).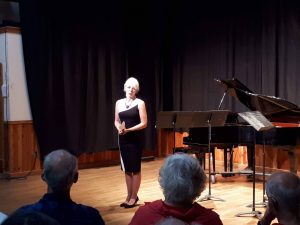 Klassen, who won her position with the CPO in 1995, recognized that she was seeking more in her career after ten years of playing with the Orchestra—and that's when the PIFR (www.fluteretreat.com) was first conceived. This weeklong summer retreat, held annually on Pender Island, BC (she owns a cottage there), just celebrated its ninth consecutive sold out retreat earlier this summer.
"The idea of the flute retreat was to create a community of flutists who were looking to expand and explore the integration of personal and professional life—to recharge, reconnect to what brought us to music originally … from a place of centre, compassion and creativity!" says Klassen.
In the early stages of planning this retreat, Klassen approached Heather Campbell (owner of Varsity Natural Health Clinic in Calgary) to lead the personal growth workshops and Lorna McGhee, Principal Flute of the Pittsburgh Symphony Orchestra, to lead the flute classes. Both were keen to be involved and "[the three of us got together] and asked the question 'what do we want to create?'… and away we went. A lot of skills were learned quickly in order to make [this retreat] happen … And many colleagues, board members, donors, administrators and friends helped me too! Not to mention my family!" Klassen says.
The retreat immediately expanded to include William Bennett OBE, world-renowned flutist from London, England, and Dr. Gabriella Minnes-Brandesand, McGhee's Alexander Technique teacher—and it's been sold-out ever since.
"[It was great] to get that internal and external feedback and support…that this is something worthwhile," says Klassen. "That people aren't scared of integrating their personal stuff with professional development…yet, it hadn't been done at that point, so we were all a little nervous and did it anyway!"
After completing her Life Coach certification, Klassen now leads the retreat's personal growth workshops. To her, PIFR has become an unending sense of purpose and "a platform to share whatever it is that I have explored and learned that year," she explains. "I have a stack of all these [creative] projects and every year, I have a deadline to complete them —the Pender Island Flute Retreat!"
Workshops at PFIR include The Mindful Musician, Flow & Fitness for Fluters, Bowing Vocalization and Breathing for flutists, Laughter Yoga, Brain & Body Awareness, Finances for Flutists and most recently, Leadership from Within. Participants are invited to explore the relationships they have with music, colleagues, students, money, the audience, and with themselves.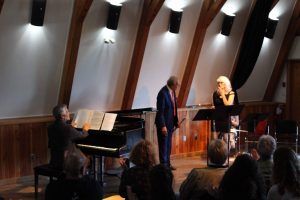 PIFR has also produced many workshops right here in Calgary—for the CPO, University of Calgary, and Mount Royal University—and four recitals with Lorna McGhee as well as fundraising benefit concerts (Syrian Refugee Relief and MusAid). Klassen has even been asked to lead a Piccolo & PIFR class at McGill University!
The retreat consists of 22 to 24 participants each year, a mix of professional and university flute players from around the world (including the CPO's flute section), and it's their feedback that's often been especially impactful for Klassen.
"We've created a community here that didn't exist before—one of the participants said that [to me]. And that was unbelievably meaningful," she says. "That ability to create community that's based on compassion and excellence…compassion doesn't mean that we're not practicing [hard]—it just comes from a different place."
The retreat has certainly undergone changes over the past nine years, perhaps most notably in terms of Klassen's mindset towards coordinating and executing it all.
"The biggest transition was from this resistance, from 'I have to [do this admin work]'…to 'I get to – I get to be of service to the community in this way and I am grateful," she says.
Just nine years in, PIFR has already proven to be to a meaningful addition to the flute community, and to Klassen's life as well.
"It's really intrinsically motivating and it's such a creative endeavour that really brings a lot of vibrancy to my life as an individual…and that sense of being of service to the community—it's just a win-win."
Written by guest contributor Jill Girgulis
Jill Girgulis is a student at the University of Calgary and a regular contributor for thegauntlet.ca as well as buzzfeed.com. When she's not busy studying for her Doctor of Veterinary Medicine degree, she can most often be found in one of the first three rows of the Jack Singer Concert Hall.