The Calgary Philharmonic Orchestra's 2017-18 season may have finished in June, but that doesn't mean that the music stops! Follow along with our "CPO in the Summer" blog posts for more updates on what some of the musicians are up to during their time off!
This past season, the Calgary Philharmonic Orchestra (CPO) embarked on a live-streaming initiative for the first time. Throughout the year, they recorded and released footage of five concerts, including Yo-Yo Ma's performance in December of 2017.
"I don't think anybody expected the success that we had," says Paul Chirka, the CPO's Recording Engineer and part of the live-stream team. "It's always nice, you always anticipate things are gonna go well, but it's like, things have gone really really well!"
This initiative, while still in its infancy, has already helped the CPO expand its audience base and has even begun to attract international attention. Now, Chirka is hoping to pick up some additional tips and tricks from his counterparts in Europe, thanks to the CPO's ongoing partnership with Morningside Music Bridge (MMB). This six-week educational festival for young musicians is taking place at the Fryderyk Chopin University of Music in Warsaw, Poland, and Chirka will be present for the final week.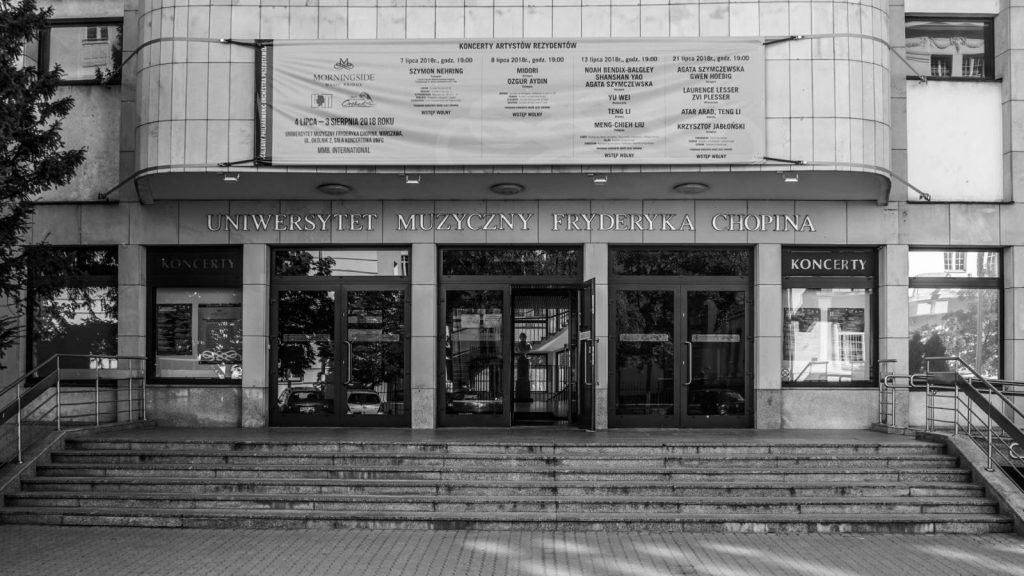 He'll be spending invaluable time learning from MMB's recording team, which has been responsible for live-streaming the program's performances throughout the summer.
"It's such a small community in Canada—there aren't very many people that are focusing solely on recording classical music. In Canada there aren't a lot of orchestras that have the infrastructure to record and thus, there aren't a lot of people [in this industry]," says Chirka. "I want to go [to Poland] and be a sponge and take in everything I can and help advance my skills."
While his work on the CPO's live-streams certainly occupies his time nowadays, Chirka was initially involved with the Orchestra in a completely different capacity.
"[Two years ago] I was hired as Artistic Operations Coordinator, and then it just kind of evolved," he says. "Even Recording Engineer is a very small piece [of my job]…[I'd probably need] four name tags to actually really get an idea of all the different things that I do."
Chirka is just one member of a team of individuals who make the live-streaming possible, and he can't sing their praises enough.
"[Live-streaming] wouldn't happen if we didn't have the people driving it the way they do and just making sure that it succeeds."
One major factor that's contributed to the initial success of this project was the decision to bring on board Deluxe Design Group (DDG), a Calgary-based video production service.
"It [was] more important for us to work with a team that has experience in the cinema world, which brings a totally different look to [the finished product] and a totally different feel," Chirka says. "This is an area that we're hoping to excel in…I think [that] pairing cinema—cinematography—with classical music is perfect. It works so well."
Despite the high-quality production value that has resulted from this partnership, Chirka still endorses attending live performances.
"I think [live-streaming] is a totally different approach, because nothing beats sitting in a concert hall and hearing an orchestra play, and nothing will ever replace that," says Chirka. "I think they're kind of two separate things. They're both amazing but neither one of them takes away from the other."
Chirka believes that there's something to be gained from experiencing a concert in multiple formats.
"We put cameras in places that you wouldn't be able to sit as an audience member, so it kind of brings a new perspective," Chirka explains. "So somebody who's sitting in the concert watching it can go home and watch that same performance from a totally different viewpoint."
Audience members can expect more performances to be live-streamed next season.
"The eventual plan is that this project will grow…but we need to be careful about not getting ahead of ourselves.The amount of work that goes into [a] single live-stream…is an immense amount and it takes a lot of people to make that happen," says Chirka. "We want to make sure that everything that we put out is of a standard that we've set—I would never want [to] compromise to try to fit in an extra concert."
Chirka is encouraged by the positive feedback that the Orchestra's received thus far.
"I think it's important for people to be excited about classical music…it's a genre that has been around for a long time and will be around for a long time, so, to be able to make it as accessible as possible and as exciting as possible [is great]!"
Going forward, the main intention will always be to showcase the immense talent right here in Calgary.
"At the end of the day, we're always featuring the Calgary Philharmonic—it's sort of, 'this guest artist is playing with the Philharmonic,' it's not, 'the Philharmonic playing with this guest artist,'" Chirka says. "We have such an amazing orchestra here. That's why we're doing this."
Written by guest contributor Jill Girgulis
Jill Girgulis is a student at the University of Calgary and a regular contributor for thegauntlet.ca as well as buzzfeed.com. When she's not busy studying for her Doctor of Veterinary Medicine degree, she can most often be found in one of the first three rows of the Jack Singer Concert Hall.