The Calgary Philharmonic Orchestra's may be in between Seasons, but that doesn't mean that the music stops! Follow along with our 'CPO in the Summer' blog posts for more updates on what some of the musicians are up to during their time off!
When a musician has the same job for more than three decades, how can they continue to grow musically? Arthur Bachmann, long-time member of the Calgary Philharmonic Orchestra's (CPO) viola section, employs two main solutions: 1) compose your own music, and 2) when it comes to playing, be willing to try something new.
"I'm actually one of the few born and raised in Calgary…been [with the CPO] since 1986, so, yeah, one of the oldies!" says Bachmann. "The people that are more permanent in this orchestra are the players, so…we've seen music directors go, we've seen management go, we've seen, you know, everything."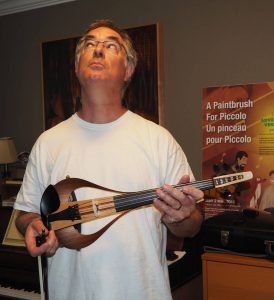 This summer, he's trying something new and taking his musical experience in an unusual direction—and with an unusual instrument—by learning how to play the five-string electric violin for his niece's wedding in August.
"I [found] out that it's an outdoor wedding and there's probably about 240 people, so it's a big thing, and I was thinking, just playing my viola…nobody's gonna hear it," he explains. "So I thought, 'What about some of these electric things?' "
After some research, Bachmann decided to rent a Yamaha five-string electric violin for the nuptials.
"A violin has four strings and a viola has four strings, and three of them are the same on both instruments—the bottom three on a violin are the top three on a viola, so when you have a five-string instrument, you've basically got the four strings of the violin plus the low string of the viola."
So far, he's been experimenting and getting acquainted with the untraditional instrument and its amplifying equipment.
"It's been a little noisy the last little while, because I've been just mucking around with all this stuff!" he says.
Bachmann hopes to find the best way to showcase the instrument's true potential, and is contemplating different ideas for the event, including composing something specifically for the bride and groom.
"I haven't told [my niece] yet what I'm doing, so I'm hoping she's gonna like it!" he laughs. "[Her only instructions were] to just play [them] something romantic."
Electric instrument aside, creating music is actually nothing new to Bachmann, who, as well as being a CPO violist, is an accomplished composer.
"I'd been composing for a long, long time, but not really seriously…I didn't do any writing at all until I was in the job here for probably about five, six years," explains Bachmann. "[But composing] is now really my second career, or 'side-by-side' career."
Bachmann's compositions have been featured by the CPO in previous years, including a flute concerto, Daughter of Elysium, a companion piece to Beethoven's Ninth Symphony that was commissioned by the Orchestra and premiered by Sara Hahn, Principal Flute, during the 2015-16 Season.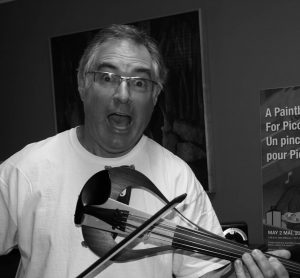 "The piece ended up being a dialogue between the flute and the orchestra, where the flute was trying to get something across, but the orchestra kept drowning her [the aforementioned Daughter] out," Bachmann says. "It's not the traditional flute concerto where you have the flute player just over above the orchestra completely all the time…these are two voices [flute and orchestra] that are trying to get their individual thoughts across and the conflict that results [because of] one being a single voice and the rest being 150 people, which is a huge imbalance."
When it comes to receiving commissions, Bachmann has traditionally relied on word-of-mouth.
"One of the things that I don't really do which I [should] is…self-promotion, because, to be honest, if you don't promote, nobody really [will]!" he admits.
According to Bachmann, one advantage of playing with the Orchestra is just being exposed to so much music on a daily basis.
"I've got a resource of music that spans centuries, and so when I'm playing stuff…[my] brain is always a little bit engaged," he says. "[If the CPO is playing] something that I can never get a score to or something like that, I always try to borrow the score [just to take a look]."
An additional benefit that comes with decades of orchestral experience is familiarity with the repertoire, which means Bachmann often has extra time for composing.
"Every conductor comes and they basically have their own interpretation of [a] piece—and you never really know that until the first rehearsal, and that's [the week of the concert]," he says. "And that's what you get with experience, is that you actually figure out that, okay, for these pieces, these are the things that I really need to look at."
And finally, after 32 years, Bachmann's maintained a keen sense of humour. He's no stranger to all the viola jokes that come his way—he even shared one of his favourites with us:
"What's the difference between a viola and an onion? No one cries when you cut up a viola!"
Written by guest contributor Jill Girgulis
Jill Girgulis is a student at the University of Calgary and a regular contributor for thegauntlet.ca as well as buzzfeed.com. When she's not busy studying for her Doctor of Veterinary Medicine degree, she can most often be found in one of the first three rows of the Jack Singer Concert Hall.