The Calgary Philharmonic Orchestra's may be in between Seasons, but that doesn't mean that the music stops! Follow along with our 'CPO in the Summer' blog posts for more updates on what some of the musicians are up to during their time off!
The Calgary Philharmonic Orchestra (CPO) has over 80 concerts during its 40-week Season. With that much music, it might come as a surprise that some musicians participate in even more orchestral playing during their limited time off.
CPO cellist David Morrissey is one such musician. He's approaching his 10th year with the CPO, and he's been participating in the Colorado Music Festival (CMF) for seven summers now. Morrissey wouldn't have it any other way.
"I can spout off so many reasons why [I come to the CMF each year]," he says. "Number one: a lot of my colleagues here are friends from the past—people that I either went to Indiana University or Manhattan School of Music, or the New World Symphony with, or any of the number of festivals you do when you're growing up—it's like a massive reunion."
The CMF is a summer music festival that's been around since 1977 and is comprised of professional musicians from all across North America who make Boulder, Colorado their home for six weeks each summer. According to Morrissey, the chance to work alongside world-class musicians, conductors, and guest artists is too good an opportunity to pass up.
"It's great to get a different perspective…this year, I've been reawakened by the experience that I have here in Colorado. It's such a treat and a joy to be able to play in this orchestra…it's just a different way of approaching [musical] interpretations."
Morrissey was joined in Colorado this summer by two musicians familiar to CPO audiences:bassist Matt Heller and former second violin Lenora Leggatt.
"Musicians, when we're done in the summer, we don't really have much work to do, so it's a way for us to still make a little bit of supplemental income by staying in our field and  to be in such a gorgeous environment," Morrissey explains.
The festival may take place in picturesque Boulder, but it's not a vacation.  Each week typically includes performances of two completely different programs, and musicians only get one day off each week—but they don't mind.
"So it's intense, but, luckily, I have the utmost respect for everyone I work with…it's been pure pleasure to be able to be here this year."
Morrissey envisions a similar festival happening North of the border someday, too.
"I would love to see something like this in Canada… [the] majority of orchestras in Canada are off for the summer anyway, so there's definitely an opportunity to comprise an ensemble…[and I feel like] Banff would be the perfect location."
Once the CPO's regular Season starts back up in September, Morrissey will resume his involvement with the Orchestra's education and outreach programs.
"I was lucky enough to have great teachers who inspired me to want to become a musician, and I feel like it's part of our responsibility to pass that on to other people…it's part of our legacy to be able to instill in others what we were so lucky to have ourselves," he explains. "Outreach is something that, to me, is very important, because I love being able to go in and explain what I do to the people that never have had the opportunity to experience what a musical instrument sounds like."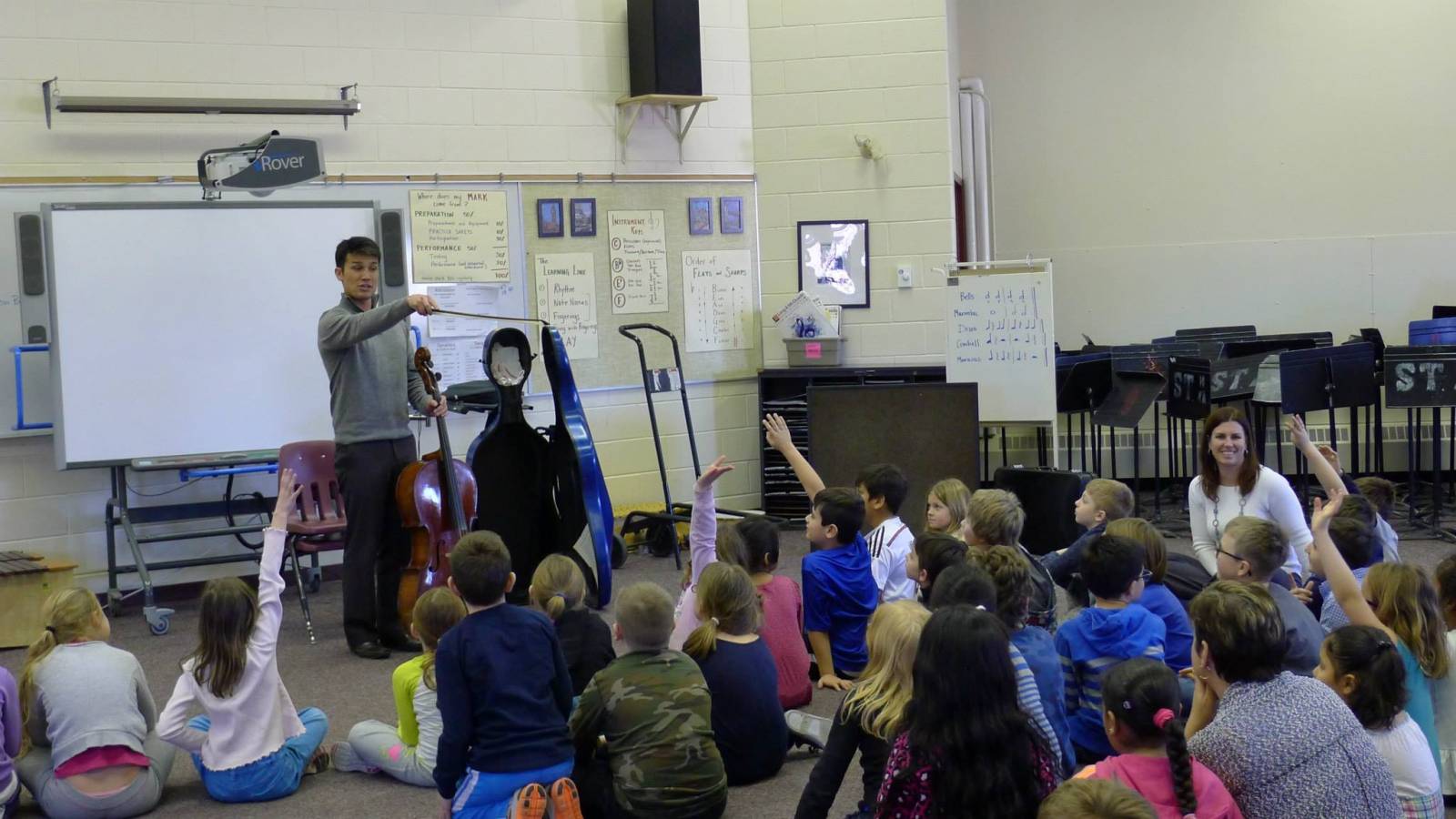 One such outreach initiative is PhilKids, an after-school music program for students who'd otherwise be unable to receive music education. This past Season, world-famous cellist Yo-Yo Ma even met  with PhilKids while he was in town to perform with the CPO.
"I was really adamant…that we should really try and get Yo-Yo Ma to come to PhilKids," says Morrissey. "The man is just the most gentle creature in the world…he's just so down-to-earth and he's an amazing instructor, he's an amazing source of knowledge."
The kids in the program that week had the opportunity to demonstrate what they'd learned on the cello to the world's best cellist himself.
"As simple as that sounds, [playing for Yo-Yo Ma] is something that they will always hold with them, for the rest of their lives," Morrissey says.
As a fellow cellist, Yo-Yo Ma's visit to Calgary in December was even more significant to Morrissey.
"I was lucky enough to be able to sit Assistant [Principal] for [Yo-Yo Ma's] concert…so I was within arm's reach of Yo-Yo Ma, which is thrilling, but it's also very nerve-wracking, because you know that he can hear every little thing that you're playing."
And during the afternoon at PhilKids, Morrissey even had the rare chance to play a few notes on one of Yo-Yo Ma's exclusive cellos.
"A kid asked Yo-Yo if he could play "If I Only Had a Brain," and he kind of stumped Yo-Yo—you could tell that he didn't know what the kid meant, and so I started singing the tune…so he just looked at me and he handed me his cello," Morrissey says. "Thankfully there's a video, because I was so in a whirlwind of emotions at that moment that I don't remember how it [went]…I never thought that "If I Only Had a Brain" would be one of the highlights of my career, but, you'll take what you can get!"
Written by guest contributor Jill Girgulis
Jill Girgulis is a student at the University of Calgary and a regular contributor for thegauntlet.ca as well as buzzfeed.com. When she's not busy studying for her Doctor of Veterinary Medicine degree, she can most often be found in one of the first three rows of the Jack Singer Concert Hall.