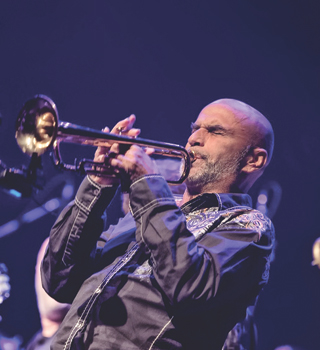 On 14 and 15 April, enjoy the ultimate Chicago experience! Brass Transit's dynamic, crowd-pleasing tribute brings the decades-long, multi-platinum songbook of iconic American rock group Chicago to the stage. Enjoy hits like If You Leave Me Now, Saturday in the Park, Colour My World, and more performed by eight dedicated, award-winning musicians alongside the Calgary Phil.
Here are four quick facts about Chicago⁠ — the "rock and roll band with horns" — to get you ready for Brass Transit: The Music of Chicago!
What's in a name?
Originally called Chicago Transit Authority, the band released their first self-titled album in 1969. Shortly after, the real CTA threatened to take them to court over the name, and Chicago was born. Later, the band almost sued the CTA for using the song Does Anybody Really Know What Time It Is? to advertise their bus services without prior permission!
Chicago is a big time band
Over the years, the band released more than a few songs alluding to the concept of time. Their single 25 or 6 to 4 is about writing a song in the middle of the night, and the song's title is the time at which the song is set: 3:35 or 3:34AM, or 'twenty-five or [twenty]-six to four.' Fans have many different theories about what the lyrics mean — everything from a quantity of illicit drugs to the name of a famous person in code — but lyricist Robert Lamm rejects all theories that it means anything deeper.
Hard times for hard rock
Chicago owned the 70s, but they entered the 80s hanging by a thread. Band members struggled with substance abuse, lead guitarist Terry Kath had passed away, they were dropped by their label, and lead vocalist and bassist Peter Cetera was on his way out. Led by a new label, new producers, and new musicians, the band started exploring a new sound. With less of the classic 'horn rock', they became known for lush power ballads like You're the Inspiration. A big part of the shift in their sound happened when they began working with Canadian producer David Foster, a household
name for many Calgarians, since he wrote the theme for the 1988 Winter Olympics, Can't You Feel It?
The band plays on
One of the longest-running music groups of all time with almost 30 band members over the years, Chicago defined the 'horn rock' genre and combined rock and roll with musical genres from classical music and jazz to R&B and pop music, and even tackled spoken word. The band still tours today, and just released its 26th studio album in 2022 — Born for This Moment.
Join us for Brass Transit: The Music of Chicago on 14 and 15 April 2023. Details and tickets are available here.