Borak Forte Program: Amplifying the Presence of the Calgary Philharmonic Chorus
By Stephania Romaniuk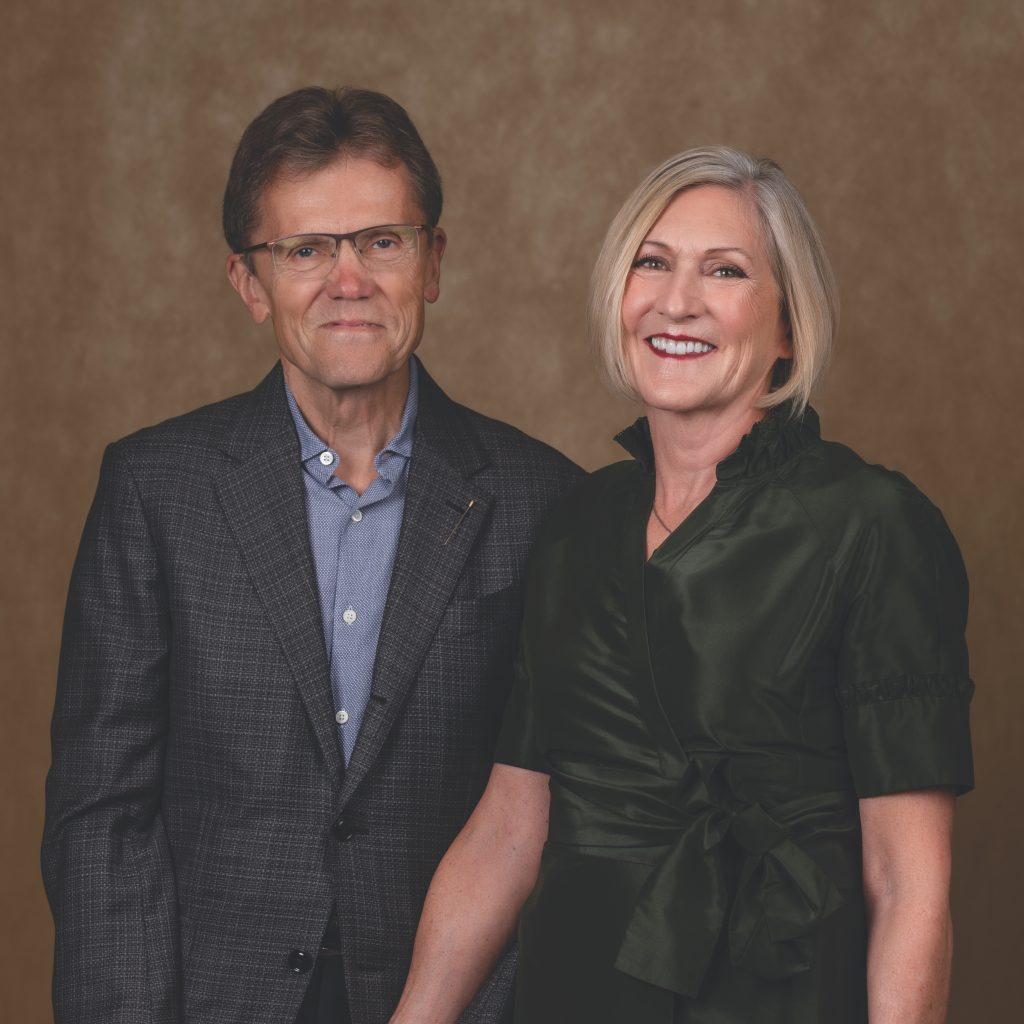 The Calgary Philharmonic's 2022/2023 Season featured an important milestone in its 67-year history: the first performance of a choral work commissioned specifically for the Calgary Philharmonic Chorus, which celebrates its 60th anniversary in 2023. I Rise set the inspiring poetry of LR Knost to music by Canadian composer Laura Hawley, with creative input from over 120 Chorus members and a light orchestral setting that places their voices in the spotlight.
"This is a very special piece to finally bring to life," reflects Ellen Borak, long-time Calgary Phil chorister, who celebrates her 26th season with the Chorus this year. "Although we've been a part of other people's compositions, this brings us into greater prominence alongside the Orchestra, in terms of artistic programming and the development of new works. In the last few years, we've really seen the ship turning."
In addition to being a chorister, Ellen, alongside her husband, Allen, have been some of the Chorus's strongest advocates. Although both were born in Calgary, studies and careers took them to cities across the continent including Houston, where Ellen became a member of the Houston Symphony Chorus. "Prior to that, I had sung in community choirs, but it was in Houston where I discovered that big sound that I just love with orchestras. When we came back to Calgary, there was just no question: it had to be the Calgary Philharmonic Orchestra and Chorus," Ellen recalls. She joined the Chorus, and the couple began attending orchestral concerts as season ticket subscribers.
An engineer by training who retired in 2009 as Vice President and Chief Information Officer of the Canadian Pacific Railway, Allen Borak was brought into the world of classical music through the passion of his wife, early in their relationship. "I don't think I would have started going to concerts on my own," he offers. "But I kept buying tickets and insisting that he show up!" Ellen adds, chuckling. "But since I have been going, and I have been going for quite a few years, I have come to greatly enjoy them."
When the Boraks realized that more funding was required to support the artistic development of the Chorus, they began to consider how they could be of service. Ellen and Allen sought initial advice from local philanthropists on how to get started and then approached Calgary Phil leadership with their desire to help. After a series of productive conversations, the Borak Forte Program was established in 2010.
Annual support from the Borak Forte Program funds workshops with conductors, professional development for the Chorus Master, recording projects, new commissions, and special performances outside the concert season — "everything that will enhance the professionalism and the sound of the Chorus," explains Ellen. "Coming from the corporate world, I know that if you want your organization to improve, you have to invest in that," Allen adds. "And then you ask, how do we measure the results? My wife is the one with the musical ear, and she can hear it in the sound. I look at the feedback from the Music Director and the fact that the Chorus can approach pieces that they perhaps could never have taken on before, signs that are very, very positive. I think it's good for the Orchestra and it's good for the city."
This three-part conviction — that "classical choral repertoire needs to be presented, that it must be performed at a level commensurate with our excellent Orchestra, and that there is no reason why that cannot happen in Calgary" — has underpinned the Boraks' artistic advocacy for over a decade. In 2019, to further this vision, they endowed the Chorus Master Chair in perpetuity. "It takes a great deal of funding to program ambitious orchestral works with chorus — Mahler 8, the St. John Passion, Requiem for Afghanistan — and it's opened up a tremendous number of doors for the Chorus," shares Ellen. In recognition of their long-term philanthropic achievements, in 2015 the Boraks received the Golden Baton, the highest honour the Calgary Phil awards its supporters.
"When you have a vision, you must continue making sure the funding is achieving what you want it to achieve," shares Allen. "You'll run into challenges — finding those like-minded individuals, fine-tuning how you engage supporters, and always repeating your message to keep it fresh in people's minds," Ellen adds. "You have to be tuned to the voices around you in performance and outside the hall, and I think that's what I love best."
Don't miss the Calgary Philharmonic Chorus in concert at Brahms: A German Requiem on 24 and 25 March and Let Voices Resound on Friday 21 April at the Jack Singer Concert Hall.