Celebrating the first 60 years of the Calgary Philharmonic Chorus
By Miranda Martini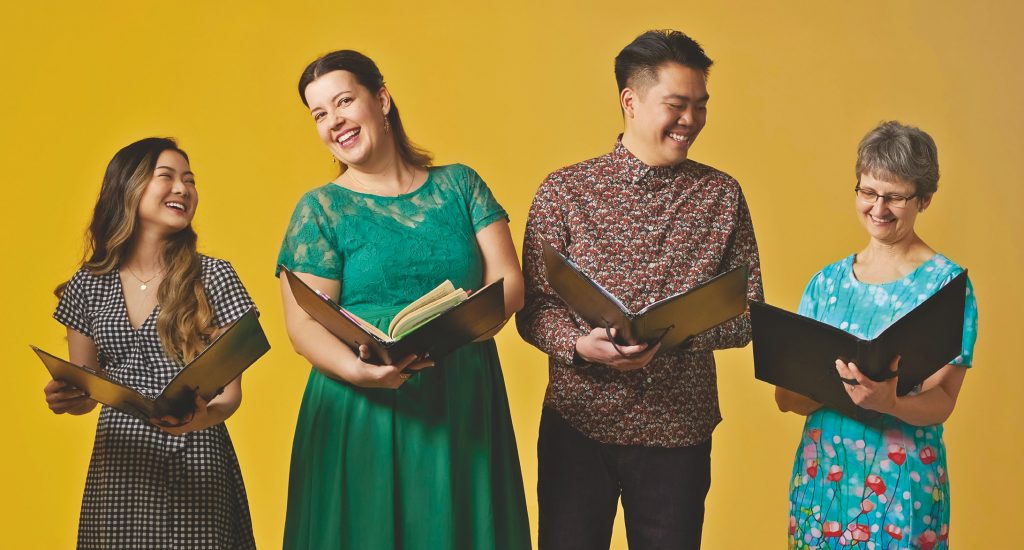 Sitting inside the Jack Singer Concert Hall, you can hear the hum of the Calgary Philharmonic Orchestra tuning and the hush of the audience as 1,500 people lean forward in their seats, listening carefully for the opening strains of music.
If you're a frequent concertgoer, your mental picture might include the loft above the Orchestra, where around 120 people are also listening carefully, preparing to make music of their own.
Katt Hryciw, a middle school teacher who sings tenor in the Calgary Philharmonic Chorus and works as the Chorus Administrator, remembers experiencing Handel's Messiah for the first time from the loft, looking out on the Orchestra and the audience.
"When you do the Hallelujah Chorus, the whole audience stands. It's so beautiful, I just started weeping. I was like, 'Oh my god, what's wrong with me?' It was a really moving experience."
This sentiment is echoed by several members of the Chorus, which celebrates its 60th anniversary this year. The Calgary Phil will mark the occasion on Friday 21 April with Let Voices Resound, a special concert that will see the Chorus taking centre stage for a change, performing pieces for chorus accompanied by the Jack Singer's Carthy organ.
Catherine Lasuita, an alto in the Chorus since 1996, auditioned precisely because she wanted to see Messiah performed but couldn't find anyone to go with her. "So, I thought, well, why don't I just be in it?"
However, some of her proudest moments with the Chorus have been the opportunities to premiere new works.
One such premiere stands out in recent memory as particularly special — perhaps because it was so hard-won. I Rise, a collaboration between the Calgary Phil and Pink Flamingo, presented a concert alongside the Black Lives Matter Mural Project. The concert included the Chorus' performance of the eponymous piece by Canadian composer Laura Hawley, which was commissioned for them and based on LR Knost's poem of the same name.
The Chorus began work on the piece in early 2021, but was only able to perform it for an audience for the first time almost two years later.
This came after a year during which the Chorus couldn't perform at all.
"I went through a period of denial, because I could not believe that something so fun was one of the most life-threatening activities," Lasuita recalls. "I couldn't wrap my head around it."
The Calgary Phil had to get creative to keep the Chorus' momentum going throughout the COVID-19 pandemic. The Chorus was engaged in the creation of their commissioned piece, submitting poems for inclusion and meeting with Hawley to learn about her composition process.
They rehearsed online, then in their cars, then eventually masked and distanced in their Jack Singer rehearsal space. (This further complicated the already hefty logistical challenge of bringing the Orchestra and Chorus together, notes Hryciw: "If it's hard to be louder than an orchestra normally, imagine doing that six feet apart and with a mask on.")
When they were finally able to perform the piece for a live audience on 1 October 2022, it was an emotional experience for many.
"To perform it and realize I knew the piece so well because we had spent so much time on it…it felt really, really rewarding," Lasuita recalls. "It's so exciting when the composer says, 'Wow, I've only heard this in my head, and now I get to actually hear a choir sing it.'"
For Crystal Tan, a graduate student from Malaysia who moved to Calgary to study music education, reconnecting with choral singing after the pandemic is what drew her to the Chorus.
"The thing that really captured my attention was how big it was, and seeing it from the audience, it's amazing the amount of sound they can project."
Tan admits she was a little intimidated when she auditioned.
"I was the last person to audition, so I was really nervous," she says, laughing. "I tried to hit the high notes, and I remember my voice cracked."
As the audition progressed, she relaxed and nailed the sight-reading piece the Calgary Phil had set for the audition ("I was trained in singing with solfege, so maybe that got me a bonus point," she laughs). Now she feels completely at home among the other choristers, who are, after all, just music lovers like her.
Lasuita says that sometimes acquaintances are surprised to learn she's in the Chorus. "They'll say, 'Oh, are you that good?' A lot of people don't understand that for the musicians [in the Orchestra], it's their career. The Chorus is all volunteers."
Some are in school, like Tan; others balance work, families, and other volunteer commitments with the demands of learning and performing the Chorus' challenging repertoire.
So what keeps them coming back season after season?
"It's just amazing to see how there are different people in the Chorus with different backgrounds in music, and then every rehearsal, we come together and sing," says Tan. "Honestly, I learn so much from them."
According to Lasuita, who stepped away from the Chorus one year, she was quickly approached by her husband and two children, "who all asked me separately, 'So when are you going back?' I guess I'm easier to live with when I sing in the choir."
"If you go to a symphony concert, the choristers are always there," remarks Hryciw. "There are choristers who volunteer for almost anything that the Calgary Phil is doing. "There are choristers who just want to share their love of the music with their family and with their friends. Any time I go to a concert, I'm always running into people from the Chorus, because they are so invested in the organization. It's really a special community."
Mark Dumbrique, a corporate insurance broker who sings bass, says the feeling of camaraderie has given him a new outlook on working as a team.
"My previous choral experiences have largely been in smaller ensembles," he says. "I think I've grown as a singer by being intentional in rehearsing, especially with the challenges of blending and shaping in a large section."
There are several choristers who have been in the Chorus for more than two or three decades. Dumbrique, who is currently in rehearsals for the Calgary Phil's performance of Johannes Brahms' A German Requiem, points out it's interesting getting historical tidbits from them, but he says it's especially meaningful to learn from the choristers who have performed the standards of choral repertoire many times.
"I find it really inspiring to see how they approach these works they've performed so many times with a different curiosity each time."
Dumbrique performed with the Chorus for the first concert of Calgary Phil's 2022/2023 Season — Beethoven's Ode to Joy — which included the world premiere of ᓂᔭᓂᔭ niya (I Am), a commissioned work for the Orchestra and Chorus by Cree composer Andrew Balfour.
"One of his interesting insights was that no matter what we're singing, it always speaks to our time," Dumbrique remembers from working with Balfour on the piece, which was written to be performed alongside Beethoven's Symphony No. 9.
"It's really easy to see a Beethoven Nine as this piece from only a moment of history, but there are always musical and cultural things we can learn from performing music of all kinds."
Dumbrique reflects that the Chorus has become a beautiful, and necessary part of his life. "It's the chance to share that with others," he finishes. "Especially when you have these works like niya and I Rise that have very profound stories behind them, hopefully, that provokes some reflection and thought, and hopefully even some action."
On Friday 21 April 2023, the Calgary Philharmonic Chorus celebrates its 60th anniversary of the Calgary Philharmonic Chorus with Let Voices Resound, a unique concert experience featuring the Chorus performing centre stage at the Jack Singer Concert Hall, joined by Cantaré Children's Choir and special guest soloists.