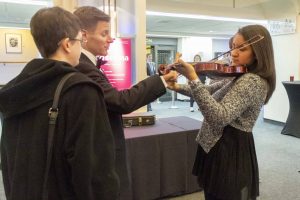 When it comes to music, what was your game-changing moment? The Calgary Philharmonic Orchestra is celebrating Game Changers this Season. In the 2019/2020 brochure, audience members can read about several CPO musicians' game-changing moments, as well as the various game-changing guest artists who will be joining them onstage this Season.
Violinist Itzhak Perlman is one such artist.  An Evening with Itzhak Perlman: Cinema Serenade featured the world-renowned Perlman performing various works from famous film scores with the Orchestra. It seems rather fitting, then, that my own personal game-changing moment came during a film concert that took place exactly two years prior to Perlman's 21 September performance.
I'm not a musician, but I've been involved with the CPO ever since I attended my very first performance, La La Land in Concert, on 21 September 2017. I was intrigued to see my favourite movie was still a topic of conversation nearly a year after its theatrical release, so despite being completely unfamiliar with orchestras in general, I bought tickets. I didn't know what to expect, but it turns out I had no reason to be apprehensive. The movie, of course, was just as good as I remembered from the first three times I'd watched it. What I didn't count on, however, was falling in love with the transformative experience of hearing the score being performed live by dozens of musicians right in front of my eyes.
The concert was nearly sold out by the time I purchased tickets, so I ended up sitting right at the front, mere metres from the stage. To say I enjoyed the show would be an understatement — as soon as I got home that night, I bought tickets to the next movie music concert in the schedule, The Little Mermaid, and thus it began.
Throughout my life, when I discover something that really grabs my attention, such as classical music and the CPO, I tend to find a way to write about it. Writing has always been my way of expressing and channeling my enthusiasm. I'm currently in veterinary school, but have been writing in some capacity all my life, and so I began interviewing musicians and writing articles for the CPO blog not long after that fateful September show. Once I got started talking to the people behind these incredible performances, I couldn't stop. Each musician had a story to tell, and I made it my mission to give them an avenue to share it.
Growing up, my musical background was limited to briefly learning to play the recorder and the ukulele in elementary school. I never learned how to read music, and I still don't know the first thing about music theory. But does anyone really require any of that to enjoy a beautiful performance? Over the past two years, I have answered this question for myself. I'd had no idea how powerful it could be to experience Beethoven's Ninth Symphony live for the first time in a sold-out concert hall. I didn't know how easily a piece being performed by a collective of over 60 musicians onstage could bring me to tears.
I think it's certainly made it easier to write these articles. With limited musical understanding, I learn so much from each person I speak with, which is why the process of conducting an interview, compiling the information into an article, and releasing it into the world never loses its charm.
Essentially, the reason La La Land concert is my game-changing moment is because that's where it all began. Becoming involved with the CPO has granted me access to an entire community I never knew I needed, and I'm incredibly grateful for it every day.
And that's the thing about music — it really does bring people together. It's the people I've met along the way that keep me coming back to the hall week after week, and doing interview after interview. I'd much rather attend a live performance of Tchaikovsky's Violin Concerto, performed by a CPO soloist, accompanied by their CPO colleagues, in the Jack Singer Concert Hall, than hear the same piece from any other group, in any other venue or city. The feeling I get when I attend a CPO concert is hard to reproduce in any other context.
Now, two years and over 50 concerts later, I think it's safe to say that the CPO has changed my life — and I wouldn't have it any other way.
Written by guest contributor Jill Girgulis
Jill Girgulis is a student at the University of Calgary and a regular contributor for thegauntlet.ca as well as buzzfeed.com. When she's not busy studying for her Doctor of Veterinary Medicine degree, she can most often be found in one of the first three rows of the Jack Singer Concert Hall.