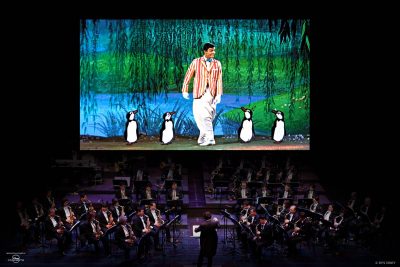 Walt Disney considered Mary Poppins (1964) one of the crowning achievements of his career. The first feature-length film to combine live action and animation, it earned 13 Oscar nominations and won five, including Best Original Soundtrack.
Mary Poppins inspired the 2013 film Saving Mr. Banks, about Walt Disney's efforts to convince P.L. Travers to give him the film rights to her novels.
Julie Andrews wanted the lead role in My Fair  Lady, but it went to  Audrey Hepburn. Disney convinced Andrews to play Mary Poppins instead — and at the Golden Globes that year, she beat Hepburn to take home the award for Best Actress, Comedy or Musical.
The original soundtrack album, featuring music and lyrics by the Sherman brothers, features 17 tracks, including 16 songs and one overture track of the film score.
In 2013, the film was selected for preservation in the United States National Film Registry by the Library of Congress as being "culturally, historically, or aesthetically significant."
Watch the revolutionary film on the big screen 11 + 12 October with a live performance of the score by the CPO!
Did you enjoy this article? The CPO Newsletter includes links to all the latest blog posts, concerts, and more. Subscribe below.