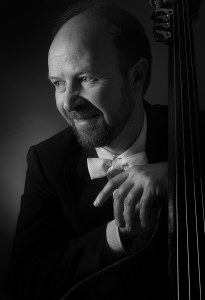 Graeme Mudd, longtime member of the Calgary Philharmonic Orchestra's double bass section, is looking forward to seeing some familiar faces at Electra Rising: Forsyth Cello Concerto on 18 and 19 October. Mudd has been playing with the CPO for 30 years, and in that time, has worked with both the soloist, former principal cello Amanda Forsyth, and the guest conductor, Hans Graf, a Music Director Laureate of the CPO.
Graf's return to Calgary is always welcome amongst the generation of CPO musicians who worked with the conductor from 1995 to 2003. "It's just fantastic to have him back," says Mudd, who took to the Austrian conductor as soon as he joined the ensemble. "Hans' sole purpose on that podium was to bring out the absolute best in the musicians so that we could serve the music. I felt that I played the bass, and Hans played the conductor. He was literally one of the musicians onstage — his job, rather than playing an instrument, was to bring all of those parts together as a whole."
Mudd also admired how Graf would react when mistakes were made during rehearsals. "He had this wonderful way of taking the problem upon himself — he would stop the orchestra and go, 'Let me see how I can make that better.' And it was one of those unspoken things where everybody onstage knew we had messed up, not him, and then everyone pulled their socks up and just played that little notch better."
It should come as no surprise, then, that Graf's nine-year tenure was a highlight of Mudd's CPO career. In particular, Mudd remembers a performance of Shostakovich's Symphony No. 5 early in Graf's tenure that left the musicians wowed. "That synergy that happens onstage — everybody just clicks into a different gear and everybody's on the same page. I still remember that performance, and it was just electrifying."
The CPO has been Mudd's third position with a professional orchestra — he spent five years each with the Victoria and Winnipeg Symphonies before joining Calgary's double bass section in 1990 — and he's planning to retire at the end of this Season. "Playing the double bass is very physical — it's a big, huge instrument and you're draped over it in an unfortunate way, and your body's twisted and torqued…. After sitting behind it for 40 years, my bow shoulder is starting to go, and my hearing is definitely suffering," he says. "I've always promised myself I wouldn't be dead wood at the back of the section, that I would retire while still on my game — I think it's time to bow out, and give the job to a young, enthusiastic player."
Mudd is completing his final Season at a time when the CPO is experiencing considerable turnover. In the past two years alone, the Orchestra has hired 15 new musicians. "In the bass section, we've got three younger players now," he says. "They are the real deal — they are strong, strong players. So, in a way, I don't really want to leave, because we've got these fantastic players, but it's really exciting to leave the section in that kind of shape."
[Electra Rising: Forsyth Cello Concerto includes Hindemith's Konzertmusik for Strings and Brass, the Electra Rising cello concerto written by Malcolm Forsyth and performed by his daughter Amanda Forsyth, and Brahms' Symphony No. 3.]
Written by guest contributor Jill Girgulis
Jill Girgulis is a student at the University of Calgary and a regular contributor for thegauntlet.ca as well as buzzfeed.com. When she's not busy studying for her Doctor of Veterinary Medicine degree, she can most often be found in one of the first three rows of the Jack Singer Concert Hall.