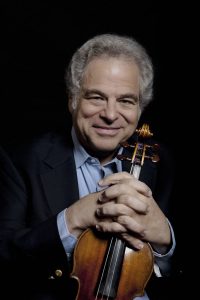 When Heather Edwards was a youth, her mother gave her a surprise that has had a long-lasting impact: tickets to the Calgary Philharmonic Orchestra (CPO) to see world-renowned Israeli-American violinist Itzhak Perlman. "I was completely spellbound by the experience. It's one of those moments I go back to, even now, whenever I need a moment of peace or joy, or there are things happening in my life for which I need grounding. I return to that front-row seat and being incredibly transported by that artist and person," Edwards says.
The experience was so memorable that, some 25 years later, Edwards is paying for Perlman — a Grammy Lifetime Achievement Award recipient — to return to Calgary to play with the CPO on Saturday 21 September. "I always wanted to see him again, and I wanted to give other people that same experience of being in the midst of such beautiful music," she says.
A born-and-raised Calgarian, Edwards is no stranger to music nor to the CPO. "I have attended concerts all my life," she says, recalling how her mother used to take her every year to Handel's Messiah. Edwards also played the violin. "When I was five-years old, a classmate brought a violin to school and played something like Twinkle, Twinkle, Little Star. I went home and said, 'I want to play the violin, too.'" That year, a violin appeared beneath her family's Christmas tree. "It was one of the best moments of my life," says Edwards, who went on to perform with the Calgary Youth Orchestra.
While Edwards no longer puts bow to strings, her 13-year-old son carries on the musical tradition, playing clarinet, guitar, and piano. "Music is a very big part of our daily life," she says. It was at her son's school, in fact, that Edwards connected with a fellow parent who works for the CPO, setting Perlman's return to Calgary in motion. "I remember saying I would love to see Itzhak Perlman come here and asked what I could do to help make that happen." And the rest, as the saying goes, is history.
Perlman will play a programme of cinematic music selected from films including Casablanca and Schindler's List. "He's had this lengthy, successful career, probably in part because he's completely authentic. He's got this joy about him. He connects with individuals," Edwards says, commenting on what makes him stand out as a violin virtuoso. "When I was in his presence, and heard him create such atmosphere and soul, it was a game-changing moment in my own life."
She expects Calgary audiences will appreciate seeing an artist of Perlman's stature. "Calgary has this soul, and it's not just the economy, sports or the mountains. Arts are part of our soul," Edward says, referencing some of Calgary's other leading arts organizations, including Alberta Ballet and the Honens Festival, both of which Edwards also supports, in addition to her involvement with the Banff Centre for Arts and Creativity and the Calgary Humane Society.
As a further gift to Calgary, all proceeds from An Evening with Itzhak Perlman will go towards the CPO's Education and Outreach programming. "The more we can do as individuals and as a society to bring music into every child's life, the more we enhance and enrich our community," Edwards says. "Music is really something that stays with you — even if you only play for a year, you're always a musician."
As for her role in making Perlman's return to Calgary financially possible, Edwards says it's a privilege to have the time and energy to be involved with great organizations that do such great work. And who will be in the audience on September 21? Heather Edwards' mother, who, Edwards says, is excited and touched to see the lasting impact of her surprise gift.
Written by Kathleen Renne