The Calgary Philharmonic Orchestra is welcoming new musicians this 2019/2020 Season. We'll be introducing them to you with our "Meet the Musician" blog series. Follow along to get to know your CPO!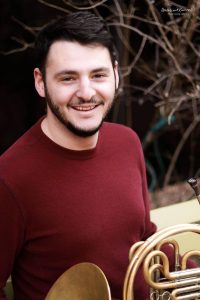 When it comes to playing the horn, Maxwell Stein has been a natural ever since he was young — but he wasn't aware of it. "I started playing horn in band because my teacher told me I had a really good ear," he says. "I didn't know what that meant at the time — I found out later that it's an important thing to be able to match pitch, especially on a brass instrument."
Stein is the newest member of the Calgary Philharmonic Orchestra's (CPO) brass section, stepping into the position of third horn after winning the international audition back in March 2019. He says the decision to become an orchestral musician was spurred on by hearing a performance of Beethoven's famous Symphony No. 5 at the Interlochen Arts Camp during a high school summer. "It's a commonly known piece," he says. "But when I heard it, something clicked in me, and I thought to myself, 'This is what I want to do, I want to play in orchestra.' From sophomore year of high school onwards, I knew I wanted to be a professional orchestra musician."
A native of Palm Beach Gardens, Florida, Stein spent four summers at Interlochen, and then went on to complete his undergraduate degree at the University of Michigan. He started auditioning for professional orchestras near the end of his undergraduate degree, and was one year into his master's degree at Rice University in Houston when he won the Calgary audition. "There's this process of a six-to-eight week crunch for each audition, and in that, you are completely revamping everything that you do, everything you think. You're reflecting on the previous audition, what successes there were, what was maybe not so successful, how to make those things better next time," Stein says. "I have been through the process so many times, that by the time I got to Calgary, it was just a thing that I did."
Stein adds that it was only near the end of his Calgary audition that he allowed himself to imagine the possibility of playing with the CPO. "When I made it to finals, that was the first time I thought, 'Wow, I could actually win this job.' I was thinking, 'Well, they like my playing, that's why they're passing me through these rounds, so it's my job just to try and represent myself the best way I can, and let them decide if that's what they're looking for.'"
Fortunately for Stein, he turned out to be exactly what the audition committee was looking for. That same day, he was offered the seat that had previously been occupied by recently retired CPO third horn Laurie Matiation for 36 years. "Laurie has been in the orchestra for many years, she's very well-loved and respected by the Orchestra, the horn section, and the community," says Stein. "I have very large shoes to fill, so to speak."
And that is a challenge he's excited to take on. "It just feels good to know you're taking the place of someone loved and respected, and you have an opportunity to gain that sort of similar relationship to people in the Orchestra," he says. "I think that's something I'm looking forward to, is getting to know people, and fostering those relationships."
Written by guest contributor Jill Girgulis
Jill Girgulis is a student at the University of Calgary and a regular contributor for thegauntlet.ca as well as buzzfeed.com. When she's not busy studying for her Doctor of Veterinary Medicine degree, she can most often be found in one of the first three rows of the Jack Singer Concert Hall.