By David Sussman, Assistant Principal Oboe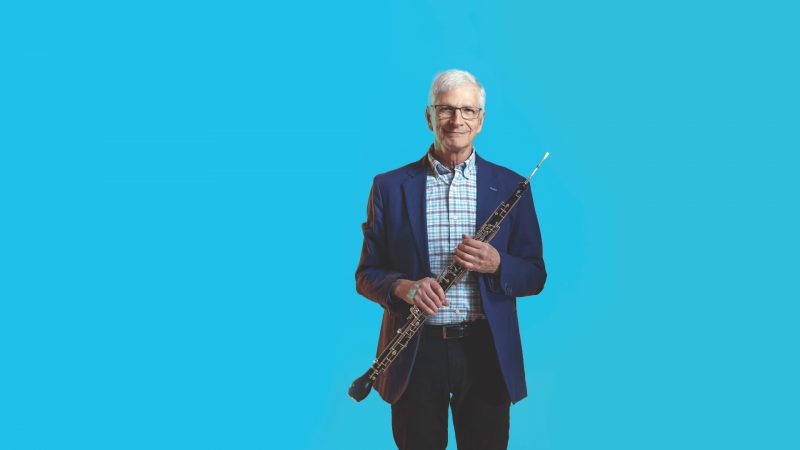 All of the players in the Calgary Philharmonic are paid professional musicians. We are engaged to perform at the highest level. However, we do many things on a voluntary basis that are related to our jobs as musicians. Within the Orchestra, we have several volunteer committees that play an important role in maintaining a strong workplace where we can focus on creating memorable experiences for our communities.
We have an Orchestra Committee made up of five musicians that regularly meet with Administration to foster a healthy rehearsal and performance environment. The Anti-Racism, Equity, Diversity, and Inclusion Committee advises on initiatives that help the Calgary Phil create a sense of safety, meaning, and belonging for everyone, including employees, musicians, contractors, volunteers as well as our audiences. Our Community, Outreach, and Education Committee works on projects to help us better engage with our communities, and we even have a Coffee Committee to ensure our musicians can enjoy a hot beverage at break!
The Orchestra also has a Health and Wellness Committee to support our musician's well-being, and our Artistic Review Committee helps ensure musical material like videos put on the Calgary Phil website or on social media meet the highest artistic standards. Our Programming Committee works with the Artistic team to give input on programming and guest artists and conductors, creating performances that musicians and audiences alike are excited about. Our Marketing Committee liaises with and gives input to the Marketing and Sales team to produce fun and educational content for social media and our blog, giving a behind-the-scenes look at our musicians and what it takes to prepare for a concert.
That's a lot of committees!
But wait, there's more!
There are two players that serve on the Calgary Philharmonic Society's Board of Directors, helping to further the organization's goal of creating orchestral music for everyone, and some members of the Orchestra serve on a Negotiating Team when it is time to renew our Collective Bargaining Agreement. Some musicians also work for the good of all musicians in Calgary by serving on the executive of the Calgary Musicians Association, a non-profit organization that provides services and support to help members succeed in the music business, and others help nationally by serving as a delegate or executive member of the Organization of Canadian Symphony Musicians.
Our musicians have studied their instruments for years and love to share their musical knowledge during Pre-Concert Chats. We can be found greeting the audience from the stage at the beginning of concerts, modelling Calgary Phil merchandise (check out the photo of me wearing the fleece!), donating musician experiences at the Cork and Canvas fundraiser, posing for brochures, meeting potential donors with our Development team, and writing blog posts and articles like this one!
Most of us in the Orchestra have, at some point, served on multiple committees according to our strengths and interests. I know I am grateful to all those who volunteer to ensure an excellent work environment and healthy organization.
These are just internal musical volunteer opportunities. Many musicians volunteer for other musical endeavours and, indeed, for a myriad of other causes that are dear to them including health initiatives such as Movember moustaches, animal rescue, and children with special needs, to name a few. As with most people who volunteer, we get great rewards back for our efforts as well.
Musicians are used to working collaboratively and know that some tasks are important enough for us to invest our time and energy in. We are all interested in working towards a collective goal and in some ways, volunteering mirrors the way an orchestra works together to bring a great work of music to life in real time.