The Calgary Philharmonic Orchestra is welcoming new musicians this 2019/2020 Season. We'll be introducing them to you with our "Meet the Musician" blog series. Follow along to get to know your CPO!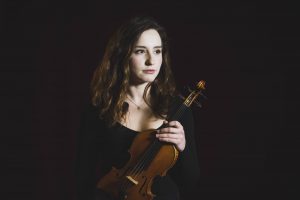 For violinist Maria van der Sloot, selecting her instrument when she was a six-year-old was an easy process. "Everyone in my family plays an instrument, and my older brother had already picked the piano, so, it was violin — I didn't know there were more than two instruments!"
Van der Sloot joins the Calgary Philharmonic Orchestra (CPO) as the newest member of the first violins section. She completed her undergraduate degree in violin performance at the New England Conservatory, and then her master's degree in chamber music at the San Francisco Conservatory this past spring.
Although she won her current position in May of 2018, she commends the Orchestra for allowing her to return to San Francisco to finish her degree, graduate, tie up any loose ends, and then start in Calgary in September 2019. "In my case, there was a runner-up, so it worked out really well to give that musician the one year of experience and delay my start. And that was sort of serendipitous — if there hadn't been a runner-up, I'm not sure what the process would have been," she says.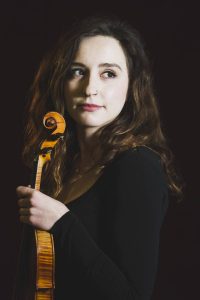 No stranger to the Orchestra, van der Sloot is from Alberta and had served as a substitute on several occasions, so she was motivated to eventually become a regular member. "I had taken a few auditions before, including in Calgary," she says. "But to be honest, my main focus was that I wanted a spot in the CPO. I'm an Alberta girl, from Medicine Hat, and raised mostly in Calgary, and all my family's here."
A position with the CPO wasn't always the goal – at one time, she had a completely different career in mind. "I wanted to be a Hollywood lawyer defending celebrities, so that I could meet celebrities," she says with a laugh. "And I genuinely believed with all my heart that this was going to be my career, until somewhere in high school."
But with parents who are both musicians, and exposure to multiple performances featuring violin soloists with the CPO, van der Sloot's love of music dominated. "Those experiences are what made me want to really play. I feel like this is home for me, in a lot of ways, and so it's a full-circle thing," she says. "It wasn't even so much about the career — I felt like this is something that I love to do."
Van der Sloot is one of a handful of CPO musicians originally from in and around Calgary, and she's very happy to be here. "A lot of the time, in our field, you just go wherever the job is, regardless of how you feel about the place, so I felt glad to be able to come back."
Written by guest contributor Jill Girgulis
Jill Girgulis is a student at the University of Calgary and a regular contributor for thegauntlet.ca as well as buzzfeed.com. When she's not busy studying for her Doctor of Veterinary Medicine degree, she can most often be found in one of the first three rows of the Jack Singer Concert Hall.