The Calgary Philharmonic Orchestra's 2017-18 season may have finished in June, but that doesn't mean that the music stops! Follow along with our "CPO in the Summer" blog posts for more updates on what some of the musicians are up to during their time off!
It probably comes as no surprise that the musicians of the Calgary Philharmonic Orchestra (CPO) are extremely dedicated to their craft. What people might not expect, however, is that for Adriana Lebedovich, a member of the CPO's second violin section, her love of music is actually rivalled by her love of horses. This Friday, music and horses will come together for Lebedovich at the Calgary Stampede's Heavy Horse Show.
Lebedovich has been playing the violin since the age of three and spending time on horseback since she was eight or nine years old, and as a Calgary native, the Stampede has been a regular fixture in her life.
"We used to go to the Stampede every year…and then once I started riding more, [I'd find myself thinking], 'I want to compete at the Calgary Stampede, but of course it's never going to be one of those things that happens,'" she says.
Every July, the CPO makes an appearance at the Stampede to accompany select events in the Heavy Horse Show. It's understandable, then, that this annual performance is a major highlight for Lebedovich. This year, for the very first time, instead of playing violin alongside her colleagues, Lebedovich will be competing in the arena herself.
"When the CPO plays for the Heavy Horse Show, that's my favourite gig, because I get to play the violin and watch these incredible horses at the same time," she says.
"So, the fact that I get to ride a horse [this year] while the CPO's playing the music… I will probably be in tears in the arena, just because I will be so overwhelmed at the fact that this is actually happening."
Lebedovich will be making her Heavy Horse Show debut in the event's Costume Class on Friday, July 6th at 4:30pm in the Nutrien building.
"[The Costume Class] is a jackpot class where you have to ride, drive, or lead a draft horse and dress up, in anything," she says. "There's sort of an audience choice vote on who they think should win the class. It's literally the only thing I could ever 'compete' in at the Calgary Stampede!"
Lebedovich has unfortunately been sidelined from the CPO by an injury for the past few months, which has prevented her from playing the violin in their more recent concerts—so by competing in the Costume Class this week, she still gets to take part in the event that she loves.
"The last concert I played was March 17th…it's been a while. We're not actually really sure how [the injury] happened—there are a few theories," she says. "There's pain in my left pinky, which is essential to holding and playing the violin, so I've been going to physio three times a week, and have had numerous tests done to see if there's any issues on the inside. [I'm taking it] one day at a time at this point."
Despite this, Lebedovich has been making the most of her time away from the violin—and the injury actually played a part in bringing her Stampede dream to fruition.
"As it turned out, [in] this year's group of horses that [her friends Brian and Colleen Coleman are taking to the Stampede], their spare is one that can be ridden, and I can't play the CPO gig this year because I've hurt my hand and I'm not back to playing full-time, so, it just worked out that they're like, 'yeah, this is the year to do it!'"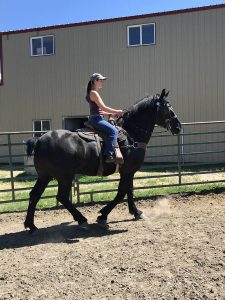 It wouldn't be a Heavy Horse Show without a horse, and Lebedovich will be teaming up with a rather massive draft horse named Firestone.
"He's a nine-year-old Percheron gelding," she says.
"I feel like I'm a queen riding on this noble steed. When I'm on him and looking down, I would say I'm at least eight feet in the air."
Although many people have asked, Lebedovich is remaining tight-lipped about her outfit for Friday's competition.
"Yes, my costume is a secret. The music is all set, so it will be played to match my costume… but I'm definitely not gonna reveal [what the costume is]!"
Lebedovich emphasizes how much the whole experience has taught her about taking chances and just asking questions: "In situations like this…at the end of the day, if [they] say no then that's fine, but if I don't ask, then the answer will be no."
Written by guest contributor Jill Girgulis
Jill Girgulis is a student at the University of Calgary and a regular contributor for thegauntlet.ca as well as buzzfeed.com. When she's not busy studying for her Doctor of Veterinary Medicine degree, she can most often be found in one of the first three rows of the Jack Singer Concert Hall.