The Calgary Philharmonic Orchestra's 2017-18 season may have finished in June, but that doesn't mean that the music stops! Follow along with our "CPO in the Summer" blog posts for more updates on what some of the musicians are up to during their time off!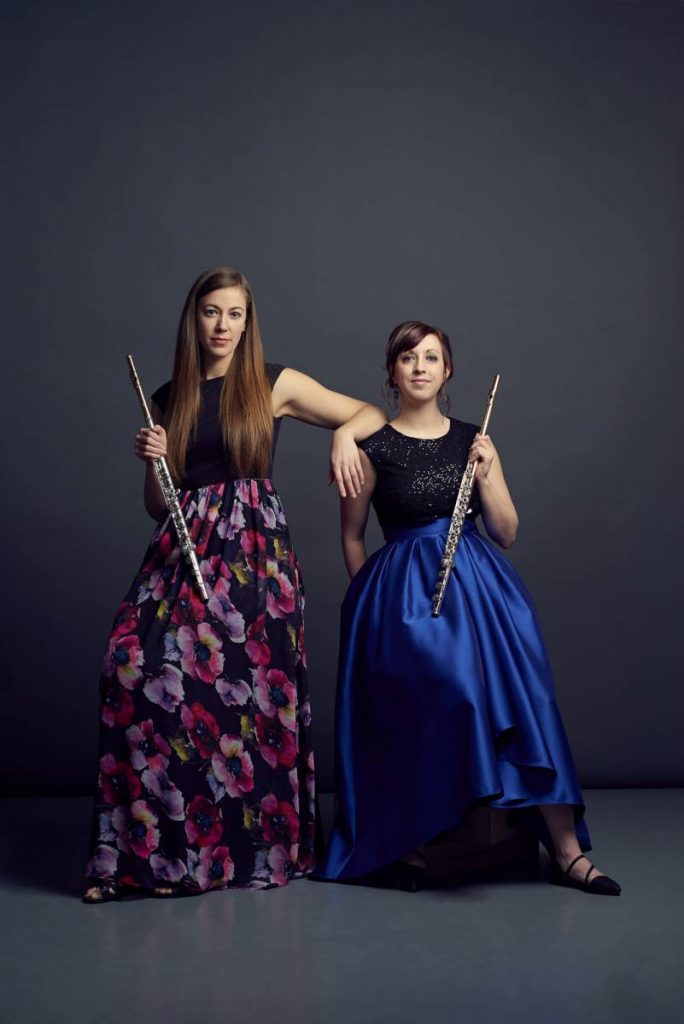 What do you get when you combine two flutists named Sara(h) who have a shared fondness for chamber music and not-quite-ripe bananas? According to the Calgary Philharmonic Orchestra's (CPO) principal flute, Sara Hahn, this pairing leads to some pretty crazy ideas and plenty of great collaborations!
Hahn and Sarah Gieck, a flutist who performs regularly with the CPO, have been working together for years, first meeting through performances with the CPO. Their  partnership later blossomed into the creation of Green Banana Flute Studios (www.gbflutes.com), a classical music education and performance company. Now, starting this week for the first time ever, Hahn and Gieck will be presenting their flute-centric chamber music festival, Ear Party, in Nanton, Alberta.
"Ear Party is three events… they're all happening in Nanton and in different venues there," says Hahn
The festival schedule, which can be found online at www.earparty.ca, is as follows: Thursday, 12 July at 7PM, Saturday, 14 July at 7:30PM, and Saturday, 21 July at 5PM.
"So, the first one, Enchanted Party, is going to take place at the United Church in Nanton," Hahn says. "It'll feature… sort of the standard repertoire that you would hear for [flute, harp, and strings], with all very, I think, acceptable music [that] we're hoping [is] 'enchanting' for the audience.
"The second is Elevator Party, so that one's going to take place in the grain elevator in Nanton," she says. "We were trying to think of something outside of the box for that one, so we're going to have a restorative yoga class… Sarah and I will be the only musicians for that, and we're going to sort of alternate between flutes and drums and some keyboard and anything that's just sort of soothing and won't get too much in the way of a typical restorative class.
"And then the final concert is Bomber Party, which is going to happen inside the Bomber Museum of Canada," says Hahn. "We're going to have a full sit-down dinner, and then play some chamber music for flutes and piano and cello [that's] sort of war-themed."
And after Bomber Party on July 21st, guests will be welcome to stay for some dancing and forties-style jazz to emulate the time period displayed in the museum.
Despite her orchestral commitments, Hahn sees the value in taking on a project like Ear Party.
"I think that all musicians enjoy playing chamber music…orchestra has lots of incredible moments…as one person as part of this huge whole…but when you're playing chamber music, it's just so much more intimate, you have sort of more say in how you want to play things and what you want to play and sort of more autonomy that way, and who you're choosing to play with, even," she says. "It's just sort of like musical enrichment—like the chocolate cake part of the music world, where you get to just kind of indulge in music for a night, rather than [in your job in the] CPO, which can be really a lot of hard work sometimes."
While Hahn just finished her 12th season with the CPO, she will actually be on maternity leave for the 2018-19 Season. However, she is still scheduled to perform Mozart's Flute and Harp Concerto in C Major for the Mozart's Birthday Party concert at the end of January, which is one of several shows next season featuring a CPO musician in a solo role.
"I'm due in October and then the solo's not till January, so, I am optimistic that I will be able to pull it together by then!" she laughs.
In addition to Hahn's yearlong absence from the orchestra, eagle-eyed audience members will likely notice a very different woodwinds section next Season.
"We did have an epic amount of auditions for the woodwinds section [this past year], so it's been interesting going through that process," she says. "I'll be very curious to see how it all pans out next year since I won't be fully part of the whole thing."
Hahn is referring to the recent auditions for principal players in the oboe, bassoon, and clarinet sections of the CPO. As principal flute, she sat on all three audition committees.
"It's so varied what people are looking for, you will get a different answer [about hiring new musicians] depending on who you talk to. For me personally, I'm always looking for musicians that can move me or make me feel something when they play," she explains.
Hahn can still recall her very own first Season with the CPO.
"It was exciting and terrifying and all that stuff, yeah. It's funny to think back about how scary it seemed at that time."
Having experienced the trials and tribulations of the audition circuit herself, Hahn understands what the candidates are going through.
"You want to be perfect that day, but we're all human and it's sometimes not possible, so as long as you're playing musically and really showing your musicianship…" she says. "The second someone makes me sort of perk up and really listen and get interested in how they're playing—those are the people I like to vote for."
To purchase tickets and learn more about this upcoming chamber music festival, visit www.earparty.ca.
Written by guest contributor Jill Girgulis
Jill Girgulis is a student at the University of Calgary and a regular contributor for thegauntlet.ca as well as buzzfeed.com. When she's not busy studying for her Doctor of Veterinary Medicine degree, she can most often be found in one of the first three rows of the Jack Singer Concert Hall.