The Bear and the Wild Rose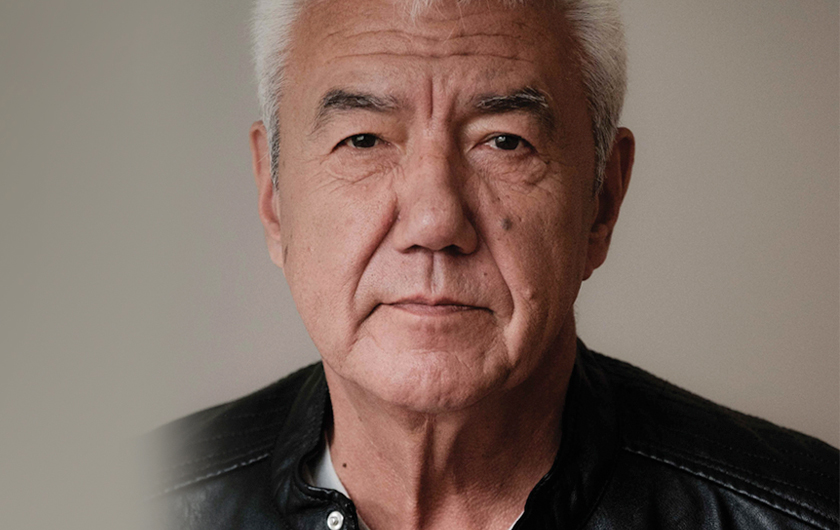 The Bear and the Wild Rose is a free, four-part online series exploring themes of Love, Home, Dreams + Magic, and Resilience. This collaboration between much-loved Canadian musician and humanitarian Tom Jackson and the Calgary Philharmonic Orchestra aims to uplift communities everywhere through music, storytelling, dance, and visual art. The series premieres four new works by Indigenous composers Cris Derksen, Jessica McMann, Sonny-Ray Day Rider, and J. Alex Young.
Tom Jackson is the artistic guide and storyteller for this series, and contributes eight original songs. A new episode will be released online every Sunday afternoon in February — each episode includes the orchestra performing a new work, stories and songs by Jackson, and artwork by Rita Wildschut. The first and last episodes also feature dancers choreographed by Alejandro Ronceria.
Love
This episode focuses on the healing power of Love through all its ups and downs — from the pain of misunderstanding, to the comfort of a warm embrace.
Tom Jackson narrates the story and performs three original songs, with choreography by Alejandro Ronceria and artwork by Rita Wildschut. This episode also features the debut of a new work, Love is a Battlefield, written by composer Cris Derksen and performed by the Orchestra with Associate Conductor Karl Hirzer.
"Love is a Battlefield is a piece about the peaks and valleys of falling and staying in love. It's about many firsts — the first spark, the first embrace, the first fight. The vulnerability of it all. Everything is on the table, everything is heightened, the stakes are high as both parties want to succeed. And the only winners are if they both win." – Cris Derksen, Composer
Home
This episode explores the meaning of home and the land — rolling foothills, vast plains, and the territory of the bear.
Tom Jackson tells the story and performs an original song, plus we hear the debut of composer Jessica McMann's Muskwa's Mountain Home, performed by the Orchestra with Associate Conductor Karl Hirzer.
"When I think of home, I think of the land. The rolling foothills, the vast plains, the coulees and valleys, the prairie grasses and berry bushes, the hot sun and the crackling cold of the winter. What is the home of the bear? How can I bring those chilly mountain winds, and crackling of twigs in the frosty fall, and the steady footsteps of a bear in the fall? I hope that this evocative piece will transport you to these places where the bear lives." — Jessica McMann, Composer
Dreams + Magic
This episode explores human emotions and their relationship with spirituality and the natural world. Tom Jackson tells the story and performs an original song, followed by the debut of a new work, The Blood Alchemist Wateraga: Matriakii of Magic, written by composer Sonny-Ray Day Rider and performed by the Orchestra with Associate Conductor Karl Hirzer.
"The Blood Alchemist Wateraga: Matriakii of Magic is a musical work where I explore the reification and source of magic, which I think encapsulates a whole range of human, natural, and supernatural phenomenon. It has become part of my current practice to carefully title my works with narratives that deify and anthropomorphize human emotions and relationship with spirituality and the natural world.
I used the word Blood in the title (and other works) to allude to my Blackfoot Indigenous background, as I am from the Kainai 'Blood' tribe, which is one of the four tribes that make up the Blackfoot confederacy. I also use the word Blood in the title to refer to a life force which connects us all.
Wateraga is the name of a magic spell from a video game series I grew up with and I use the Narrative connector Alchemist in the title to signify our complex bio-connection with water.
Matriakii is compound word derived from both the English word 'matriarchy' and the Blackfoot word 'akii,' which means woman." — Sonny-Ray Day Rider, Composer
Resilience
Tom Jackson narrates the story and performs three original songs, with choreography by Alejandro Ronceria and artwork by Rita Wildschut. This also features the debut of a new work, šâkohtâw (pronounced shâ-kôhê-tâ-hw), written by composer J. Alex Young and performed by the Orchestra with Associate Conductor Karl Hirzer.
"This piece is inspired by resilience. For me, resilience is tied to my Cree grandmother Georgina Nanê Wischee-Leblond and her stories. She was/is unanimously viewed as the strongest member of our family. My grandmother was a residential school survivor, and her resilience stories embody the Cree word šâkohtâw meaning strength, specifically personal, spiritual, and mental strength to overcome. Her stories taught me that resilience is facing adversary while remembering who you are and from where we come; through this, I learned that identity retention tempers our strengths to prepare mind and spirit for greater challenges.
"Before composing I reflected on my grandmother, her stories, her strength and her spirituality. From her memory emerged šâkohtâw and I feel her guidance and spirit within this piece; like her, it is delicate, ethereal and represents beauty and love to those of us who have been at any time forcefully resentful, lost or uncertain." — J. Alex Young, Composer
Artists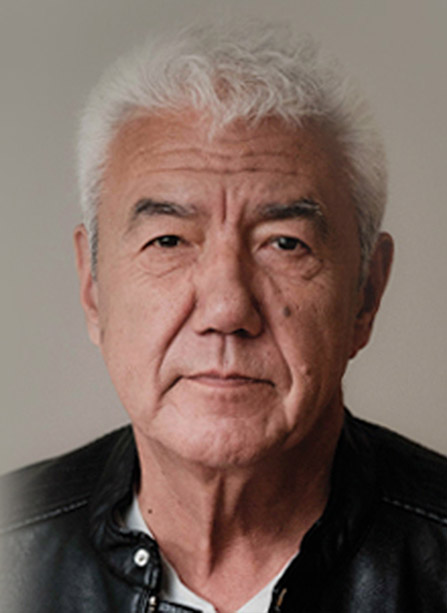 There are entertainment legends, and then there is Tom Jackson, a triple-threat actor, musician, and activist whose achievements in each discipline are downright head-spinning. His career is unparalleled, not to mention wildly acclaimed, abundantly decorated, and almost ridiculously interesting. Heck, he could be a pub night trivia category all by himself.
You'll never hear Tom begin or end any sentence "when I'm retired". He thrives as a people whisperer, a thoughtful collaborator in all facets of his work, and a force for positivity. His stride matches his 6'5" frame.
2018 marked the release of The Essential Tom Jackson, a dazzling two-disc, 21-track retrospective spotlighting his inimitable talent as a folk-pop singer/songwriter of the highest order and an artist intrinsically linked to the world around him, both the real and the ethereal.
It's impossible to regard Tom's music separately from the other aspects of his remarkable career which include (but are not limited to) countless marquee TV roles on hit shows like North of 60, Shining Time Station, Star Trek: The Next Generation, Law & Order and Red Earth Uncovered. Most recent guest roles in Season 4 and 6 of Outlander, and Season 3 of Cardinal keep the phone ringing.
Read more here.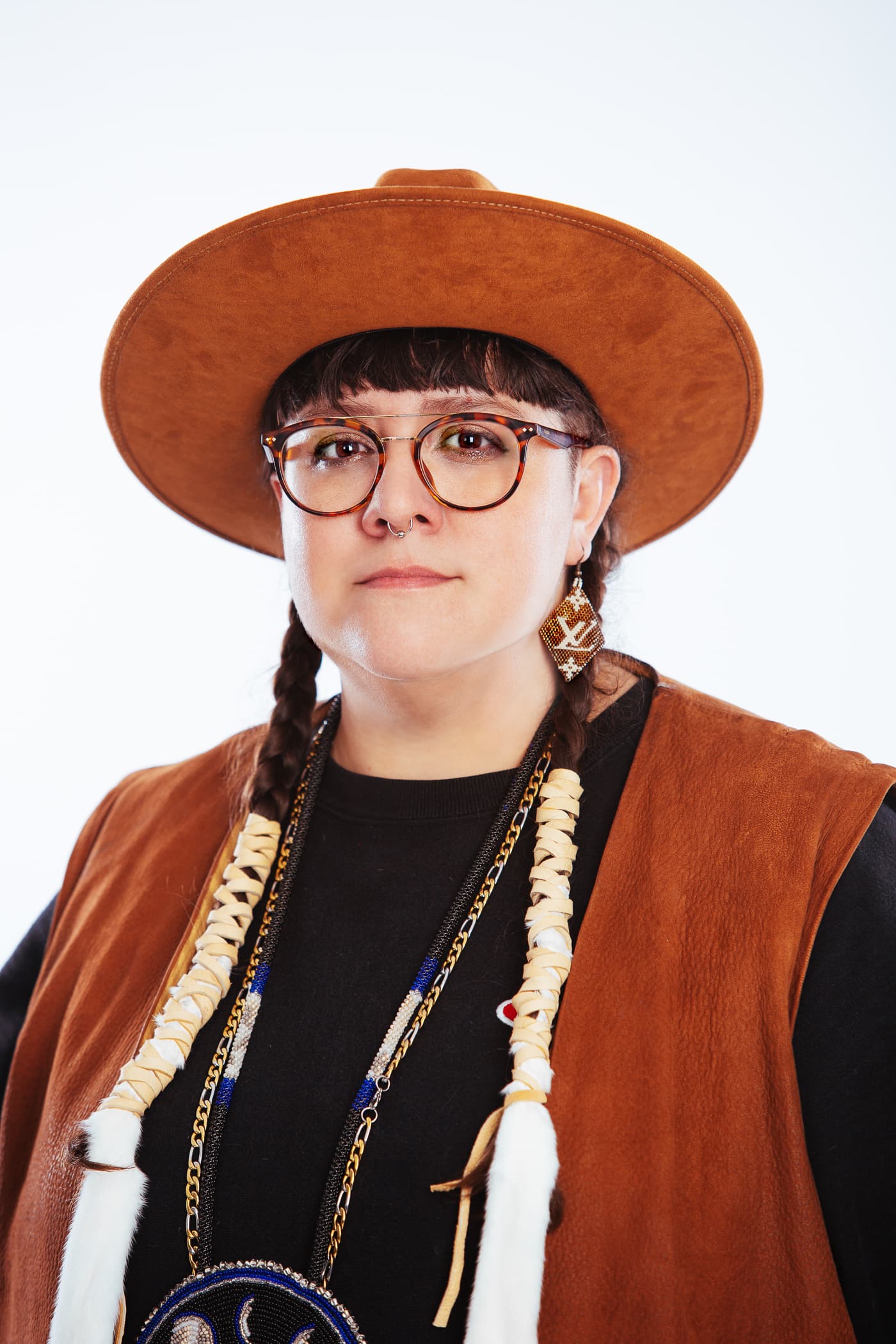 Juno-nominated Cris Derksen is an internationally respected Indigenous cellist and composer. In a world where almost everything — people, music, cultures — gets labelled and slotted into simple categories, Derksen represents a challenge. Originally from Northern Alberta, she comes from a line of chiefs from North Tallcree Reserve on her father's side and a line of strong Mennonite homesteaders on her mother's. Derksen braids the traditional and contemporary, weaving her classical background and her Indigenous ancestry together with new school electronics to create genre-defying music. As a performer, Derksen has appeared nationally and internationally as a soloist and in collaboration with some of Canada's finest, including Tanya Tagaq, Buffy Sainte Marie, Naomi Klein, and Leanne Simpson, to name a few. Recent concert destinations include Hong Kong, Australia, Mongolia, Sweden, and a whole lot of Canada: the place Derksen refers to as home.
Derksen's 2021 commissions include pieces for the Calgary Philharmonic Orchestra, Ottawa's Chamberfest, the City of Toronto, Edmonton New Music, the Edmonton Symphony with support from the National Arts Centre, Vancouver's Blueridge Chamber Festival, Vancouver Transform Cabaret, and a four-part docuseries for the Knowledge Network.  A new album of Cris Derksen's works will be released in 2022.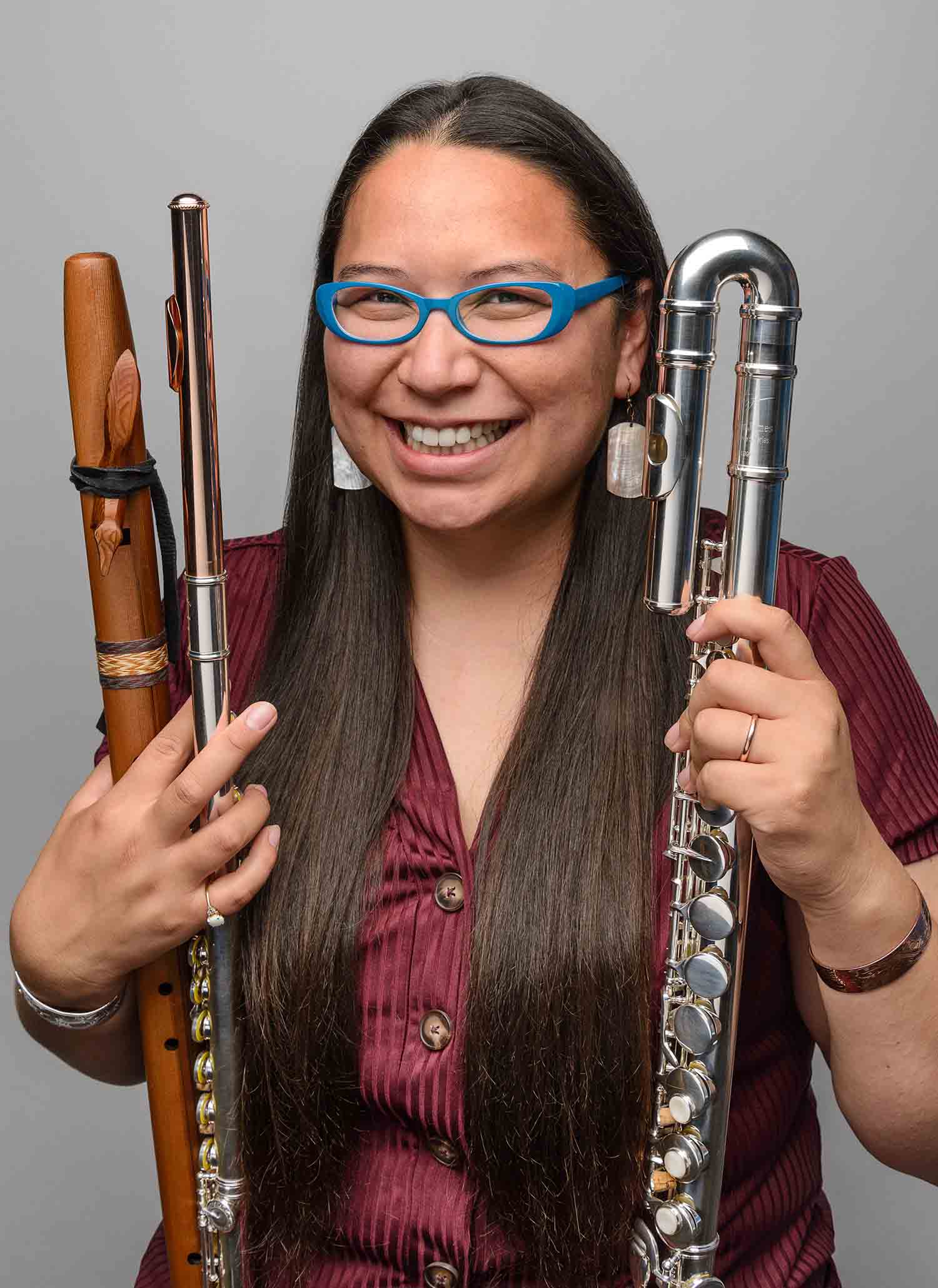 Jessica McMann is an Alberta-based Cree musician (Cowessess, SK), contemporary dancer, and choreographer who explores themes of Indigenous identity and history through her multidisciplinary artistic practice. A classically trained flutist, she holds a Bachelor of Music degree from the University of Calgary and an MFA in Contemporary Arts from Simon Fraser University. Her recent completion of a 10-day artist's residency at the Banff Centre (2019) resulted in an album of Indigenous classic music called Incandescent Tales, which was released on June 4th, 2021.
Photo: Chelsea Yang-Smith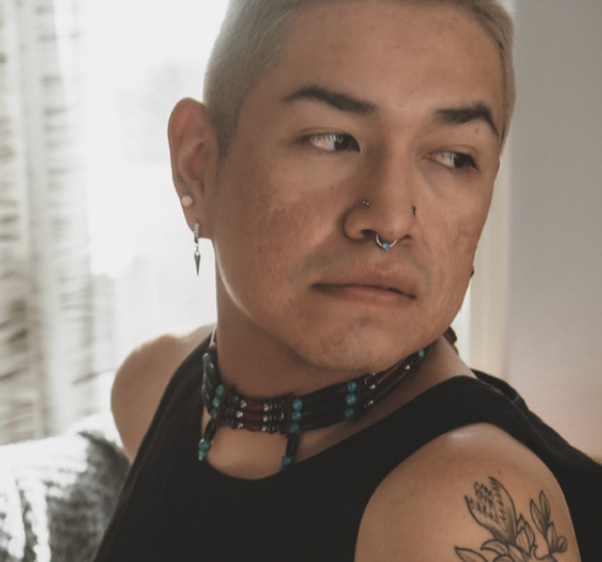 Sonny-Ray Day Rider (B.A., Music) is a Blackfoot composer, pianist, from the Kainai Blood Tribe. Sonny-Ray has a broad musical palate working with many genres.
Sonny-Ray is pursuing advanced studies (M.mus) in music composition at the University of Lethbridge. He shows great promise in the field, having accumulated a large breadth of significant creative projects as an emerging Kainai (Blackfoot) artist in an impressively short time span. He also currently has a seat on the Indigenous Advisory Circle to the Library and Archives Canada and is past faculty alumni to the Banff Centre for Arts and Creativity.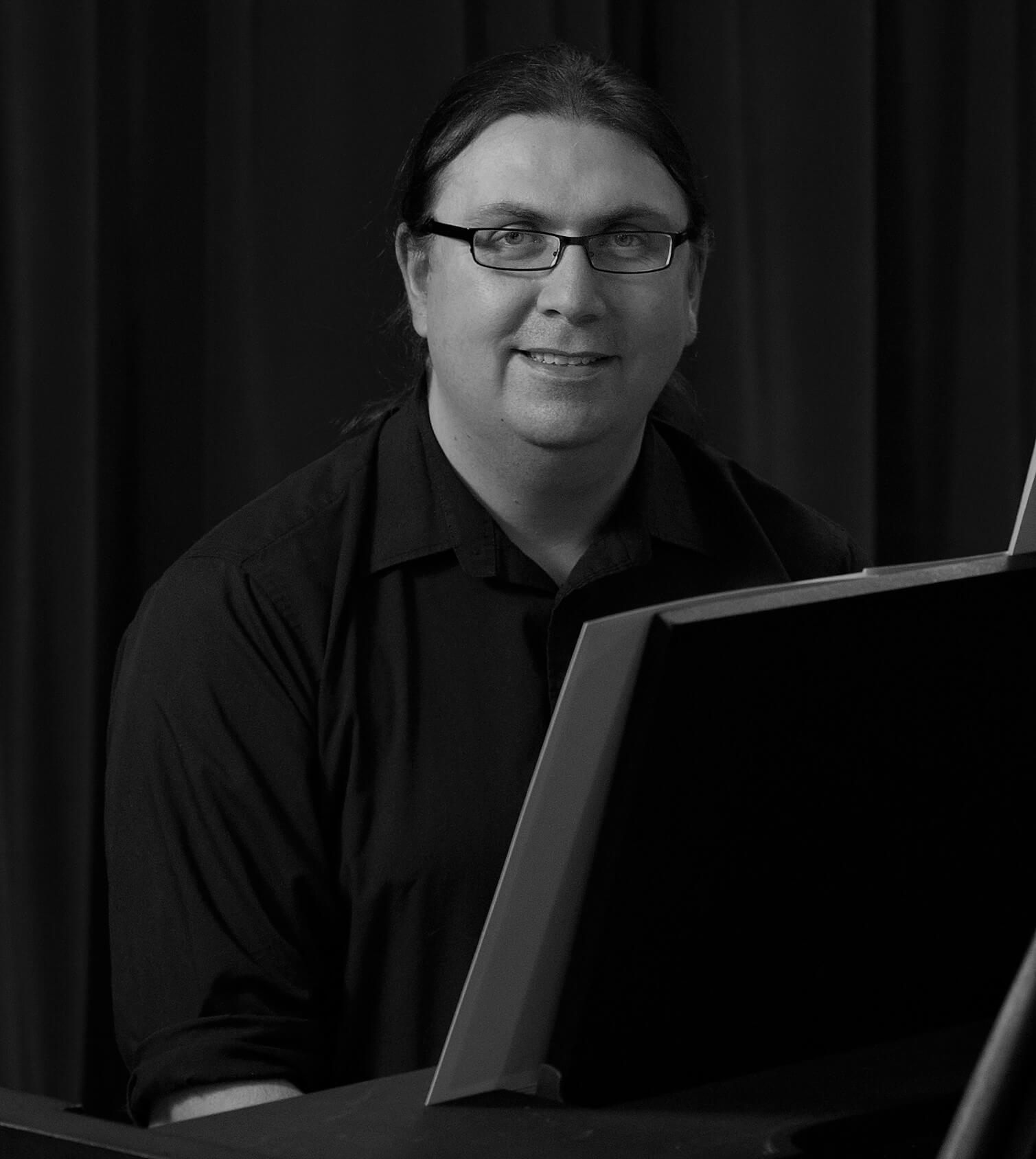 J. Alex Young is a Métis composer who holds a Bachelor of Music (Honours) from Carleton University and a Masters in Composition from the University of Ottawa. He is currently a Graduate Assistant, Lecturer and Ph.D. Candidate at the University of Calgary specializing in Composition. In 2019 he was awarded the SSHRC Doctoral Fellowship for his research on Indigenous culture which encompasses Cree storytelling, ceremony and song as inspiration for a new creative work. The cultural focus of his studies is that of his ancestral Mushkegowuk (Moose) Cree heritage within the Moosonee/Moose Factory First Nation. He aims to create a unity between his Indigenous and Western cultural heritage in his works where each work cohesively.
His most recently performed works include C.F.H. for solitary cello, okâwîmâw wanipaliw. (oh- caw-wee-maw wah-nip-ah-law) Based on the reception of these works and his research into Indigenous music, he has recently received a composer's commission from the Calgary Wind Symphony. This work will employ elements of Indigenous music and will incorporate them with this Western ensemble. It will be featured in a future concert directed towards the respresentation of Canadian music and its Indigenous people.
Alejandro Ronceria, Choreographer
Kennedy Bomberry, Dancer
Katie Couchie, Dancer
Samantha Sutherland, Dancer
Your generosity helps in many ways.