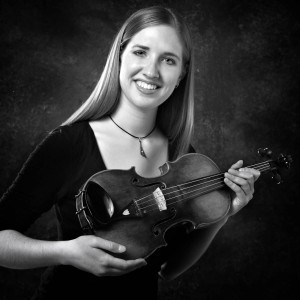 Audience members don't typically find themselves laughing in response to a classical music performance, but the Calgary Philharmonic Orchestra (CPO) is turning that expectation on its head with Comedy Meets Orchestra on Saturday 8 February. This unconventional show is the brainchild of British comedian and conductor Rainer Hersch, who will be joining the CPO to lead the performance.
Violinist Adriana Lebedovich, who attended one of Hersh's performances in London just over a year ago, is looking forward to it. "I found out about him randomly," she says. "A very good friend of mine and I were watching Victor Borge videos on YouTube, and then Rainer Hersch came up as another suggested video. We probably watched it three times in a row, and I still watch it now and still find every part of it hilarious — this concert's definitely going to be a big hit!"
Lebedovich says the show incorporates familiar orchestra repertoire, but in a way people haven't experienced before. "It's well-known stuff, but he has his own comedic take on it — I don't want to give away too much," she adds. "A lot of the comedy comes from what he's saying. He'll turn around and address the audience while we're playing, so there's a lot of funny stuff that goes on, and he does interact with us as well."
In one YouTube video, Hersch conducts a polka using cleverly timed juggling. "In that bit, at the end of a phrase, when he wants us to slow down, he just throws a ball slower, so that it lands slightly later than the previous one and we know where to come in."
Regardless of musical background, this show is good for all audiences. There's no barrier to enjoyment, Lebedovich says. "It has layers of hilarity, so if you don't know anything about the orchestra, you will still find some of his jokes funny. And if you are a musician, then there are inside jokes that people who are well-versed in the ways of orchestras will find funny, so I think there's something for everyone."
Comedy Meets Orchestra is also an opportunity to reach a wider audience, thanks in part to its crossover appeal. "I hope that, if you like going to a comedy club but have never been to the orchestra, that you give it a try," she adds. "Show and concert are used interchangeably, but in this case, I would say you're in for a show. It's much more interactive and you're really encouraged to laugh and find things funny."
The performance also ties in with an event the next day, Sunday 9 February, from 12:30 p.m. to 1:30 p.m. at the Central Library. Music to My Ears: Everything You Always Wanted to Know about the Orchestra (But Were Afraid to Ask) is an orchestra question-and-answer period with musicians, including Lebedovich. The event is free and open to public (click here to register in advance).
Both events are part of an increased effort by orchestras across North America to welcome more people to experience live classical music. "There's still somewhat of a perception surrounding classical music, that it's high-brow and only for the elite, so I think that having a performance like this, where you're using real orchestral music, helps break down those walls," Lebedovich says.
"I don't think you can really prepare yourself for a concert like this, other than just go in with an open mind — and be ready to have an enjoyable and laugh-filled evening."
Written by guest contributor Jill Girgulis
Jill Girgulis is a student at the University of Calgary and a regular contributor for thegauntlet.ca as well as buzzfeed.com. When she's not busy studying for her Doctor of Veterinary Medicine degree, she can most often be found in one of the first three rows of the Jack Singer Concert Hall.