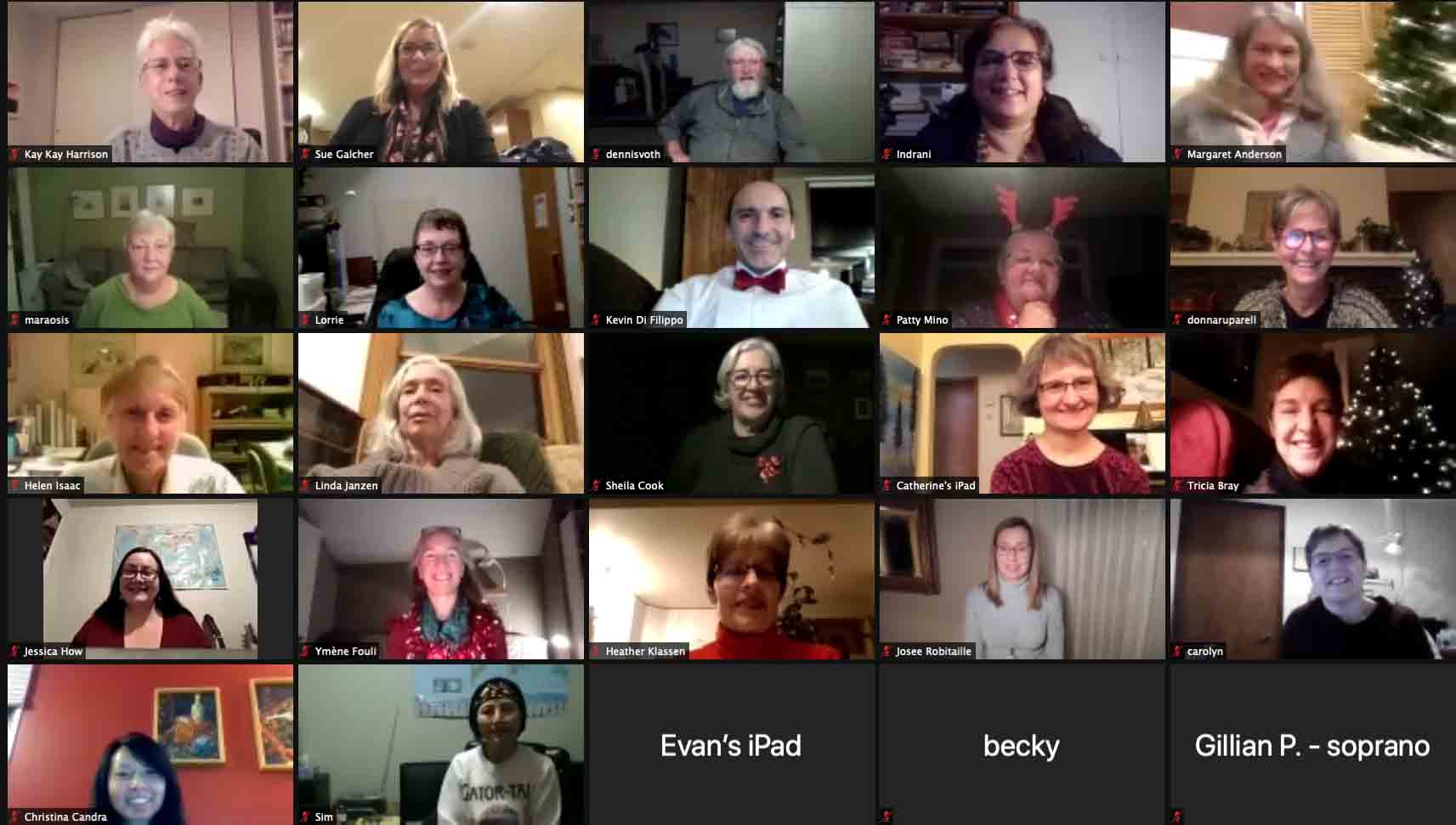 As our Fall Series wraps up, there is one musical group that has yet to make an appearance: the Calgary Philharmonic Chorus. Current COVID-19 restrictions don't allow choral performances, but our Chorus has adapted — in fact, they've been as busy as ever! We recently had the pleasure of catching up with chorus members Kevin Joseph Di Filippo (Bass), Michelle Bozynski (Soprano), Amy Klintberg (Soprano), and Evan Mounce, who is leading the chorus this season, to get the inside scoop on what they've been up to.
Many of us have grown used to working from home over the past months, and while moving the Chorus to virtual sessions on Zoom meetings sounds near impossible, they say it's actually worked really well. All members meet online once a week — the leaders of each section (Soprano, Alto, Tenor, and Bass) have their microphones on so everyone can hear them speak and sing, but the rest of the singers are muted. That way, each individual member only hears their own voice as they sing along with the section leader, which is very different than hearing their voice in a group of others.
"I was expecting our online meetings to be a sort of awkward-duck experience of weird solo singing, but I've found them surprisingly smooth" says Di Filippo. That's not to say there aren't challenges. "Normally in groups, it's easier to hide when you aren't as strong with one part or feeling unsure about how it's supposed to sound. Now you're much more exposed and individually responsible, and it's much more (sometime painfully) obvious when your pitch is unstable or straying."
The Chorus also takes part in workshops about once a month — the number of options available has increased due to the accessibility of digital programming. First up, the Chorus had an IPA (International Phonetic Alphabet — not to be confused with craft beer!) workshop with Soprano section leader Hannah Pagekopf, which Klintberg describes as having "masterclass value." In October, the Chorus was joined by Calgary Philharmonic guest percussionist Malcolm Lim for a Rhythm Mastery workshop. Bozynski expressed great admiration and appreciation for Lim's complex rhythms, which she says brought challenges and humility to the group. In November, the Chorus welcomed Edmonton-based musician and seasoned yogi David Wilson, who leads a unique Body, Breath, and Voice workshop focused on managing the life-based physical tensions that impact the respiratory system and support system, which in turn impact vocal production — a challenge that's all too common for many musicians these days.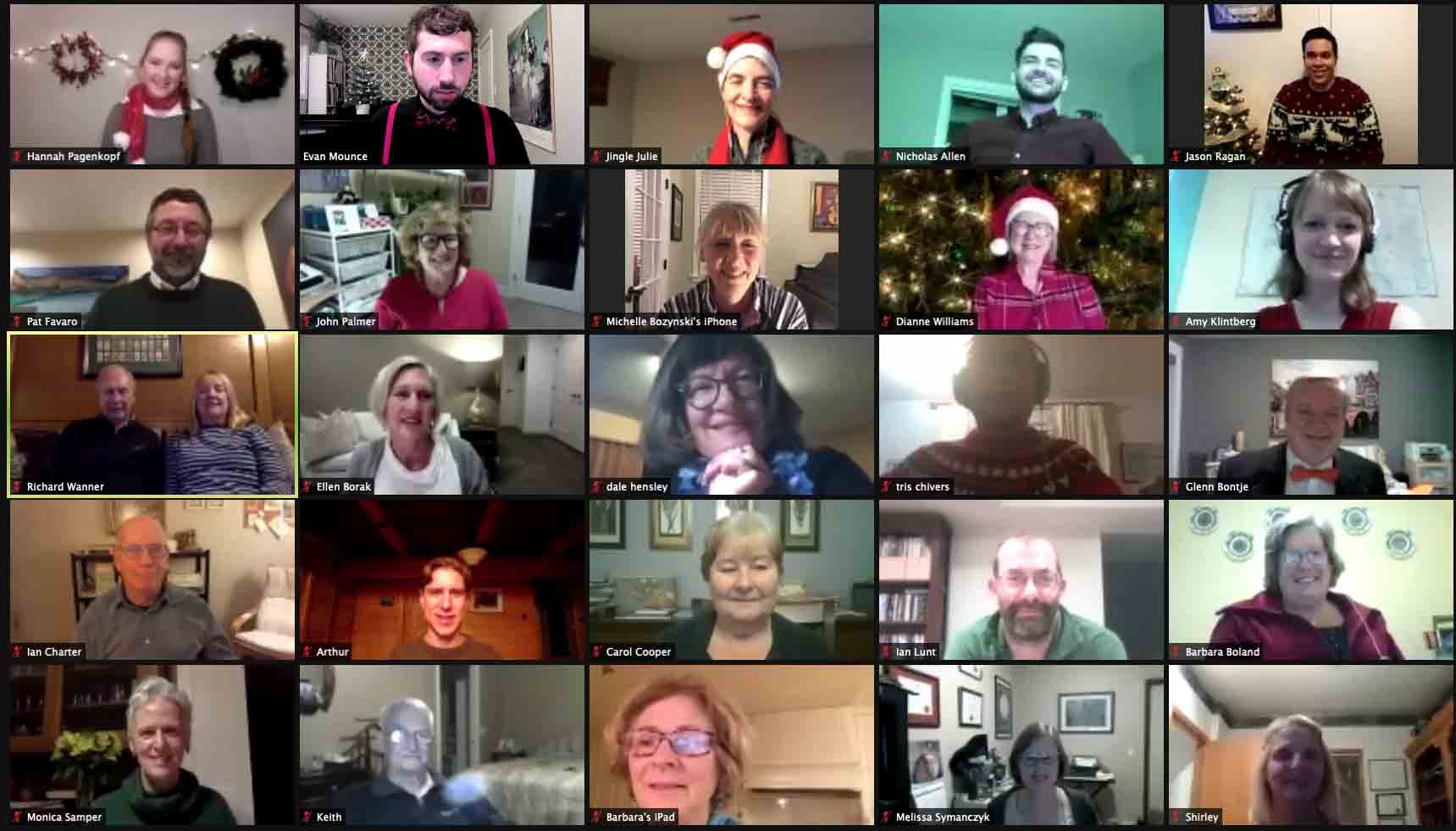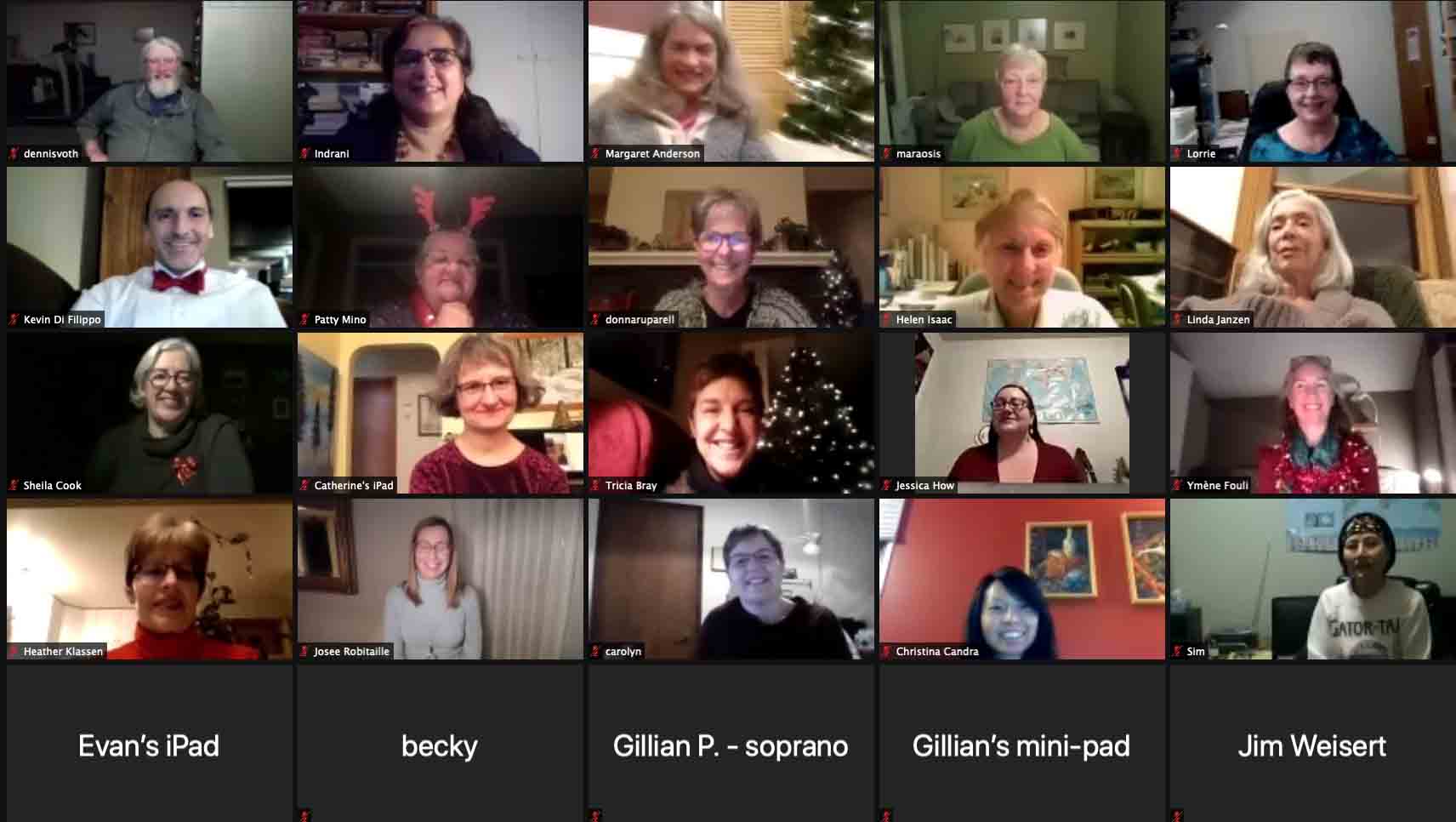 The Chorus is also looking forward to some virtual performances, including a special holiday video (update: see below). Later in the Season, a collective highlight will be the performance of a new commission led by Alberta composer Laura Hawley. They all speak highly of Hawley's uniquely inclusive approach to working with the group, and Klintberg says they find themselves "hanging on her every word." As part of Hawley's writing process, she invited Chorus members to help her source poetry — some, including Klintberg, felt inspired enough to write their own. This is truly going to be something special from the Chorus and we look forward to its expected world premiere in 2021.
Overall, the move to online practices and rehearsals has been beneficial, keeping the vocalists connected and in good form. With more time to work on sectionals regularly, and a way for everyone to equally voice ideas, we can expect the Chorus to sound as good as ever when they return to the stage.
As busy as our Chorus members are between their day jobs and rehearsals, they've also found time for themselves. Di Filippo has seized the chance to do a deep dive into some of his favourite artists' discographies — from pop classics like Fleetwood Mac's Rumors, Elton John's Yellow Brick Road, Paul Simon's Graceland, and the Beach Boys Pet Sounds, to video games scores including Jeremy Soule and the Elder Scrolls franchise as well as Christopher Tin's Civilization franchise. Some musicians continue to find comfort in experiencing music with others even from a distance. Bozynski is often found next to a radio, listening to Sunday morning programs and rekindling her spotlight spirit with Backstage with Ben Heppner and a variety of choral programming. Others have seen this as a chance for personal development and exploration — a challenging search for online opportunities led Klintberg to launch her own YouTube channel for singing and education.
The Chorus continues to show passion and determination in the face of some major challenges. We are incredibly proud and grateful for all their work and are looking forward to their virtual performances as we wait to be reunited once again at home in the concert hall.
By Adam Masson
December 2020
Update: A special holiday recording was released on 22 December — enjoy the video below.
Brother Heinrich's Christmas
Brother Heinrich's Christmas is a charming fable with music by John Rutter. This performance features members of our Calgary Philharmonic Chorus and narration by Music Director Rune Bergmann, accompanied by musicians David Sussman, Assistant Principal Oboe, and Michael Hope, Assistant Principal Bassoon, with Chorus leader and Pianist Evan Mounce. The story is brought to life with illustrations by Grade 5 students from St. Patrick School.