Partner Post, December 2020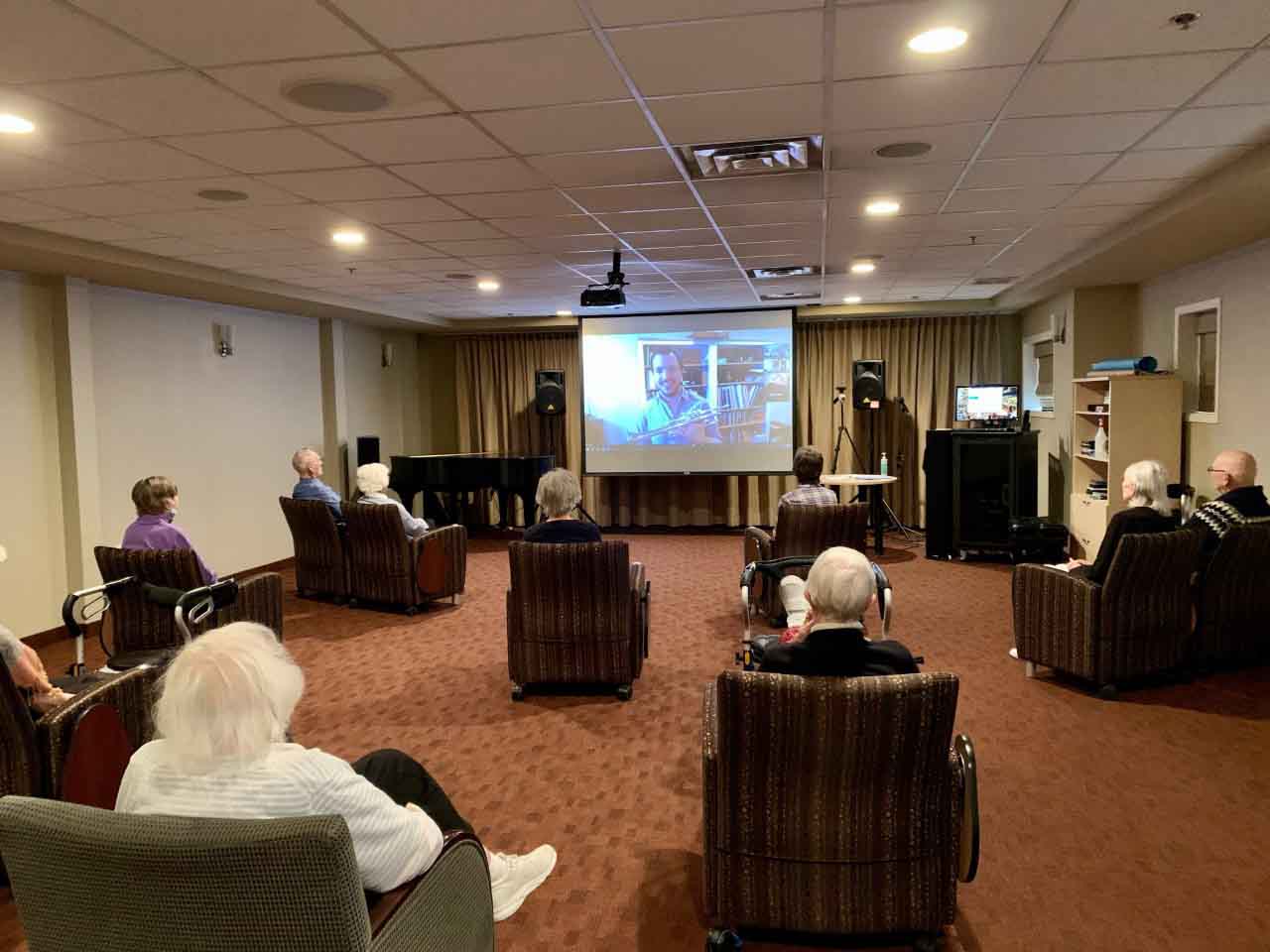 "Oh no! My dog!" Principal Trumpet Adam Zinatelli was in his basement studio, guiding residents from United Active Living on a Zoom tour of his collection of four centuries of trumpets. Then he noticed his dog Klaus walk outside by the window, where he wasn't supposed to be. Adam immediately left the frame, called to his wife to alert her that Klaus had escaped, and returned. "We moved recently and our Standard Schnauzer is still finding ways to escape the backyard," Adam explained as residents chuckled supportively. "I don't want him to get hit by a car."
These are the kinds of intimate, unexpected moments that take place in the time of COVID-19. United Active Living (UAL) has been a sponsor/community partner of the Calgary Philharmonic since 2016. Usually, musicians or conductors go in person to Garrison Green or Fish Creek communities to perform recitals or give talks for the residents, but now with the pandemic, the Orchestra and United have worked together to create unique events that otherwise wouldn't take place. "Getting a chance for residents to go behind the scenes, right into a musician's studio, and learn about all the different instruments is an example of one of United's core values — lifelong learning" says UAL Music Director Jill LaForty. "The Calgary Philharmonic staff and musicians have been fantastic in working with us to create memorable experiences for residents."
One of those residents is Marion Enta. Marion's children and grandchildren took music lessons, so she was used to having music around the house. Thanks to UAL partnerships, music remains an important part of her life. "I thought Adam was wonderful!" she says. "He's quite young. I learned so much because I didn't know about all those different instruments."
Adam explained that although the audience might notice he sometime plays different types of instruments in the Orchestra, they likely aren't aware of just how broad and varied the trumpet's extended family is, ranging from the familiar to the flugelhorn.
Resident Brian Naylor was particularly intrigued by Adam's explanations and demonstration of the mechanical side of the instruments, and took advantage of the opportunity to ask Adam questions. "I thought it was great! It never ceases to amaze me what comes out of these instruments," he says.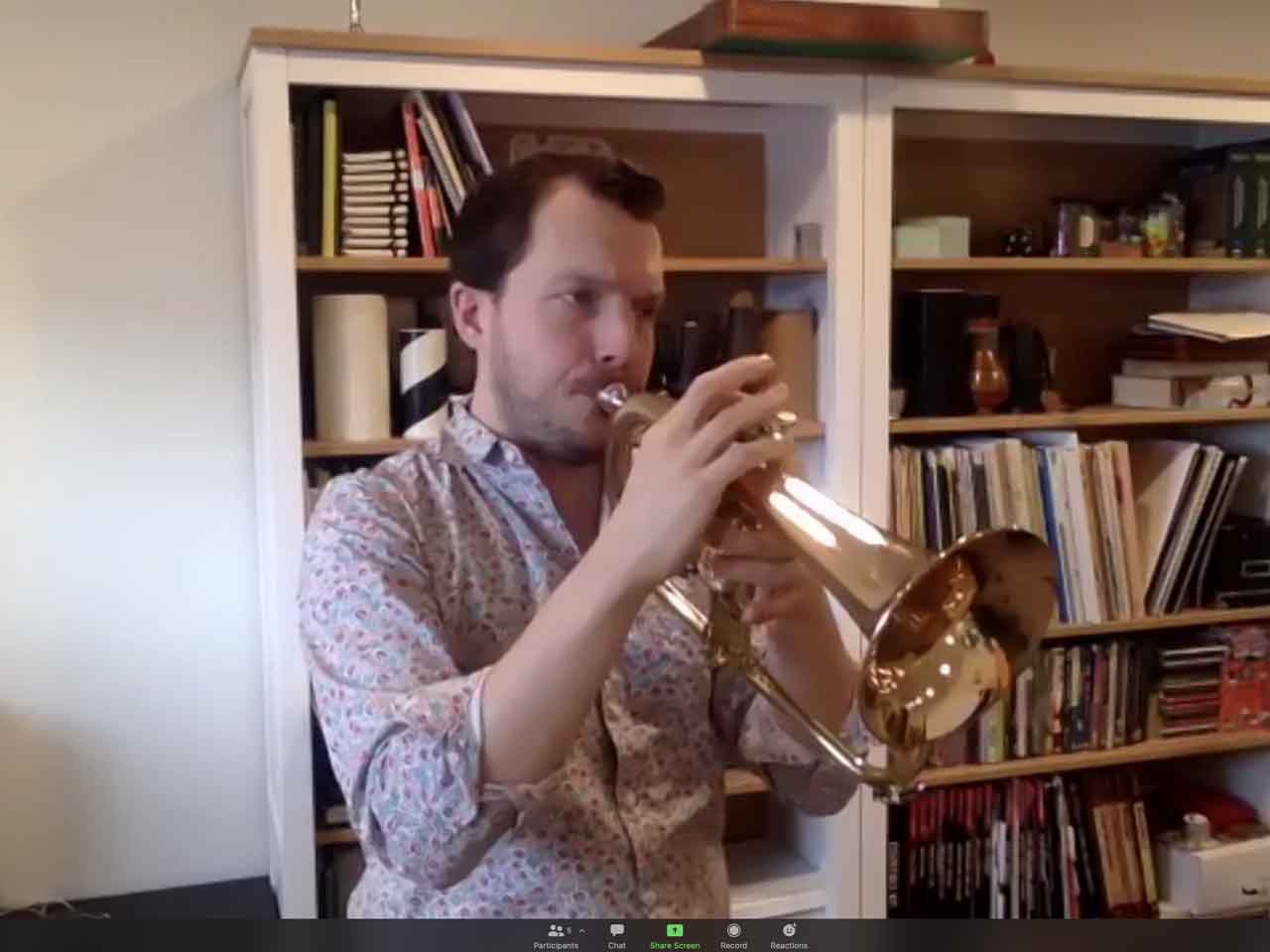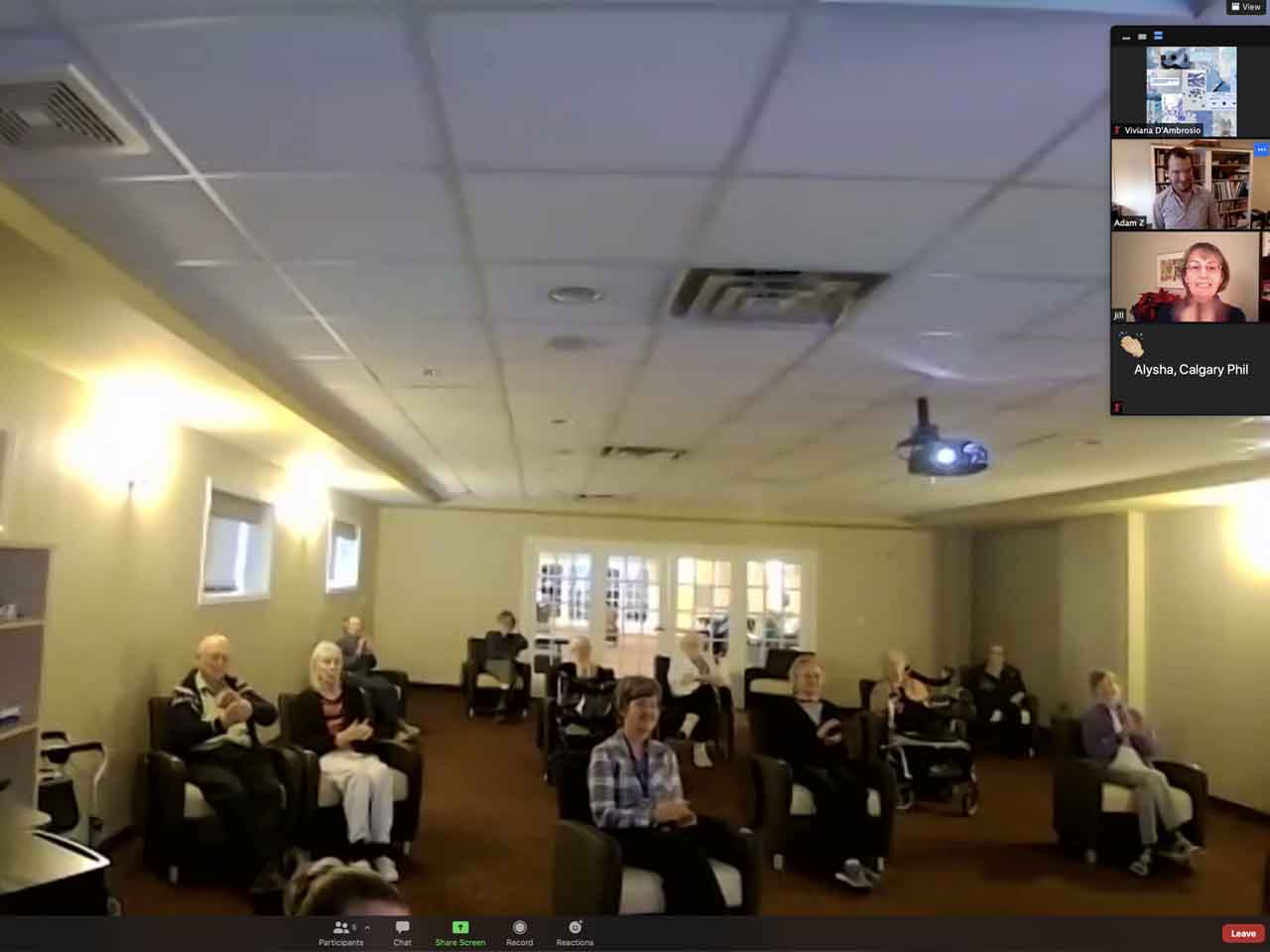 United Active Living puts a premium on providing a rich range of fitness, arts and culture, and educational programming for residents at both the Garrison Green and Fish Creek communities — 11 community partnerships, including with Mount Royal University, Calgary Opera, Lunchbox Theatre, and Calgary Jazz Orchestra, enable a variety of activities outside the community (pre-pandemic) as well as numerous in-house events. Additionally, UAL communities have art studios staffed seven days a week by professional artists that encourage residents to express themselves and create in mediums as diverse as drawing and watercolour or clay and photography.
As part of the partnership with the Calgary Philharmonic, Associate Conductor Karl Hirzer gives in-house talks to residents, usually based on upcoming concerts they will attend. Karl has established a warm relationship with residents — they appreciate his relaxed approach as he speaks and demonstrates musical excerpts at the community's Steinway baby grand pianos, and he often has humorous takes on the music and composers the Orchestra is featuring. This year the talks will most likely be via Zoom from Karl's studio.
United Active Living is a thought leader in the future of dementia care and has Canada's only fully inclusive community. The organization's revolutionary United Mind's program creates a place where everyone in the community, residents and staff alike, have the opportunity to grow and thrive and build meaningful relationships. It is designed to provide a safe, nurturing environment where residents with cognitive impairment and other cognition challenges can enjoy a life full of connection and purpose. Creative expression, and partnerships with organizations like the Calgary Phil, is key to the program offering.
Kim O'Brien is United Active Living's CEO. She says the partnership UAL has formed with the Calgary Philharmonic is an important aspect of her organization's goal to transform the experience of aging. "I hear regularly from our residents who say that it's the opportunities to continue to stay engaged with groups like the Calgary Phil whose work they have supported throughout their life that is one of the key reasons they move to our communities," she says. "Likewise, residents who have never been to classical or jazz concerts suddenly have a whole new world open up to them."
Resident Brian Naylor and his wife Jacqueline, who recently moved to Garrison Green, agree. "We are so appreciative of all the interesting events we get here. When we shopped around for a retirement community, it was the programming UAL offers that was the deciding factor."
Having worked with the Calgary Phil staff to bring Adam Zinatelli's presentation to residents, Jill LaForty had nothing but praise for the experience. "Adam's concert today was terrific. He is so warm and genuine," she says. "It was very generous of him to welcome residents into his home and he provided both music and an insight into the instruments that made for a memorable experience. That's why we keep supporting and working with the Calgary Philharmonic."