A Journey from Musical Youth to Mastery
By Aurora Sol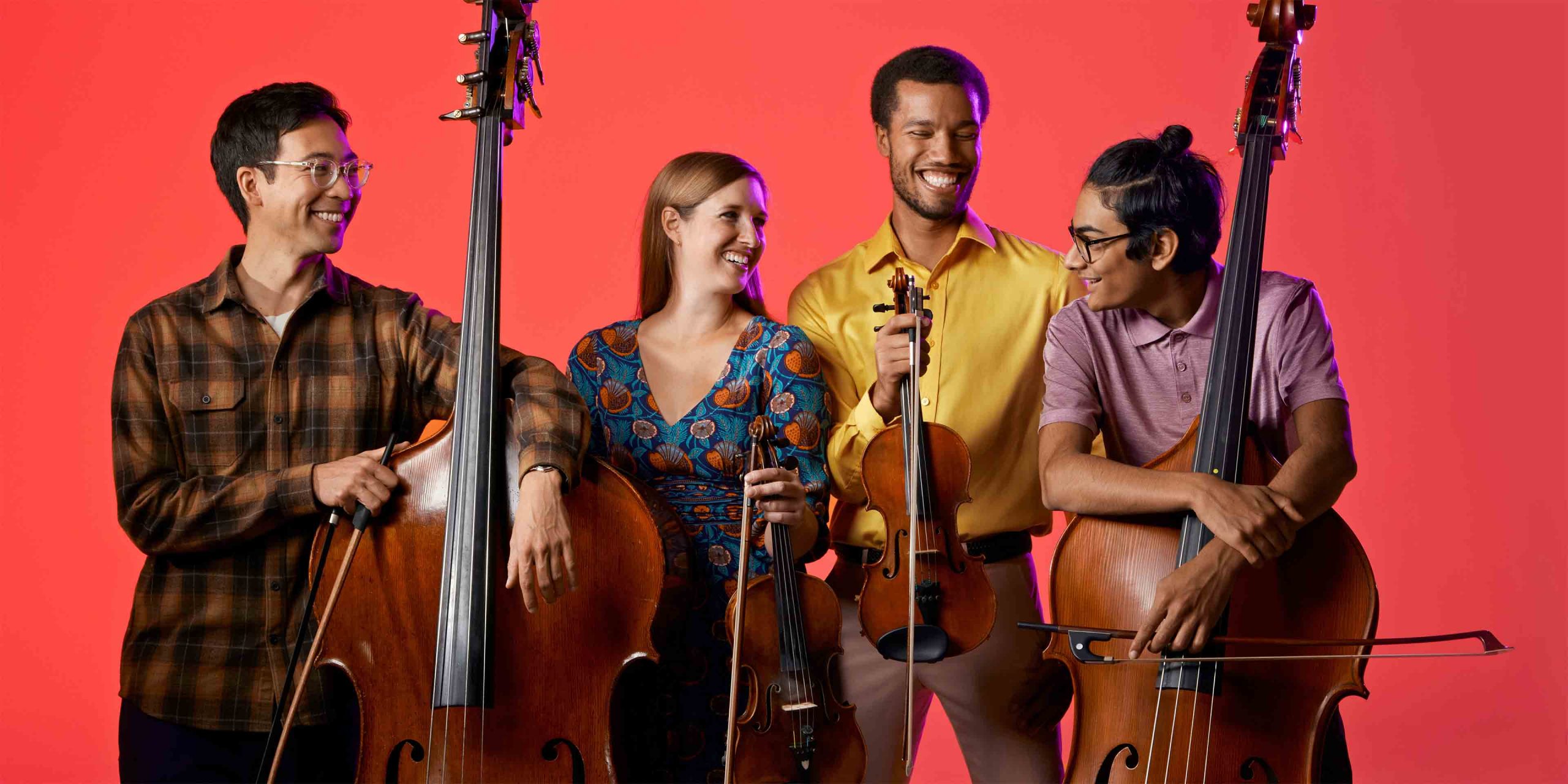 Founded in 1957, only two years after the creation of the Calgary Philharmonic, the Calgary Youth Orchestra has been providing training to young orchestral musicians in the city, with many of these young musicians going on to become composers, educators, and orchestral musicians in such world-renowned ensembles as the New York Philharmonic, the Cleveland Orchestra, and the Boston Symphony Orchestra. Led by Music Director Edmond Agopian, CYO is internationally recognized as one of Canada's leading youth orchestras and provides its musicians with solid training in orchestral playing through the lens of teamwork and community service.
Many Calgary Phil musicians are alums of CYO, extending their youth experience into their musical careers, including Adriana Lebedovich. A violin player since age three, Adriana says her experience in CYO over 20 years ago has greatly shaped her musicianship and love for the orchestra. Looking back on her time in CYO, she shares, "having the opportunity to play big orchestral repertoire as a student is huge, especially before joining a professional orchestra. Just learning what it means to sit at a stand with two people, all of the etiquette, who plays which part and who turns the pages and when — it was really beneficial to gain all of that as a kid. It's a key opportunity to be able to prepare for a career as a professional orchestral musician."
Fellow violinist, Isaac Willocks is the current Concertmaster of the Calgary Youth Orchestra, the UCalgary Orchestra, and performs with the UCalgary String Quartet, and is currently studying violin at the University of Calgary and completing the Advanced Performance Program at the Conservatory at Mount Royal University.
Discovering the violin at a young age, Isaac knew it was his instrument. "I was taken to a Christmas concert with my grandparents for my birthday. I had just turned four, and some violinists were playing," he remembers. "When I came home, I told my mom I needed to learn to play the violin, and she signed me up, no questions asked."
Originally from Lacombe, Isaac's studies in violin came to a fork in the road when he was a teenager. Because of a lack of training options available in Lacombe, Isaac had to decide if he wanted to commit to pursuing his violin studies. "Because we were in Lacombe, it was only on special occasions we could drive to Calgary, but I was given tickets to a Calgary Phil concert, and it was just breathtaking to see the level of musicianship, passion, and precision the Orchestra performed with. I was so inspired by them and I thought, 'oh, I have to play in an orchestra.'"
Isaac decided to follow his dream, and his family began commuting to Calgary once a week for lessons, eventually moving to Calgary so Isaac could join CYO. Now studying violin at the post-secondary level, Isaac attributes where he is today to his experience playing with CYO. "One thing I found helped a lot was playing with so many youth who also had very similar goals," he says. "When I finally moved to Calgary and was able to join CYO, it was so inspiring and fuelled my creativity and my drive to play with people who felt the same about music and love it as much as I do."
Calgary Phil Bass, Patrick Staples, who also spends time as a bow maker for double basses, was involved with CYO as a young musician and cites it as an incredibly positive formative experience.
"That wasn't my first youth orchestra program," recalls Patrick. "I actually started in what was at the time called Preparatory Strings. When I started, I was towering above all the kids I was playing with because I started when I was 12, and a lot of the other kids were quite a bit younger. It's common to start bass later than other instruments like piano or violin just because of the sheer size of the instrument."
After a couple of years in Preparatory Strings, Patrick moved to CYO. "It was in junior high that I got involved with the Calgary Youth Orchestra, and that was the first time I was playing music with other kids in my age group," he notes. "That was a real turning point for me because now, all of a sudden, playing music became a social event rather than just this solitary task I did by myself, practicing alone in my bedroom. That was a really exciting part of my early musical development."
Oscar Spencer, a Calgary high school student who plays bass in CYO, is already attuned to the impact CYO has had on his development as a musician and young adult.
"I've been a bassist for multiple years, though not all of this time was dedicated to practicing rigorously. Playing the bass in CYO has allowed me to sharpen all aspects of myself, not just as a musician, but as a person leading to my future," he reflects. "Working with some of the best young musicians in the city gives me the urge to practice more and more after every rehearsal."
Oscar also sees the value of the community he's found in CYO. "I truly appreciate the dynamic while rehearsing with CYO. There hasn't been a rehearsal where Mr. Agopian fails to make us all burst out laughing," he says, "moments like these are what make me work harder to include myself in this truly amazing group by helping out whenever I can. Auditioning for CYO is something I will always be proud of myself for doing."
Adriana shares this sentiment. "Always try and do more things just for the experience," she says, "the Calgary Phil audition was the first audition I ever did. And I did it primarily for the experience while I was in university, and then ended up winning the job."
At 20 years old, Adriana was the youngest musician to be offered a job by the Calgary Phil and still holds this record. "I remember going after my audition, talking to people who were on my panel, and I remember thinking, 'I recognize every single one of them!' because I had seen them on stage growing up. It's really cool to be a part of something that has been such a part of my life. I can thank CYO for that in many ways."
Staples has similar feelings. "When I first joined the Calgary Phil, I actually got to play for a few years alongside my first double bass teacher, Sheila Garrett, who was Assistant Principal Bass," recalls Staples. "To actually be playing professionally alongside my very first teacher was a super cool and kind of surreal, full-circle moment. I really can't overstate what an important part of my early musical training the Calgary Youth Orchestra was, primarily for the social aspect, but also for the amazing training and performance opportunities."
On 18 March, the Calgary Phil and CYO will come together in a collaborative side-by-side performance, featuring the world premiere of Vincent Ho's Celestial Horses: Fanfare & Fugue and Allan Gordon Bell's Symphonies of Luminous Being, both Calgary composers, and capping off the evening with Antonin Dvořák's spectacular New World Symphony.
Playing alongside the Calgary Phil in March will be a pivotal experience for Isaac. "Having the opportunity to play with the Orchestra is so incredible to me," he says. "I know I love performing, so I know my future is somewhere in the realm of performing and playing with professionals helps me so much to know where to grow and set specific technique and musicality goals because I get to see them played out, in a sense, by the professionals."
"It's so incredible for CYO musicians to be able to work with the Calgary Phil musicians to hone their craft," he continues. "It's connecting generations, and that's what music is about to me — creating a community of support for each other."
Don't miss the Calgary Philharmonic Orchestra and Calgary Youth Orchestra together in concert at New World / New Generation on Saturday 18 March at the Jack Singer Concert Hall.