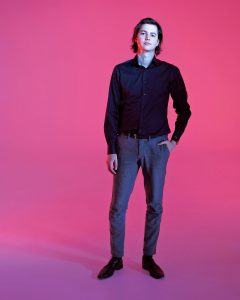 On Friday 3 March, Associate Conductor Karl Hirzer will lead Late Night at The GRAND: Professor Bad Trip — an event unlike anything you've ever heard or seen, featuring Calgary Phil musicians tackling chamber-orchestra-sized genre-defying works of the modern age in the intimate setting of Calgary's historic GRAND theatre.
Internationally active, 'hip-hop-inspired poet' Zoey Roy brings her compelling message and artistry to Calgary in what will be the first full-length live performance of her set of six poems: Enough is Enough. Originally set to beats by Omar Ballantyne, then orchestrated for an ensemble of 15 musicians by Juliet Palmer, the cycle was commissioned by the Regina Symphony Orchestra and filmed for digital release in early 2022. The music mixes elements of hip-hop, minimalism, film music, and classical in creating the instrumental component alongside Roy's spellbinding spoken word performance. The text is a critical reflection and an emotional ode to an Indigenous experience in a settler colonial society while offering an invitation to paddle alongside the Indigenous consciousness as a solution for future building.
Italian composer Fausto Romitelli's Professor Bad Trip is new music meets acid rock meets experimental jazz. Written between 1998 and 2000, the cycle contains three movements (or 'lessons' as he titles them) for an ensemble of 10 musicians. In addition to standard orchestral instruments, he includes parts for electric guitar, bass guitar, and synthesizer — there's even some woodwind doubling on the kazoo. The psychedelic-inspired music is dirty and distorted, ranging from wild and unrestrained to contrasting sections of expansiveness and serenity. This performance will be made extraordinary through a collaboration with Calgary-based visual arts studio Axis-Z Media Arts, led by Laura Anzola and Matthew Waddell. Together, they have created a projection mapping performance alongside the Calgary Phil musicians — making a totally immersive and unique experience for you.
2022/2023 marks Karl's final season with the Calgary Philharmonic since he joined as Resident Conductor in 2016, and we spoke with him to look back on his time with us:
Q: What inspired you to lead a career in music as a conductor?
A: I was fascinated by the art of conducting from a young age, but I didn't consider it a realistic aspiration until I pursued my undergraduate studies when I discovered the orchestral repertoire of Beethoven, Brahms, and Mahler. The solo piano was my area of focus, and while there's a wealth of incredible repertoire in that realm, I felt drawn to the sound world of the orchestra with its endless possibilities of colour and dramatic variability. I realized that if I wanted to be a part of the music-making process of symphonies, the path forward would be conducting!
Q: Supporting the Calgary Phil's education programs is a big part of your role as Associate Conductor. What do you enjoy most about working on these programs?
A: As musicians, we are responsible for sharing our passion and knowledge with younger audiences. As space for arts education in public school curriculums shrinks, presenting the world of orchestral music in accessible and engaging ways has become more critical than ever. My favourite thing about our Education Concerts is capturing the complete attention of a room full of kids. There's something honest about this kind of attention. These kids come to orchestral performances with a blank canvas of expectation, leaving the door open for us to instill a special kind of awe, foster imagination, and inspire creativity in younger generations.
Q: What are the best parts of rehearsing with the Orchestra and leading them in a performance?
A: It's a privilege to work with the highly talented and creative musicians of the Calgary Phil and to have so many opportunities to engage with the timeless pieces of music we perform. It feels, in a way, like we get to live inside these pieces when we go through rehearsing and then performing them together, with the final reward of feeling that special connection to our audience. The moments when everyone seamlessly and with ease feels the trajectory of the music and responds to what we are each and all hearing in the moment, is a special feeling.
Q: Tell us about your process in choosing the repertoire you conduct?
A: The goal with every concert is to create unique performance experiences. I try to pick repertoire that will move an audience by tugging at their heartstrings or shocking them out of their seats! I put a lot of thought into what the pace of a show will feel like, how each piece flows into the next, and how the works on a program complement or contrast with one another. I have a penchant for programming newer works and I think that the music of today and more recent eras are essential in recalibrating how folks can perceive orchestral music. Yes, we celebrate the historical lineage of great works of art throughout history, but we are living and breathing now in the current world, and what we choose to play needs to reflect the present times. As a curating performing arts organization, we have an opportunity to create space for the voices of many who may have felt a lack of inclusion in our industry. Orchestral music is timeless, current, and universally relatable. We are here to serve the communities in which we live, and part of that responsibility is ensuring that our programming represents our communities.
Q: You have been living in Calgary since you joined the Calgary Phil in 2016, what are some of your favourite things to do in Calgary?
A: I have grown extremely fond of Calgary — it is a great place to live and feels like home. I love how I often find myself running into people I know in the streets, going to shows and events around town, walking through Weaselhead Flats, and playing tennis with Rune Bergmann whenever he's around. I owe a lot to this city. I have felt thoroughly welcome since day one and cannot imagine a better place to have had this chance to grow as a musician and person. I'll give a special shout-out to Ol' Beautiful Brewing Co., Alumni Sandwiches, Milk Tiger Lounge, and the Ship and Anchor.
Q: The 2022/2023 Season will be your final season as Associate Conductor with the Calgary Phil. What's next for Karl Hirzer?
A: I'm excited to see where this whole conducting thing will lead. In this current season, I have some great guest conducting gigs lined up across Canada and in the US. Next season, I'll be returning to Europe for my first professional work since pre-pandemic. In what may be seen as a surprising deviation from the standard course: I've recently completed work on my first album of original compositions, written and recorded mainly during the first half of 2022. I'm looking forward to a release date in spring 2023.
Don't miss Associate Conductor Karl Hirzer at Late Night at the GRAND: Professor Bad Trip on Friday 3 March.