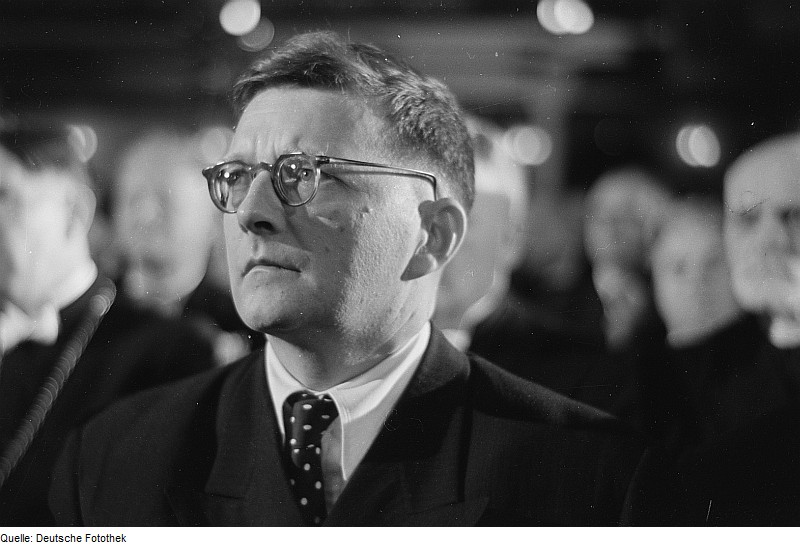 The Calgary Philharmonic's Classics Masterworks program on January 20/21 includes a performance of Dmitry Shostakovich's 9th Symphony. The symphony has many remarkable moments, including a significant, subtle, expressive bassoon solo that interrupts brash moments from the brass and percussion in the forth movement. The work is small in scale, and, like so much of Shostakovich's works, has a enigmatic quality. It appears to feature lightness and vivacity, but there are also arrogant and heavy moments that come off as almost sinister. The listener can end up feeling that there is more of a message behind what they are hearing.
Shostakovich was born in Russia in St. Petersburg, Russia, in 1906, and achieved notoriety for his first symphony before he finished his conservatory studies. Joseph Stalin began his rise to power in Russia in 1924, and there were clear ideas about how art and culture should appropriately function within Russian Society.
The relationship between Shostakovich and the government of his day was dramatic and tenuous. The composer was at times in favour, but there was inevitably a tone of dissent in his works as interpreted by Stalin's government. By the mid-1930s, Shostakovich took to sleeping in the stairwell of his home so that he would not be with his family knowing that he was being searched for by Stalin's associates. Shostakovich was eventually banished, although not before he premiered his 9th Symphony.
The Soviet officials were enraged upon hearing the 9th symphony, which was premiered on November 3, 1945. This work was supposed to convey the power of the Soviet's in their defeat of Hitler. It was supposed to demonstrate the virility of the Soviet leaders in their victory. It was supposed to use vast orchestral forces and include large chorus and vocal soloists to cap off a trilogy of great symphonic works that depicted the war effort.
Shostakovich had even hinted that his ninth would do just that. However, at some point, he changed his mind. Shostakovich pivoted dramatically from expectations, instead writing a seemingly light-hearted work sprinkled with humour in some moments and severity and sadness in others. The orchestra is small, there is no chorus or vocalists, and the duration of the full symphony is about the same length as the first movement of his 7th or 8th Symphony.
As you listen to the 9th symphony, you feel as if you are in a circus: you do not know what is going on, but you know what you see is not what it appears to be. The finale excels and propels into a chaotic frenzy. The top spins off this quasi-celebration.
Facing the option to feign a celebration for his repressive government, Shostakovich can be seen as standing up to it. He flipped the script: rather than succumbing to the overbearing forces of the day who wanted his 9th to convey Russian self-congratulations, Shostakovich wields more power by minimizing their perceived triumph and wryly mocking them.
For me, as I sit in the Jack Singer Concert Hall and listen to the Calgary Philharmonic perform this symphony on January 20, 2017 ‹Inauguration Day for a new US President‹ Shostakovich's opposition to the government of his day comforts me as so many of us grapple with a modern Russian regime trying to display their power worldwide.
Written by:
Jennifer MacDonald
Director, Artistic Operations
[email protected]
Click here to buy Tickets
https://calgaryphil.com/event/mendelssohn-hayden-shostakovich/2017-01-20/