The Calgary Philharmonic Orchestra is welcoming ten new musicians this 2018/2019 Season. We'll be introducing them to you with our "Meet the Musician" blog series. Follow along to get to know your CPO!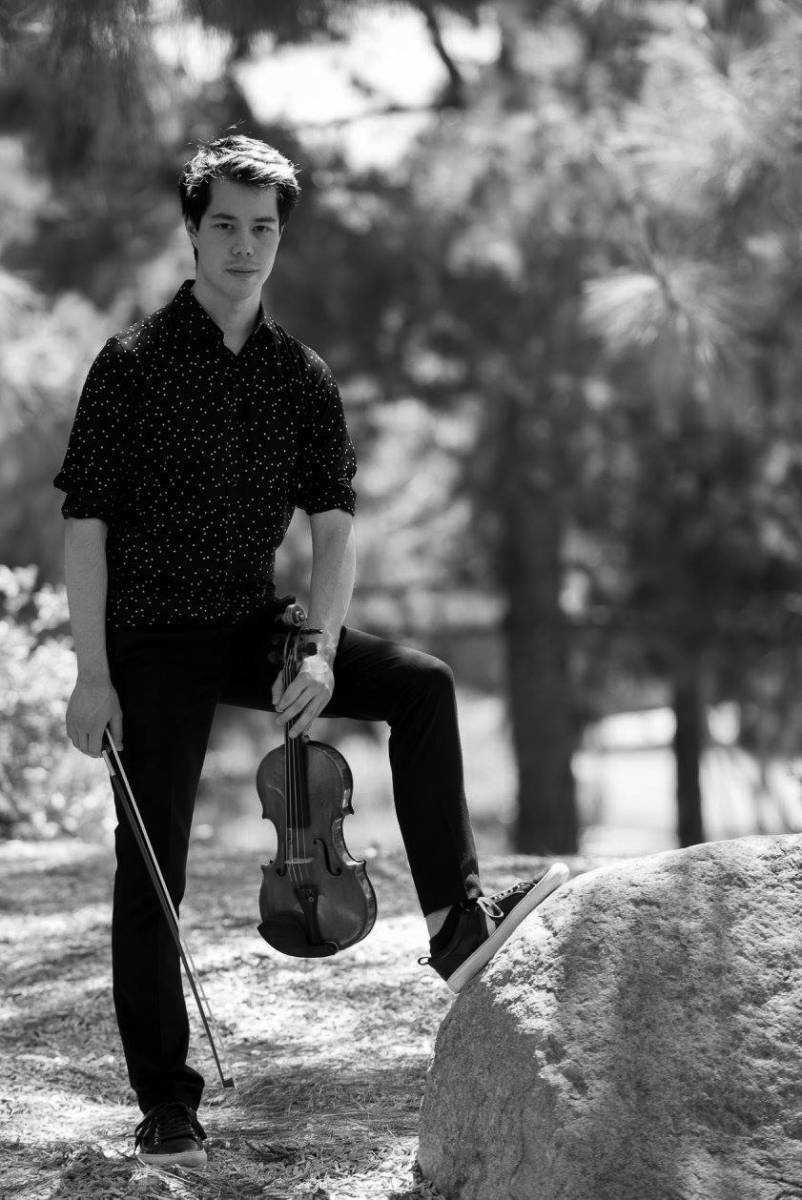 Austin Hansen is currently in his first Season with the Calgary Philharmonic Orchestra (CPO), one of three new members of the first violins section. "Both of my parents are pianists… they wanted their kids to play some sort of musical instrument," he says. "They actually wanted me to play cello, but they took me to a concert with Gil Shaham playing a solo, and I decided I liked the violin better. So, my sister got stuck with the cello!"
Hansen grew up in Los Angeles and studied violin at the Peabody Conservatory in Baltimore and the New England Conservatory in Boston. He's glad to be playing with the CPO for his first professional orchestra job. "I feel very lucky to be a part of this group — it's a very strong group in a strong city, that seems to be well-supported and funded and people love it," he says. "It's nice to know that people around here view it as something to be celebrated, because it should be. It's a part of the culture of the city."
This mentality Hansen notices in Calgary matches the shift that's been taking place in the classical music world. "My generation, they seem to kind of have a renewed interest in classical music, which is really, really nice," says Hansen. "If anything, at least people are interested in thinking about it."
Hansen wasn't always sure he wanted to be part of an orchestra — he initially had his sights set on a solo career, but realized he preferred working with other people to being alone all the time. While he's glad to have made the switch, Hansen admits that pursing the orchestra route wasn't easy. "Getting an orchestra job is maybe 60 per cent luck. You have to be auditioning at the right time, you have to be having the right day where you play exactly the way that works with the orchestra," he says. "You have to blend in, and you have to be able to work with the other members of the orchestra and the general orchestra sound….
"The biggest thing I realized, especially after my first audition, was if you give up, then you shouldn't be doing this. Even though it sucks, you have to brush it off and keep going, and learn from what may have gone well and move on from there."
Fortunately for Hansen, his January 2018 CPO audition was successful. "To be honest, it was kind of a blur," he says. "At least for me, when things tend to go well, I don't quite remember exactly what happened. In the moment I do, but afterward, it's kind of like, 'Did it actually happen, or is it a dream? "
Written by guest contributor Jill Girgulis
Jill Girgulis is a student at the University of Calgary and a regular contributor for thegauntlet.ca as well as buzzfeed.com. When she's not busy studying for her Doctor of Veterinary Medicine degree, she can most often be found in one of the first three rows of the Jack Singer Concert Hall.