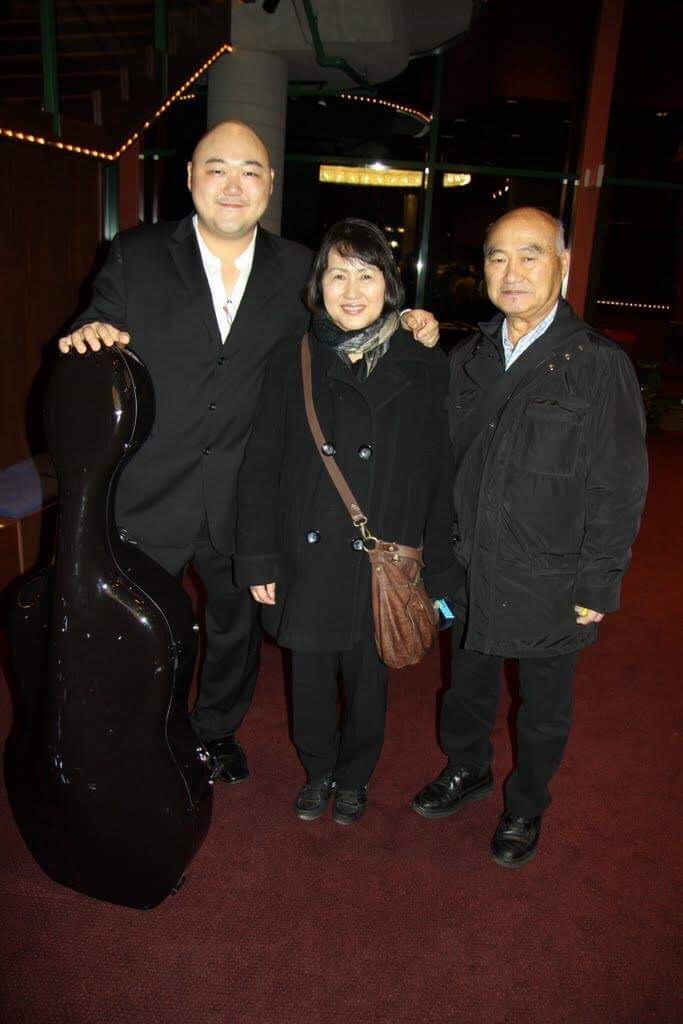 For Arnold Choi, Principal Cello of the Calgary Philharmonic Orchestra (CPO) and one of four children, family has always played an essential role in his musical career. Choi first picked up the cello at age five at the insistence of his mother, Jemma, who herself had experience with piano and voice, but had never pursued either professionally. His siblings also learned to play instruments.
"It was a lot of sacrifice, but I'm always thankful to my mother and my late father," Choi says. "I don't think it was their objective for us to become professionals… it just turned out that we ended up all falling in love with music and sticking with it. 
According to Jemma, she wanted each of her children to learn an instrument while they were still young. "I found that it was very difficult when I was trying learn when I was already older," she explains. "When you're a child, it's probably easier. And that way, they get to know their instrument — that's why I did it."
For Choi, his first several years with the cello were largely driven by his mother. However, at about eight or nine years old, Jemma began to scale back her involvement with her son's musical pursuits, which led to a turning point in Choi's relationship with the instrument. She explains that she wanted her children to reach a point where they were just good enough to quit.
"She pretty much just told us, 'Okay, now it's up to you guys if you want to keep doing it, and if not, then do something else,'" says Choi, adding that it helped him realize his passion for the instrument. "I had to make a conscious decision to push myself at that point, and be like, Okay, this is what I want to do for the rest of my life, so I'm going to go for it."
Fast-forward to the present day — Choi is a professional orchestral musician, and Jemma frequently accompanies her son to his CPO concerts. This weekend, she will have the chance to see him perform front and centre as a soloist in Brahms' Double Concerto in A Minor. "It's a good way to show my mother that all her sacrifices paid off, so I'm always glad whenever she's able to come to any of my concerts," says Choi.
This concerto, which is written for violin and cello and orchestra, will feature both Choi and his colleague, CPO concertmaster Diana Cohen. "One difference between playing a solo concerto and a duo concerto is that having that other person onstage means that we have to be fully locked in with each other," he says. "We have to make sure that we're both on the same wavelength when it comes to playing, because oftentimes we're playing together, and we're playing very similar material, so there's an extra element of ensemble playing involved."
Choi's first exposure to this particular concerto was actually 13 or so years ago as a student studying in Los Angeles, where he performed it for the first time during my undergrad at Colburn Conservatory. "This is really nice to revisit a piece that I've played and see how my interpretation of it has changed over the years," he says.
Overall, Choi is looking forward to the unique opportunity this weekend. "I always wanted to play some kind of concerto with the CPO, and being able to share the stage with Diana is wonderful," he says. "And in some ways, it also takes away some of the stress as well, you know, having somebody else onstage with you."
[Brahms Double with Cohen + Choi is taking place on March 15th and 16th at 7:30pm, with the Saturday night concert also being Live-Streamed at calgaryphil.com/livestream. Presented in partnership with Morningside Music Bridge (MMB), the show concludes with a performance of Karłowicz's Rebirth Symphony.]
Written by guest contributor Jill Girgulis
Jill Girgulis is a student at the University of Calgary and a regular contributor for thegauntlet.ca as well as buzzfeed.com. When she's not busy studying for her Doctor of Veterinary Medicine degree, she can most often be found in one of the first three rows of the Jack Singer Concert Hall.