Thanks for joining us! Please enter your access code and hit play.
For troubleshooting tips, click here. If you don't have an access code, please register now.
Learn more about the Program
John Lowry Associate Concertmaster
Hangyul Kim First Violin
Lorna Tsai Principal, Second Violin
Adriana Lebedovich Second Violin
Marcin Swoboda Assistant Principal, Viola
Jesse Morrison Viola
Thomas Megee Cello
David Morrissey Cello
Akiko Tominaga Piano
Susanne Ruberg-Gordon Piano
| | | |
| --- | --- | --- |
| John Lowry, Adriana Lebedovich, Marcin Swoboda, Tom Megee, Susanne Ruberg-Gordon | | |
| | | |
| --- | --- | --- |
| Alexina Louie | Falling Through Time | |
| | | |
| --- | --- | --- |
| | II. Intermezzo – Elegy for Marina Geringas | |
| | | |
| --- | --- | --- |
| | III. Falling Through Time | |
| | | |
| --- | --- | --- |
| Lorna Tsai, Hangyul Kim, Jesse Morrison, David Morrissey, Akiko Tominaga | | |
| | | |
| --- | --- | --- |
| Brahms | Piano Quintet in F Minor, Op. 34 | |
| | | |
| --- | --- | --- |
| | II. Andante, un poco Adagio | |
| | | |
| --- | --- | --- |
| | III. Scherzo. Allegro – Trio | |
| | | |
| --- | --- | --- |
| | IV. Finale. Poco sostenuto – Allegro non troppo – Presto, non troppo | |
Falling Through Time (2016)
I. Cascade
II. Intermezzo – Elegy For Marina Geringas
III. Falling Through Time
When The Clearwater Quartet performed my composition, Pursuit for String Quartet and Orchestra so brilliantly at the Winnipeg New Music Festival in 2012, I took note of their skill and dedication to contemporary music. In the same Festival, pianist David Moroz performed my Fastforward with amazing energy and bravado. It was a wonderful inspiration to compose a new piece for their combined talents.
Descending gestures are prevalent throughout the composition. As well, the interval of a third takes on a significance that is revealed in the second movement.
In Cascade, the first movement, the interval of a third becomes clearly apparent about half way through. Here the piano part develops into triadic chords. These chords, transformed into rippling passages built on the interval, eventually become sequences of falling thirds in all the instruments.
My friend, Marina Geringas, who taught piano to my daughters, was arguably the most important teacher of young piano students in Toronto. At her memorial concert in the summer of 2016, a select handful of friends and former students revealed her influence on them through their touching personal recollections and expressive performances. They played with such unusual, exquisite tenderness and musicality, each phrase lovingly shaped by their early training with her. The first piece on that celebration of her life was the beautifully introspective Brahms Intermezzo in B minor Opus 119, which is based on falling thirds. I had played this piece as a student and had come to love it. As an homage to Marina, I worked this piece into the fabric of my second movement.
The third movement, Falling Through Time, begins almost imperceptibly with the strings muted. Eventually the music transforms into a very fast string passage in parallel octaves. When this passage recurs later in the piece, the piano joins them. A reprise of the sequential falling thirds passage from Cascade concludes the piece, but this time all the musicians play with full force.
Falling Through Time was commissioned by The Clearwater Quartet and pianist David Moroz with the assistance of the Ontario Arts Council.
Program notes provided by Alexina Louie O.C.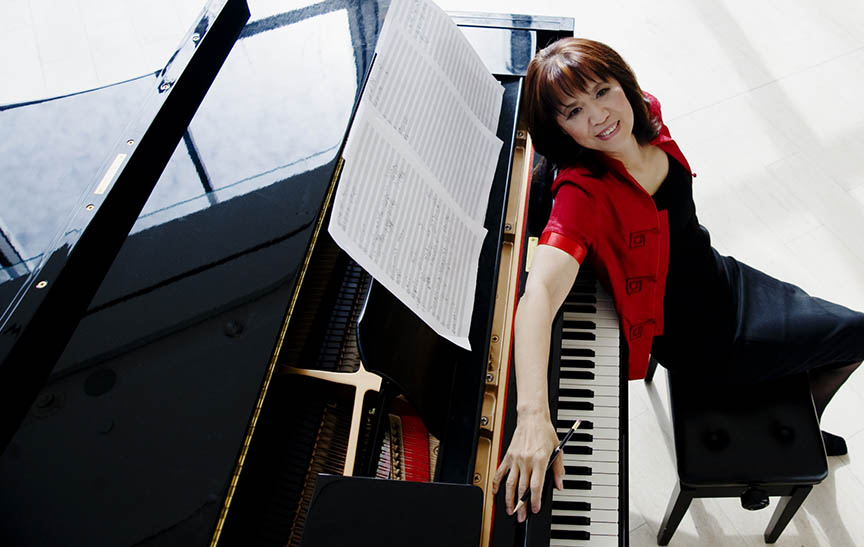 Alexina Louie, one of Canada's most acclaimed composers, will be in the spotlight this week for Quintets, a free online performance premiering Saturday 17 October at 7:30PM (MDT) as part of the Calgary Philharmonic's virtual fall concert series.
"Alexina Louie is a towering figure in the contemporary music world whose works have been performed by many of the most celebrated artists, ensembles, and orchestras," says composer Vincent Ho, Calgary Phil's New Music Advisor. "She is nothing short of a national treasure."
Louie has written for many of the country's leading soloists, chamber ensembles, new music groups, and orchestras. Her numerous awards include two Junos for Best Classical Composition and a 2019 Canada Council for the Arts' Molson Prize, among others. She's also an Officer of the Order of Canada, and earlier this year she was named the recipient of the 2020 Governor General's Performing Arts Awards for Lifetime Artistic Achievement.
In addition to her activities as a classical contemporary composer, Louie has scored music to international award-winning films, including Don McKellar's Last Night (starring Sandra Oh and David Cronenberg) and Jeremy Podeswa's Five Senses (starring Mary-Louie Parker and Molly Parker).
Quintets opens with Louie's Falling Through Time (2016), a work for piano and string quartet with a repeating theme of falling thirds. The piece was partially inspired by another acclaimed composer, Brahms, and is paired with his Piano Quintet in F Minor.
The virtual concert is the third in the Calgary Phil's online fall performances, a new initiative that launched after live concerts were cancelled due to COVID-19. The series started small with Solo + Duet, and gradually builds toward the day when all 66 musicians can return to the stage.
Your support can help keep the music playing.