By David Sussman, Assistant Principal Oboe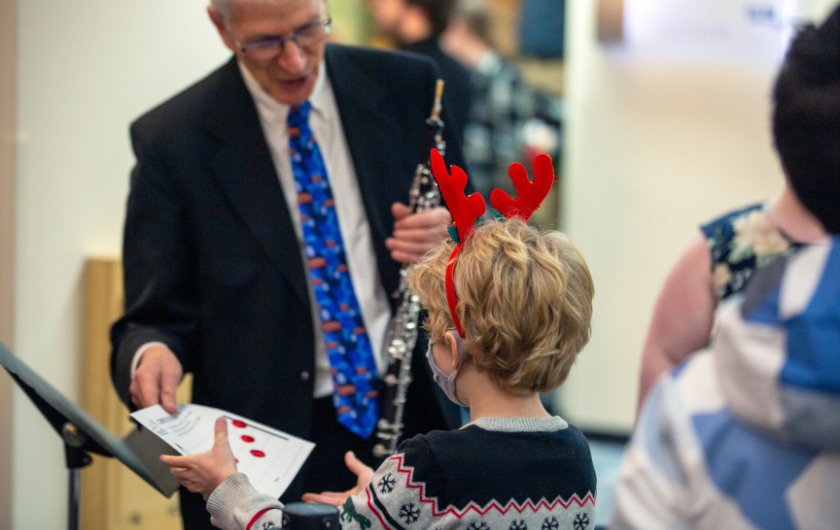 Our Symphony Sundays for Kids concerts come with a wonderful pre-show activity — the Instrument Discovery Zoo. An hour before the start of the concert, kids can see some of the instruments being played up close and even try their hand at making a sound on some of them. 
Calgary Phil musicians are stationed around the main floor and first balcony lobbies with string and percussion instruments, generously provided by Long & McQuade Musical Instruments, for kids to try as our musicians guide them in making perhaps their first musical sounds. It is incredibly enjoyable to see the smiles erupt from surprised faces and witness the sheer pleasure at creating a musical sound (something I still experience to this day when I play). Even musically savvy kids seem to really like trying a new instrument! 
Because brass and woodwind instruments are difficult to sanitize well enough for kids to try them, we instead have a station for kids to compose their own music. Bingo daubers and paper with large musical staves are provided so kids can create a tune. They pass it along to myself or another Calgary Phil musician to interpret the melodies they have created using our instruments (we get a lot of interpretive leeway with rhythm!) It is striking to see the 'aha' moment when young composers hear the dots on the page as actual musical sounds. 
In addition to keeping kids engaged before the concert begins, I love the wonderful connection this creates with the audience. A short time later, they get to see me and my fellow Calgary Phil musicians on stage together, and they may have an additional level of interest in the concert performance. Maybe they will listen for the sound of the oboe, looking to see where I am seated in the Orchestra, or maybe they will watch the percussionists and string players on their instruments, listening to how their sound blends with the rest of the Orchestra. 
It's clear many parents, grandparents, aunts and uncles, or other supportive adults are having as much fun as the kids and are also learning about the Orchestra. Seeing myself and my colleagues play up close gives a much different perspective. They get to see our fingers and bows move and hear us breathe, gaining a real sense of the sound of each individual instrument alongside of their younger companions. In the past, we've even offered Instrument Discovery Zoos for adults! 
I have helped with the Instrument Discovery Zoos for several decades, and what a joy it is to witness musical appreciation in young people. It is wonderful to make that experience as fun as possible. We can only hope that some of those who have come through the Instrument Discovery Zoo have gone on to become musicians themselves or become lifelong supporters of orchestral music!