The Hayes Family: Building a Musical Community
By Stephania Romaniuk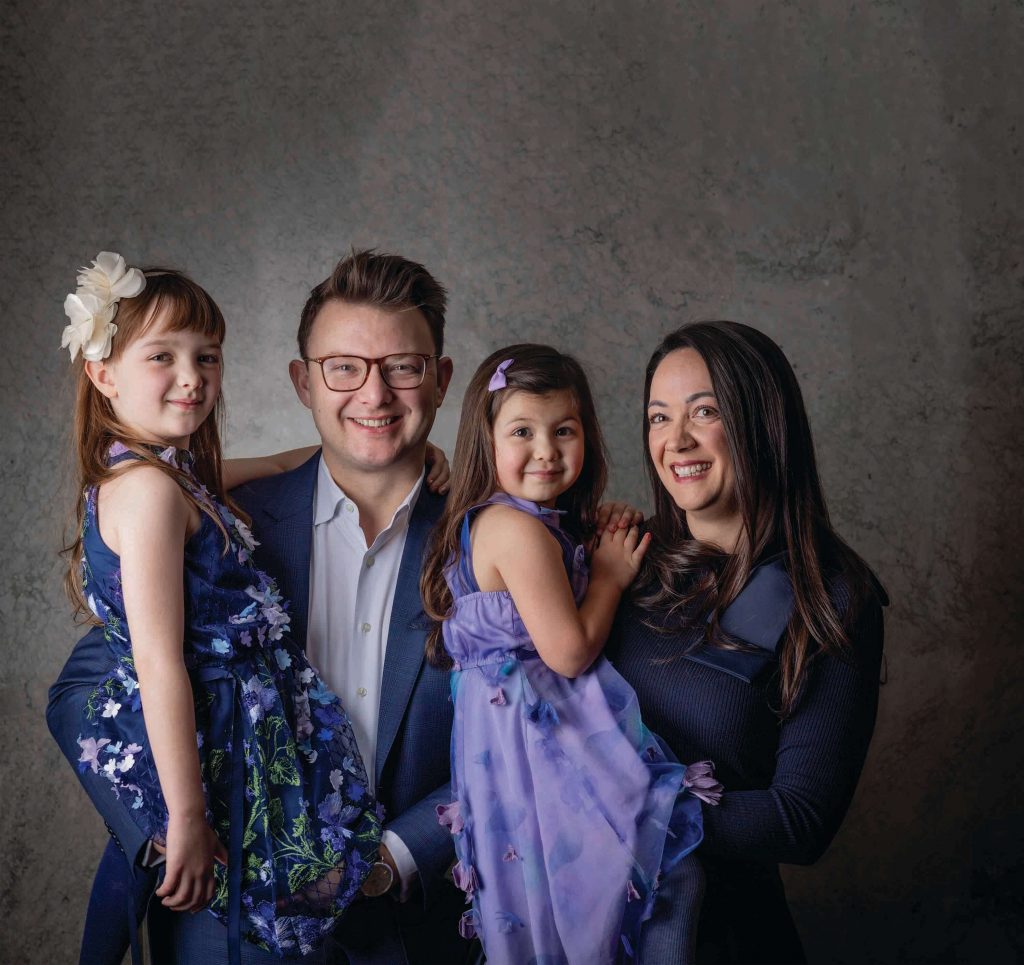 Although visionary arts supporters Sam and Angela Hayes have only recently started attending Orchestra concerts with their young daughters, Sophia and Ella, the family's story with classical music, and involvement with the Calgary Philharmonic, begins much further back. Sam was born in the United Kingdom but raised in Holland, and as a young person with a recently acquired CD player, he had walked past a store with trays of CDs for sale. "I chose Chopin's Nocturnes — and I fell in love with them." His wife, Angela Hayes, is a proud Albertan whose early musical tastes were influenced by her grandfather, who loved listening to opera, and she studied piano in her youth. Angela took part in school and community choirs and was a Cpossibilities member while in university, the Calgary Phil program that allows young people to experience the joys of orchestral music.
The two met in 2011 when Sam moved to Calgary, and they began attending orchestra concerts together. Both shared a commitment to contributing to their communities, and while still in their twenties, Sam and Angela became members of the Calgary Phil's patron programs. However, as Angela puts it, "You don't know where you can have the most impact until you get involved."
With a professional background in strategy and analytics, and already familiar with the world of volunteerism in the non-profit sector, Sam joined the Board and now represents the Society on the Calgary Philharmonic Foundation. Affectionately dubbed "the money man," Sam has been integral to strengthening fiscal accountability, lengthening budget planning, and securing the financial sustainability of the Orchestra. As Chair of the Finance and Audit Committee, one of his first priorities was to build a reserve fund that would help shield the Orchestra from unexpected financial challenges. "Ang and I made a multi-year commitment to build the reserve fund. This is one of the factors that determines the financial  health of an organization," shares Sam.
From there, Sam and Angela transitioned to supporting programming by establishing the Hayes Family Concerts. "We wanted to donate in a way that supported the foundational operations of the Orchestra, and potentially inspire others to do the same," Angela explains. These concerts are already built into the season, such as Nordic Greats in January 2020 and the upcoming Elgar's Cello Concerto concert this May, a concert that means a lot to them, considering their passion for the cello and strings. When they were not able to sponsor a concert as planned due to COVID-19, Sam and Angela donated instead to Ad Astra, the Foundation's endowment campaign. Despite the unexpected change of plans, they were still able to give to the Orchestra where the need was greatest.
Another reason for sponsoring concerts was their own growing family. Now, Sam and Angela see including their daughters as an important part of their work. "We hope that by involving them now, when they are older, they will continue supporting the Orchestra," says Angela, inspired by other Calgary Phil patrons who have involved their families over the long term. For the moment, favourite orchestral experiences for Sophia and Ella include the Instrument Discovery Zoo at Symphony Sundays for Kids concerts, "Maestro Karl and how he makes the sounds of the orchestra" — and the escalators at the Jack Singer Concert Hall!
Beyond growing their family's involvement, Sam and Angela share the Calgary Phil's belief that orchestral music is for everyone. They each enjoy bringing first-time attendees to concerts, who are often surprised to see how multi-faceted orchestral music can be. Angela is enthusiastic about introducing young audiences to the Calgary Phil's An Orchestra Adventure — an online resource for kids, and Sam was excited to support Suncor Energy in sponsoring Jeremy Dutcher in Concert in the fall of 2019 — an incredible experience not only artistically but because of the impact it had on new and diverse audiences witnessing the visionary Tobique First Nation artist perform live.
As part of his work in contributing to the accessibility of the organization, Sam also believes in making concerts as accessible as possible — not the least of which because he understands the many additional mental health benefits of listening to music, and orchestral music in particular. "I believe that the Orchestra is fundamental to the vibrancy of our city and mental health of Calgarians. We all have to manage our well-being, and if the Orchestra can positively influence mental health, then everyone deserves access to orchestral music for that benefit alone."
As Sam and Angela's involvement with the Orchestra has grown, so too has the impact it has had on them personally. Both speak of the strong friendships they have made, including musicians with whom they have hosted house concerts. "I see the faces on stage, and they're not just faces anymore, but people with stories. And some of those stories intertwine with mine, and that just enriches the whole experience," shares Sam. "The more we get involved, the more we get out of every concert we go to."
Don't miss Elgar's Cello Concerto on 5 + 6 May at the Jack Singer Concert Hall, supported by the Hayes Family.