The Calgary Phil welcomed a very special guest to the Orchestra on Saturday 19 March. Alex Ketchum, a 16-year-old music student from Yellowknife, Northwest Territories, was visiting Calgary with his parents to attend the Beethoven 5 + 5 concert, featuring the composer's fifth piano concerto and fifth symphony, at the Jack Singer Concert Hall. This was Ketchum's second time experiencing a live symphony orchestra — his first visit in September made such a big impression on Alex that he wrote us a letter to share his observations and what it meant to him.
"I immediately noticed how well the concert hall had been designed, with its spacious seating, and tall ceiling. However, I was quickly distracted from this by the musicians of the orchestra, who gradually came out one by one and began to warm up," he wrote.
"Eventually, the entire orchestra had arrived on stage, and soon after this, [Music Director] Rune Bergmann arrived. I stood and applauded, and after a few introductions and speeches, the concert was under way.
"What struck me immediately was the sound of the orchestra. I had listened to many orchestral works before, but these were all recordings. Seeing the orchestra in person, hearing the sounds up close was simply magical."
The concert was Bergmann and Beethoven are Back! And it was also magical for the musicians and the staff, who were celebrating the first live in-person performance onstage since the pandemic shutdown. That performance featured Beethoven's third piano concerto and symphony, and Alex said he especially enjoyed hearing the opening new work by Canadian Kelly-Marie Murphy. The short piece, titled Rethinking Heroism in the 20th Century, was inspired by Beethoven's third symphony.
We were so moved by the letter that we asked Alex to let us know the next time he was in Calgary with his parents to see the Orchestra. We were thrilled to hear he would be back for another concert showcasing Beethoven and featuring a new commission inspired by his work, this time by Canadian composer Dorothy Chang. When Alex and his parents arrived, they and President and CEO Marc Stevens were taken on a backstage tour by former Calgary Phil Production Manager Jesse Carroll for a peek at what happens behind the scenes. As you can see, Alex looks very comfortable on the conductor's podium….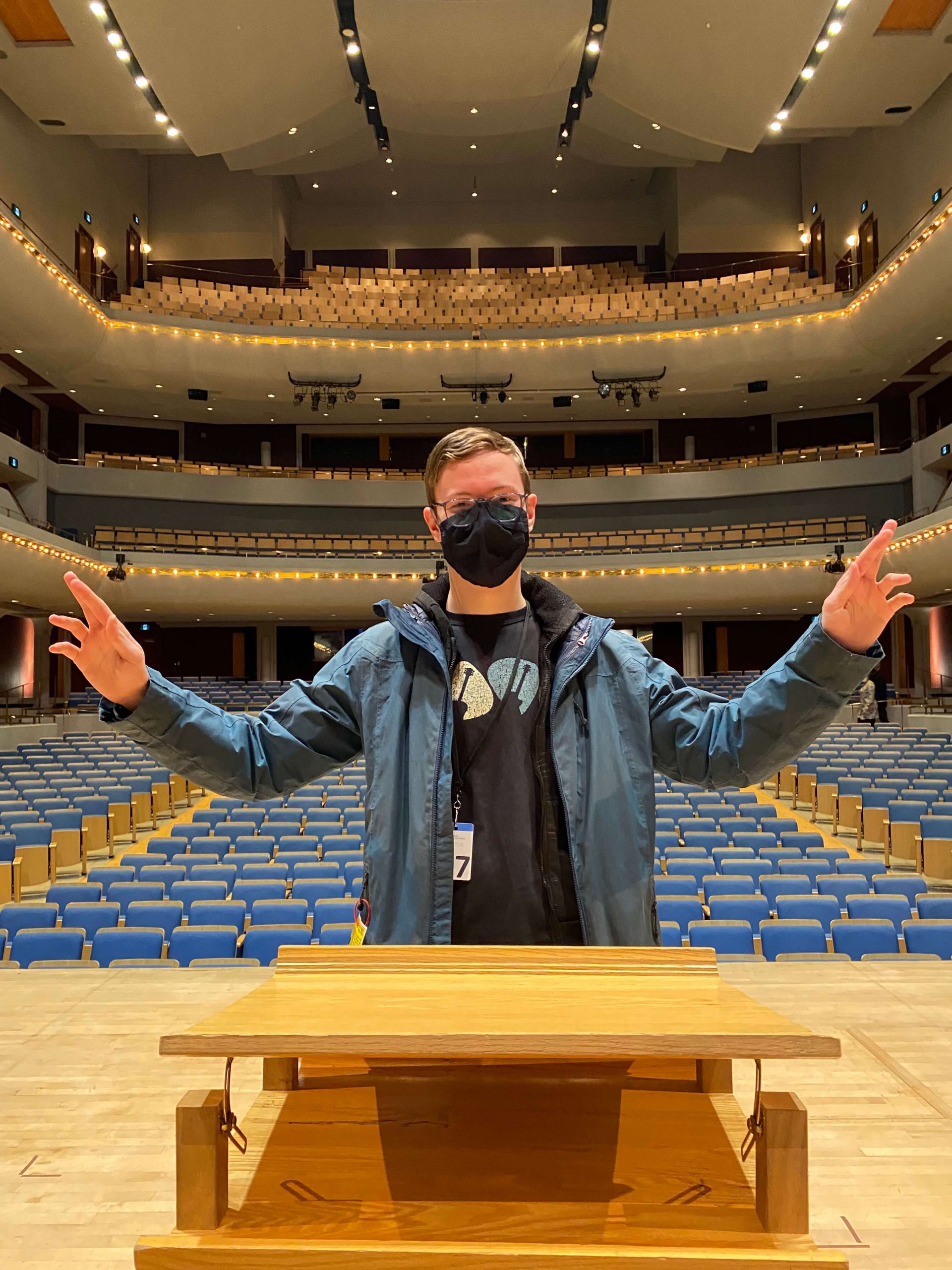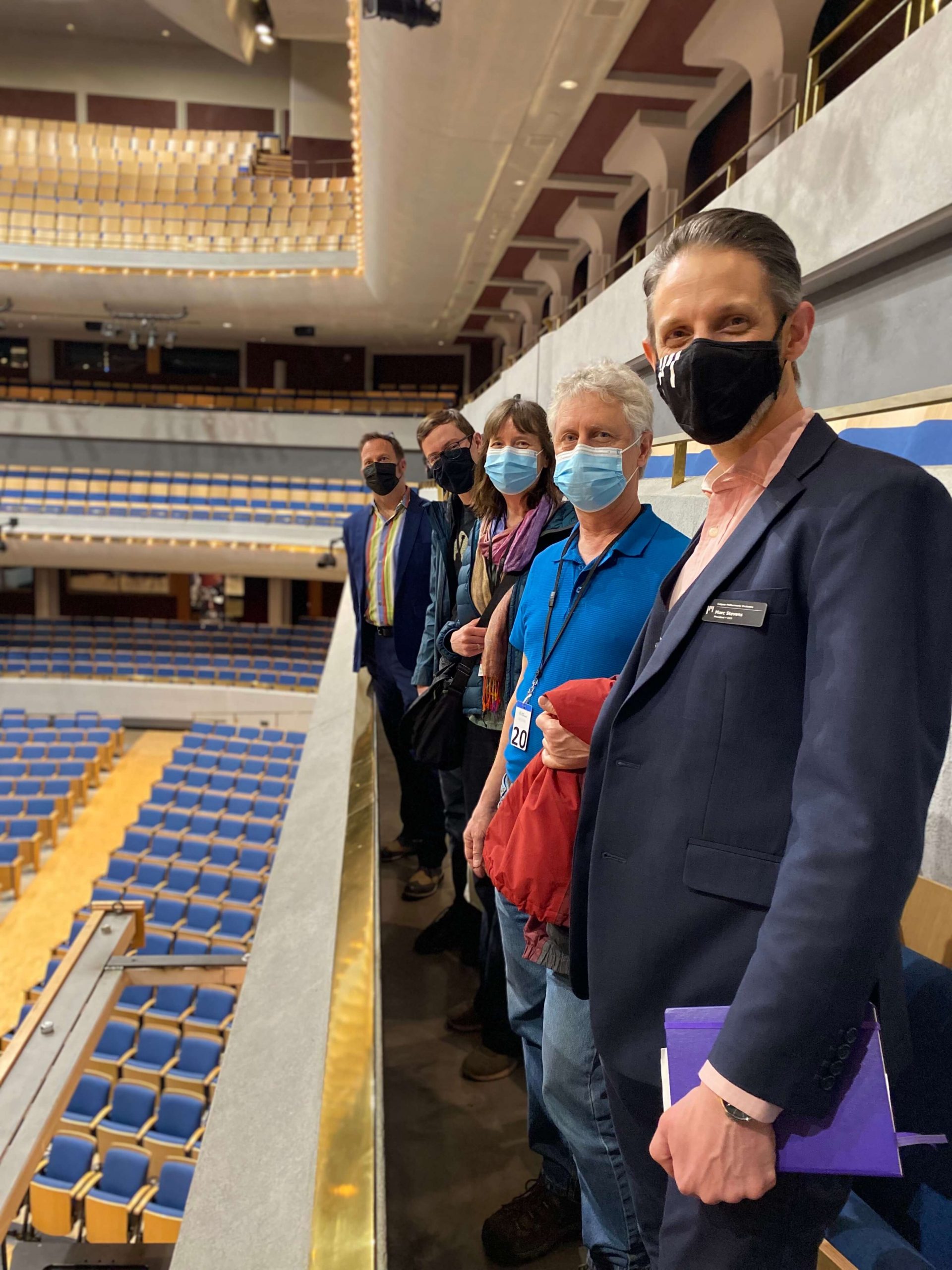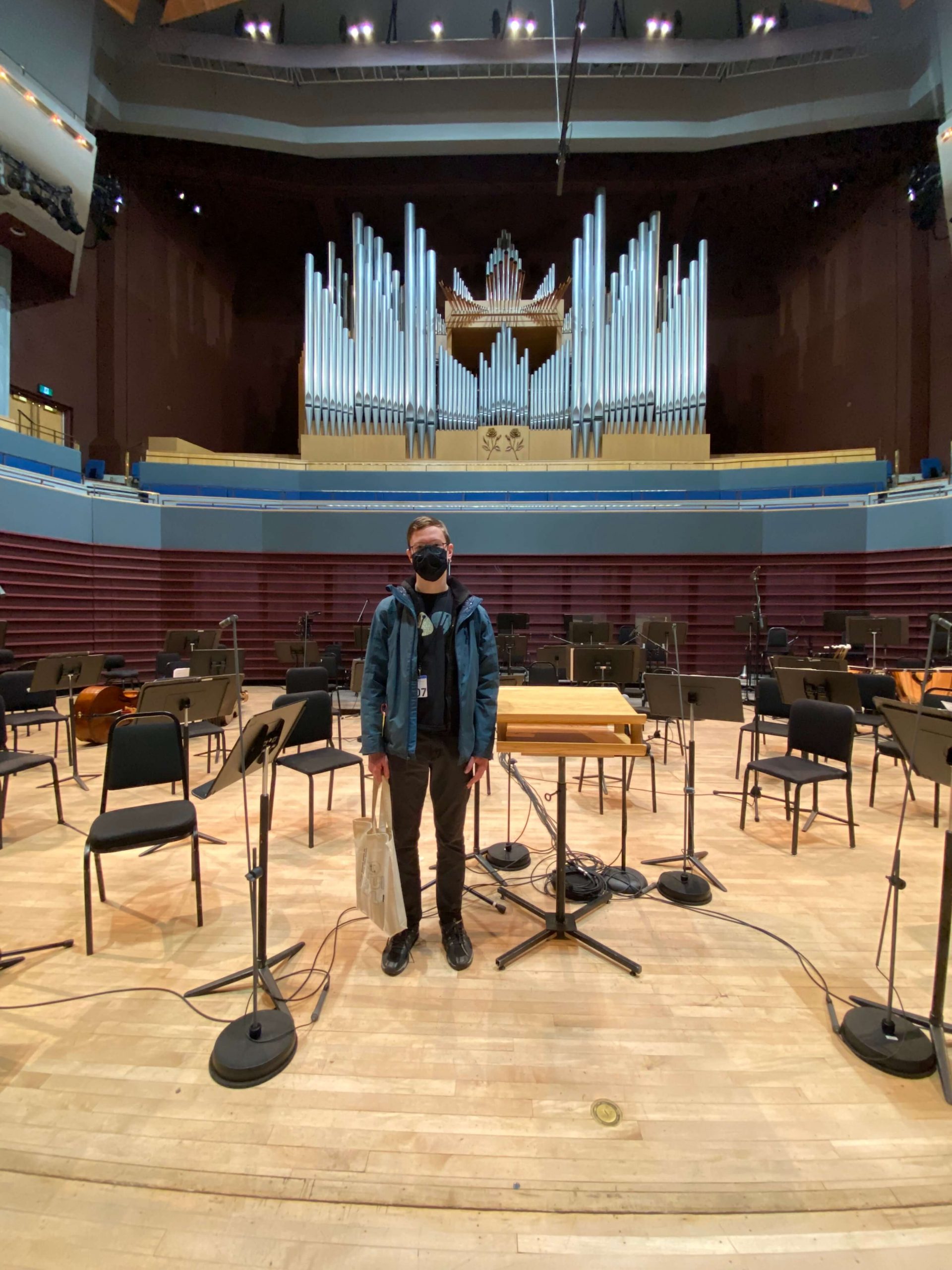 He told us his second visit was just as exciting as his first. "I was very much looking forward to seeing the concert and its stellar program, but I was also very excited about the backstage tour I was being offered," says Alex. "This turned out to be an incredibly interesting and informative experience, as I was able to see much of what goes on behind the scenes to make a concert performance possible. Following this, the concert began, and it was mind blowing. I was still very much struck by the sound of the orchestra, which was rich and very dynamic."
We wish Alex the best in his music studies — he's interested in everything from jazz to classical, studying with brilliant Yellowknife composer Carmen Braden, and plays in a progressive rock/metal band — and look forward to seeing him again soon.
If you missed this concert, don't worry! You can still experience the recorded live-stream online for free until end of day on Sunday 27 March 2022. Register to watch here.