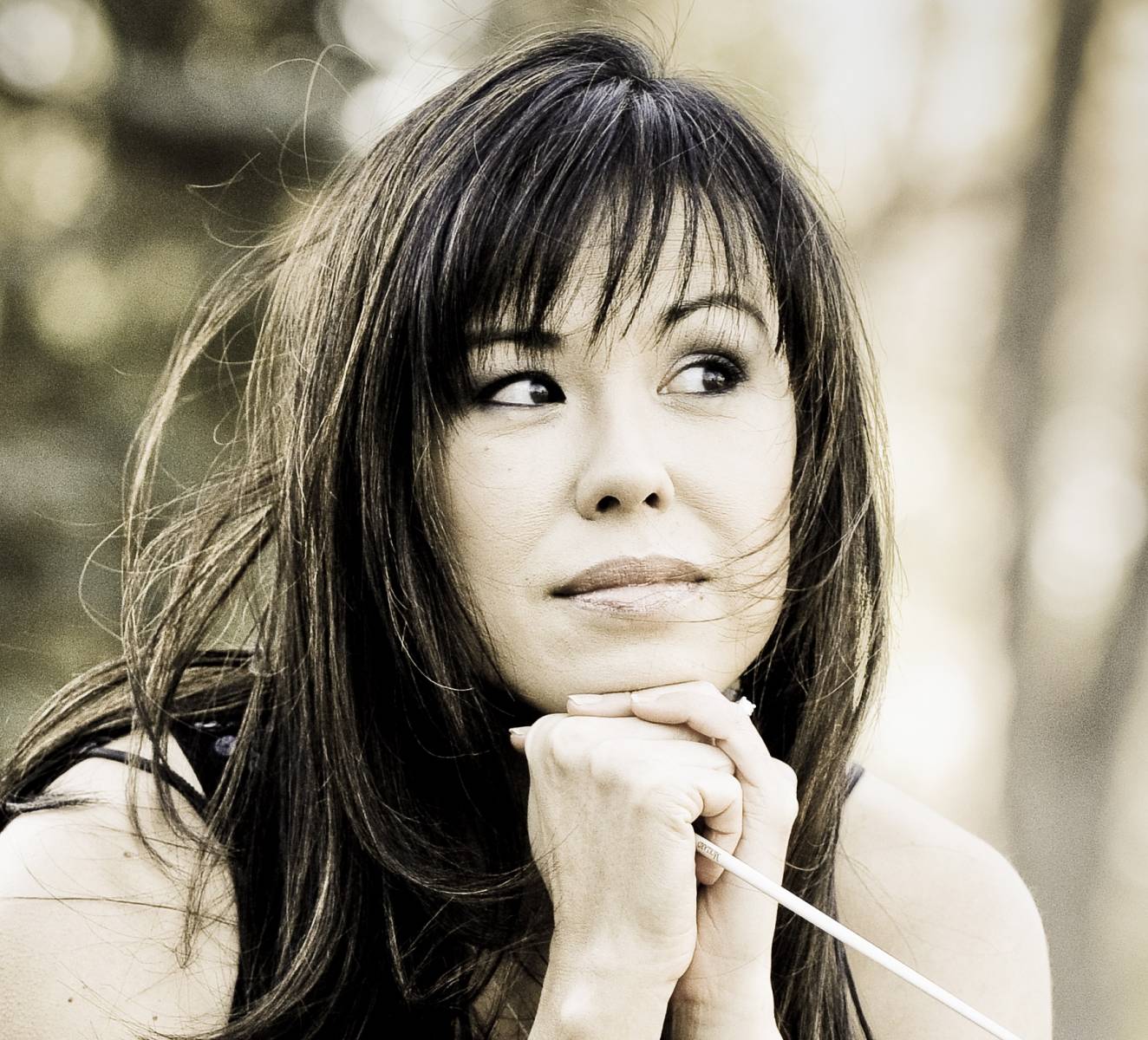 Josh Groban and Sting doing the hula?  Not quite — but with Maestra Sarah Hicks' chops they might yet!  The stunningly multi-talented Hicks has the kind of kudos under her belt most conductors would kill for. She's a force of nature we all should know.
Born in Japan, raised in Hawaii, she brings an edgy and intense classicism and graceful contemporary energy to all of her performances.
Winner of numerous awards, the founder of the Hawaii Summer Symphony (talk about heaven!) and a Curtis Music Institute instructor, she has conducted all over the world with many of the major symphonies.
However, it's the different things she's done that truly make her unique amongst classical conductors. Maestra Hicks toured with Sting for two months during his Symphonicities tour, performed with Josh Groban, and conducted for demanding opera legend Dimitri Hvorostovsky and young Jackie Evancho! Now, she's set her sights upon the exciting world of music on the big screen.
Why movies? It's hard to believe, but movies and video games are the setting for some of the most exciting new classical music today, with the potential to reach the largest audiences!  Who knew?
But it makes sense. Tara wouldn't be Gone With the Wind if the soaring strings of the classic score hadn't blown it out of the fields; Frozen almost melted from the heat of its hit single, and the tragedy of Titanic will never be forgotten because our Hearts Will Go On.
The lyrics speak for themselves:
"Far across the distance
And spaces between us
You have come to show you go on."
How true that is. The music, the movies and the games reach everywhere and are a basic part of all of our lives.
Early silent movies usually had quite simplistic music …but, most theatres had live musical accompaniment to encourage viewers to open up their hearts and minds and see beyond the screens. It added a depth technology couldn't provide at the time.
As movies became more sophisticated and sound recording developed, the music moved into the movies themselves and became an integral part of moving the plot along and stirring the emotions of the audience. It was also a relatively inexpensive way to elevate the experience of the movie.
In fact, musicals became a genre unto themselves and have always enjoyed huge success. Eventually, a similar pattern of development occurred with video games, so much so that now a movie or game without music would be considered an "Unfinished Symphony."
Walt Disney recognized the value of music early on and with the famous "Fantasia" introduced music as a visual concept to the general public. It paid off: although Disney  paid rock-star Maestro Leopold Stowkowski (Want scandal? Heiresses and aviatrix… look him up!)  a fortune over the years to conduct some of the greatest symphonies for his ostensibly children's movies, the money Disney has made from such classics as "Fantasia" is anything but child's play!
Other great cinematic superstar conductors include Leonard Bernstein (behaved like a major rock star!)  and the long-underappreciated but now recognized Erich Korngold. Korngold was a child prodigy who achieved fame and fortune with his opera and symphonies in Europe, but had to leave it all to escape Nazi Germany with nothing. Enter Hollywood and the movies, where he continued writing superlative symphonies and music. Initially eclipsed by the lack of respect for the cinematic musical geniuses, his star is rising again and his music is now being rediscovered by an appreciative world.
Of course, we all know the name John Williams, who scored or contributed to  many of Hollywood's most commercially successful and memorable films (think Star Wars and Indiana Jones for starters or scares!) or Andrew Lloyd Webber, another conductor — rock star with a weakness for sopranos and the high life — and a bank of brilliance for orchestral bliss , like Evita, starring Madonna, of course — and later on a Latin Requiem Mass just to prove his worthiness in the classical realm.
So, music has come full circle. For most people, going to a movie or playing a video game is more a part of their lives than a classical concert. Movies and online experiences are a shared social event and experience, part of the glue that forms our culture and society.  So is music.
But this time, 1 + 1 doesn't equal 2:  it's hard to score and impossible to calculate the impact of our experiences in the theatres of our time.
We also have conductors like Maestra Sarah Hicks, who is part of the team of people who integrate music into our lives so seamlessly and so completely we hardly know we are listening to it — it's just a sound blanket around us, all the time.
Fortunately, we can also see and hear her in person. Brava! Maestra Hicks and the other visionaries who create such magical experiences for us!
Relax, enjoy, dream of the "Outer Limits."  See you at the Music of the Movies with Maestra Sarah Hicks on Jan. 18  and 19, 2019!
 Written by Andrea Brussa.
 
Andrea Brussa is the founder of the The Brussa Brava! Legacy Programme. This programme has sponsored over 80 guest conductors.
Your donation towards the Brussa Brava! Legacy Programme serves to elevate the music and the reputation of the Calgary Philharmonic Orchestra.