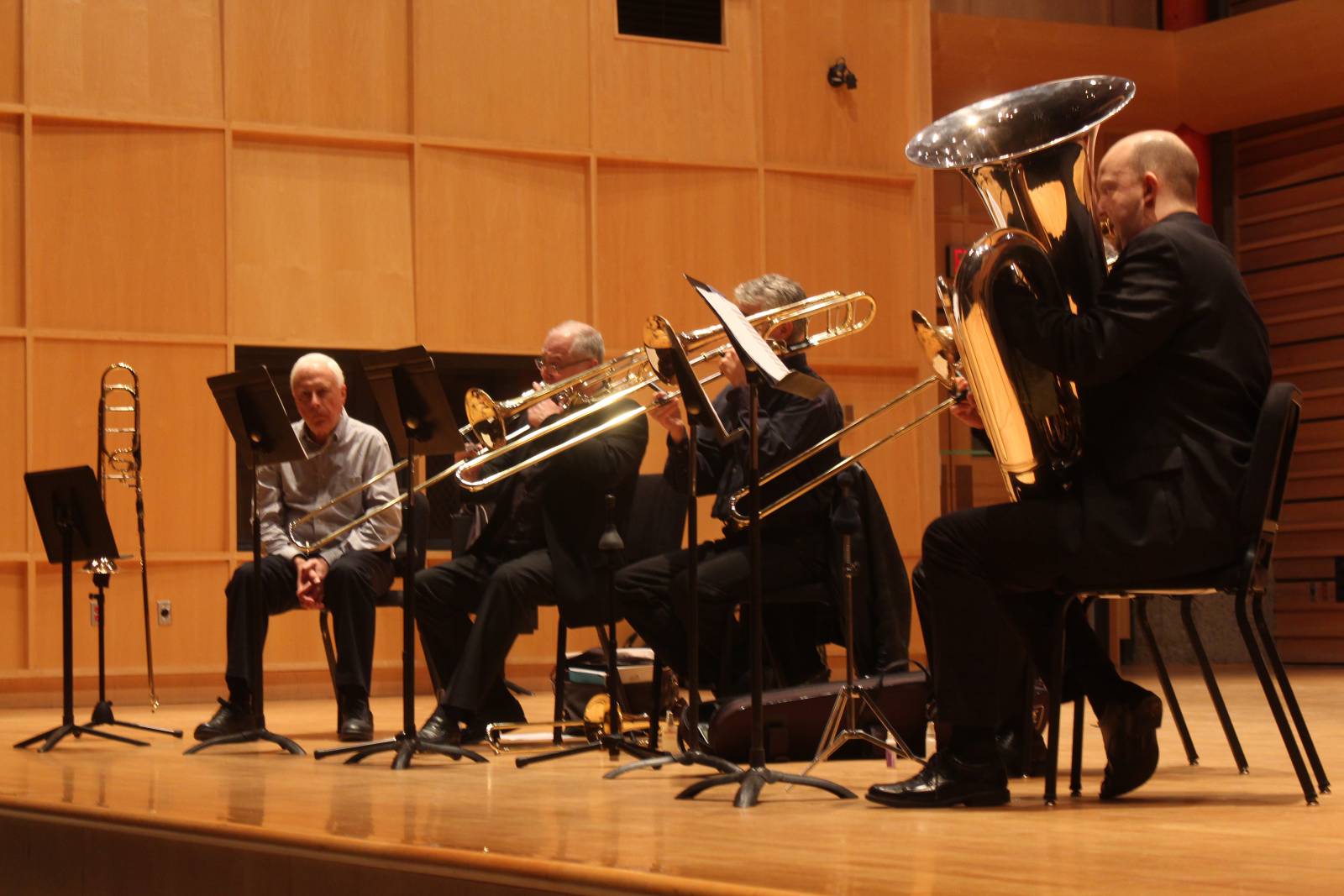 Ralph Sauer, retired Principal Trombone of the Los Angeles Philharmonic works with trombone students from the University of Calgary
In October, the University of Calgary Music Department welcomed Ralph Sauer, the (retired) Principal Trombone of the Los Angeles Philharmonic to work with their trombone students. In addition to a Masterclass and individual lessons for the students there, in a unique cross-over of education and professional development, the coaching session between the low brass of the Calgary Philharmonic (James Scott – Principal trombone, Michael Thomson – Assistant Principal trombone and David Reid – bass trombone, and Tom McCaslin – Principal tuba) and Sauer was open for the brass students to audit. There were a few tips for the pros, but mostly Sauer used the occasion to illustrate how to adjust styles for different composers, and for different dynamic ranges. Sauer joined with his Calgary colleagues in a performance of excerpts from Mahler's Symphony No. 2. In addition to the support from the Calgary Philharmonic (through the Professional Development Fund), Long & McQuade Music and Eastman/Shires Instruments helped support Sauer's residency at the U of C.
Written by James Scott, Principal trombone.
[fusion_products_slider picture_size="fixed" cat_slug="" number_posts="5″ carousel_layout="title_on_rollover" autoplay="yes" columns="5″ column_spacing="13″ scroll_items="" navigation="yes" mouse_scroll="no" show_cats="no" show_price="no" show_buttons="no" class="" id=""][/fusion_products_slider]